University days helped set foundation for Guentzel's NHL career, twice
Before he wore black and gold for the Pittsburgh Penguins, Jake Guentzel was building the foundation for his NHL career and enjoying special memories with the Golden Gophers.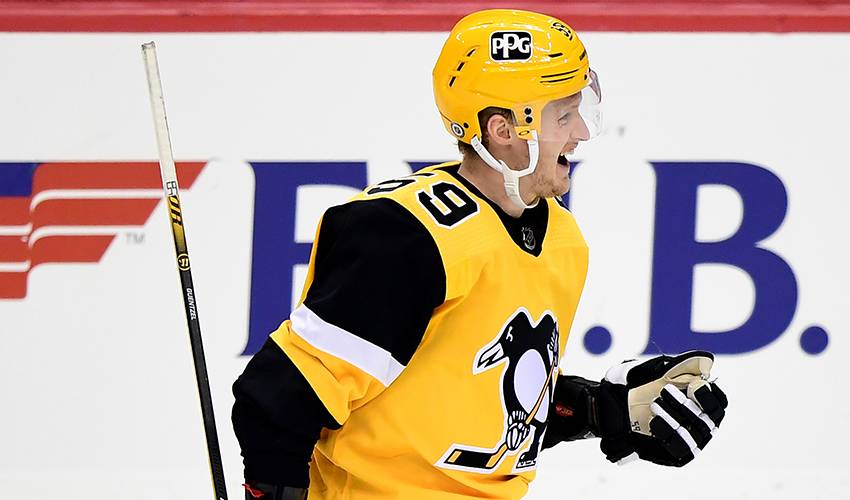 Jake Guentzel's stick-handling skills are certainly not a new talent.
There was a time, before he would play three seasons with the University of Nebraska Omaha and before he skated with the Pittsburgh Penguins, when Guentzel handled stick boy duties for the NCAA's Minnesota Golden Gophers men's hockey team.
His father, Mike Guentzel, was the head coach at the time and one of the team's stars happened to be Phil Kessel, a standout collegiate player who would later become Jake's NHL teammate.
Memories of Kessel and other recollections from those Golden Gophers days are plentiful for the now 26-year-old Guentzel.
"I was that kid that loved hanging out at the rink and I was fortunate that my dad was the coach. I grew up at the rink and got to see some of the guys that went on to play in the NHL. Alex Goligoski, Paul Martin, Keith Ballard, Thomas Vanek – it was pretty cool watching those guys play at the University of Minnesota. For a young kid, it as great to be able to watch them and take things from their games and put them into mine."
One Kessel story in particular stands out above all others.
"The biggest memory is when Phil scored a goal against the Badgers, because Phil is a Wisconsin guy," Guentzel recalled. "When he scored that goal in Wisconsin and skated around the whole rink, it was great to see that up-close."
The two would be reunited, albeit in a slightly different role, when they played together and were linemates for the Pittsburgh Penguins.
In his NHL debut November 21, 2016, Guentzel scored twice, including a goal on his first shot on his first shift. It was Kessel who delivered the pass for the milestone tally. He also chipped in with another helper on the second goal.
"That was unbelievable to have all that happen in my first game," Guentzel recalled. "I don't think I could have planned it out any better."
It's even more impressive considering the lead-up to the game is still somewhat of a blur.
"I don't remember much," Guentzel said with a laugh. "I get called up and my first game, I'm sitting next to Sidney Crosby in the locker room. After warm-ups, he's just talking to me like it's just a normal game for me. I think that was to calm me down a little bit. You look back at the game now, and you see the reaction of my family after I scored. That's the thing we look back at the most, to see how excited they were. It was a pretty special moment."
Now five seasons into his NHL career, he's still bringing the offence for the Penguins.
He's posted four straight 20-goal seasons, including a career-best 40 goals and 76 points in 2018-19, and is averaging a shade over a point per game in his past two campaigns.
While Kessel is now skating with the Arizona Coyotes, Guentzel continues to flourish with any linemates he's paired with.
"I think after a couple of years you feel like you've earned a spot. My third year, I took it upon myself to make sure I didn't give my spot up. I think that third year was really big for me. I was fortunate from the very start of my career to play with some really good players and to be part of some really good teams over the years."
Guentzel also points to his university days, both in the classroom and on the ice, as helping set the table for the demands of an NHL career.
"I was lucky that I went to a school where the coach, Dean Blais, helped a lot of guys get to the NHL. The way he approached the game, the work ethic you needed to be successful and the details in my game that he helped me with – I was very fortunate to have him as a coach. It really does come down to work habits, you need to be ready for every situation and be prepared for everything.
"With school, it's all about time management. You have to be organized and make sure your work is done so that you can then turn your attention to hockey. It was an adjustment, but when you are able to reach that comfort level, it really makes a difference in every part of your life. I look back and understand how much that's helped me in my NHL career. When you turn pro, you can be ready for anything that's thrown at you."
And that's precisely what Guentzel has achieved over his nearly 300 games at the NHL level.
But the stick boy turned star forward isn't letting his guard down.
"I've worked hard each year to be a consistent player. You want to be a consistent player throughout the whole season. It's very tough to do in this league, but the superstar players and really good players find ways to achieve that over an entire year and help put their team in a position to win every night. I'm just trying to be a more consistent player and a 200-foot player."