Andrew Mangiapane burns down the barn in anticipation of Flames season
Fresh off a season of personal-best numbers, Mangiapane is already showing signs he could eclipse those marks in 2022-23.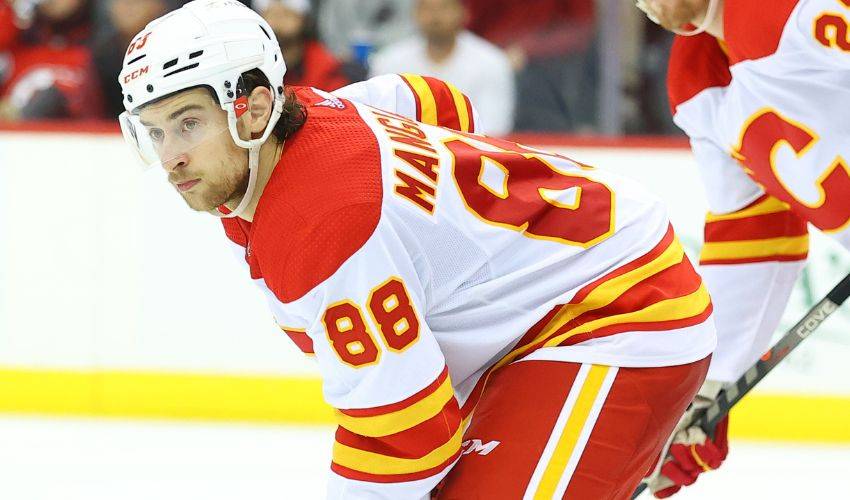 Feature photo: Getty Images
---
On the ice, Andrew Mangiapane's game is already in solid form. On the links? Well, that's a much different story.
Fresh off a season highlighted by a string of personal-best numbers, Mangiapane is already showing signs he could eclipse those marks with the Calgary Flames in 2022-23.
While they won't count towards his NHL goal and point totals, the stats he posted at the recent Boots and Hearts Barn Burner charity hockey game in Barrie, Ontario, was a nice way for the left-winger to get into the competitive spirit ahead of the upcoming NHL campaign.
Mangiapane was joined at the event by several current NHL players, including John Tavares, Tyler Seguin, Chris Tierney, Quinton Byfield, Devin Shore as well as former NHL greats Mike Gartner, Gary Roberts, and others.
"It was good to see some familiar faces. I saw Connor Brown there and we played the World Championships together, so it was nice to catch up with him and chat. You saw a lot of guys you know, so that's always a fun time to see what all the guys are up to."
The game, which featured players suiting up for either Team Denim or Team Plaid, started with a laid-back feel to it. That tone, however, changed dramatically as the game picked up pace noticeably before the buzzer sounded on the 14-14 tie.
"Early on, we were just taking it easy, but later on when it got close, you could see everyone getting more serious. I think the hockey player in everyone came out. We wanted to put on a good show. We went down to 3-on-3 for a bit, and you could see the guys really trying."
The festivities raised $155,000 for local organizations including the Royal Victoria Regional Health Centre's (RVH) new neonatal intensive-care unit.
Originally established as Hockey Night in Barrie, the event was launched ahead of the regions annual Boots and Hearts Music Festival as a way to raise funds and awareness for RVH. Last hosted in 2019, the initiative now assists numerous hospitals and community programs throughout Simcoe County.[MA1]
"It was really good," said Mangiapane. "It's always nice to give back in Barrie, which is where I kind of started my hockey career. The owner of the Barrie Colts, Howie Campbell, messaged me and asked me if I wanted to come out and I was happy to do it again. It was a lot of money raised for the hospital and for a lot of other great causes."
Drafted by the Flames in 2015, Mangiapane netted personal highs in goals (35) and assists (20) in 2021-22, playing in all 82 regular-season games. He added three goals and three assists in the postseason as Calgary bowed out to Edmonton in the second round of the Western Conference playoffs.
The forward is hoping to improve on all those fronts this season.
"I can't wait. Obviously, you want to do better on a team and personal level every year and that's what I'm aiming for."
Aside from his training regimen and attending former Calgary teammate Sean Monahan's wedding, Mangiapane has been working at honing his golf skills, which he admits are still very much a work in progress.
"My game is okay, but my driver is all over the place. The driver, the ball always goes left. I don't know why, but if you have any tips, I'll take them."
Calgary Flames fans don't need to worry about Mangiapane's performance on the fairways.
His on-ice efforts in Barrie could very well be a harbinger of good things to come for him and his Flames teammates.
"Having fun and raising money was what the event was truly about, but getting out there, seeing that competitive edge come out, getting those legs moving – it was good to get you in that mindset ahead of the season."
A season in which Mangiapane will have several new teammates.
He's already had the chance, albeit briefly, to connect with some of the new faces on the Flames, a list that includes Nazem Kadri, Jonathan Huberdeau and MacKenzie Weegar.
It's one more reason he's counting down the days until puck drop. Calgary launches its regular season on October 13, a home tilt against defending Stanley Cup champion Colorado.
"We had our team group text and the new guys and everyone said their hellos and welcomes. It will be exciting to get out to Calgary and see them and everyone face-to-face soon. I'm definitely ready to get going. It's exciting. It's like school all over again, moving on to a new grade and looking forward to making it the best year yet."