King Clancy recipient Mikael Backlund thankful for the opportunity to give back
Backlund credits his wife, Frida, for organizing many of their charitable efforts.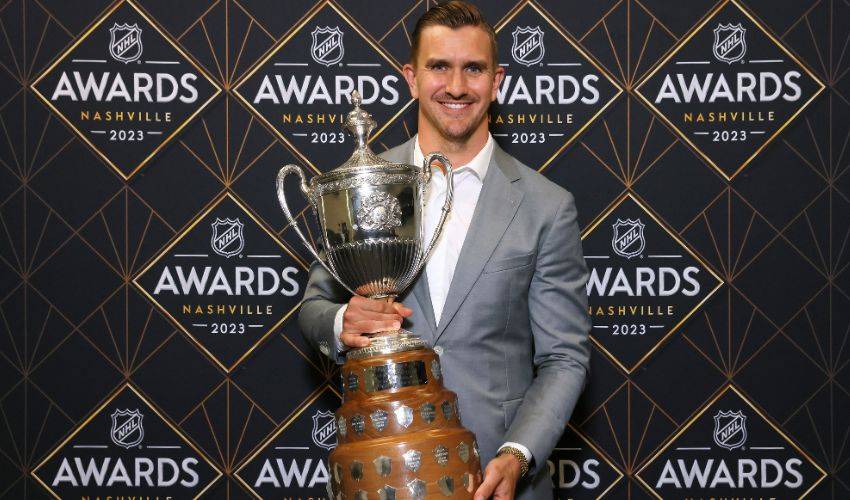 Feature photo: Getty Images
---
For Mikael and Frida Backlund, giving back to the community continues to be a team effort.
When Mikael was named the recipient of the King Clancy Memorial Trophy at the 2023 NHL Awards in Nashville, the Calgary Flames forward wanted those in attendance, and others tuning in, to know the honour was far more than a one-man show.
Presented annually to the NHL player or players who best exemplify leadership qualities on and off the ice, and who has made a noteworthy humanitarian contribution in their community, the King Clancy recognition was a meaningful one for the native of Vasteras, Sweden.
"I'm very grateful," said the veteran of more than 900 NHL regular-season games. "And Frida is a big reason for this. We do most things together, and she always supports me on and off the ice."
Soon after the two began dating, Frida shared the story of her mother, Ann, who passed away from ALS, or amyotrophic lateral sclerosis, a progressive neurodegenerative disease that affects nerve cells in the brain and spinal cord.
"In 2013, when I was talking to my wife, I had no clue what ALS was. Since it hit so close to home to her, I wanted to know more. Frida explained what it was, and from that moment we knew we wanted to get involved in some way. I remember when we started dating that she told me she wanted to make a difference in the ALS community. Years later, our dream is to play a small part in helping find a cure for ALS, to help those who have been affected by it and raise money and awareness."
The couple's commitment to making a difference through their connection with the ALS Society of Alberta became even more personal when Flames' assistant general manager, Chris Snow, was diagnosed with ALS in June 2019.
Mikael and Frida have since raised over $400,000 for the nonprofit and have hosted nearly 100 families affected by ALS at Calgary home games.
This past March, Frida wrote a children's book titled "Our Guardian Angels" inspired by her mother's fight against the disease.
"Frida is the one who came up with the idea to bring families who have been affected by ALS to the home games, and how that would create memories for the families," noted Mikael. "That was such a great idea and it's been an incredible program to be part of.
"ALS is getting more and more attention. Unfortunately, [Hockey Hall of Fame inductee and Swedish sports icon] Borje Salming passed away from ALS this year. He was such a great player and a great person too. Chris Snow, in our organization, is fighting it, and is still working for the team. I think there is more awareness around ALS these days and that is something that is very important to us."
It is far from the only cause the Backlunds stand up for.
Mikael, the longest-tenured player on the Flames roster, also supports Kids Cancer Care and Special Olympics Calgary. With personal connections to both organizations, he had a childhood friend diagnosed with cancer and a cousin who was born with Down syndrome. He has invited 500 guests to attend Flames games and meet with him afterward.
Mikael and Frida have also teamed with the Calgary-based Parachutes for Pets to create "Lily's Legacy" – a program named after their late dog, which helps to ensure children in care can stay with their pets during times of hardship.
"Parachutes for Pets, it's a smaller, local program, which is growing. Melissa David, who is the founder, is doing great things there. The work they do is amazing."
Not all of the work the Backlunds do receives the same level of notoriety as their other charitable endeavors.
All of it, however, is done with the same goal of helping others.
"A few years back, before we had kids and Frida would come to all the home games, she would take food that was left over from the wives' and families' room at the Saddledome and bring it to a homeless shelter. I got some credit for it, but that was all my wife's idea. It's one example of some of the many great things she's done in Calgary over the years."
Both are grateful to be in a position to help.
"For me, I just always had a drive to help people in any way I can, to support them and their cause," said Mikael. "We live a privileged life and a good life. We're fortunate to have the life we have, and we want to help those who aren't as fortunate. I know I have a platform to do it, so I don't want to let that pass by.
"We're trying to raise our kids [Tillie and Oliver] to be generous and kind people, to understand the importance of being caring. It's great to see and it makes us proud. We want to be role models for them."
They also want to help as many people as they can while also putting the spotlight on the causes they support.
As part of his King Clancy award, Mikael will receive a $25,000 donation from the National Hockey League Foundation to benefit a charity, or charities, of his choice.
"That's such a big part of this award, that these programs and charities will get more of a spotlight on all the great work they do."
With a big assist from one of hockey's most giving couple.