Darnell Nurse founds scholarship for deserving students
The Darnell Nurse Excellence Scholarship, which will be awarded annually to two graduating students at St. Thomas More Catholic Secondary School for the next three years,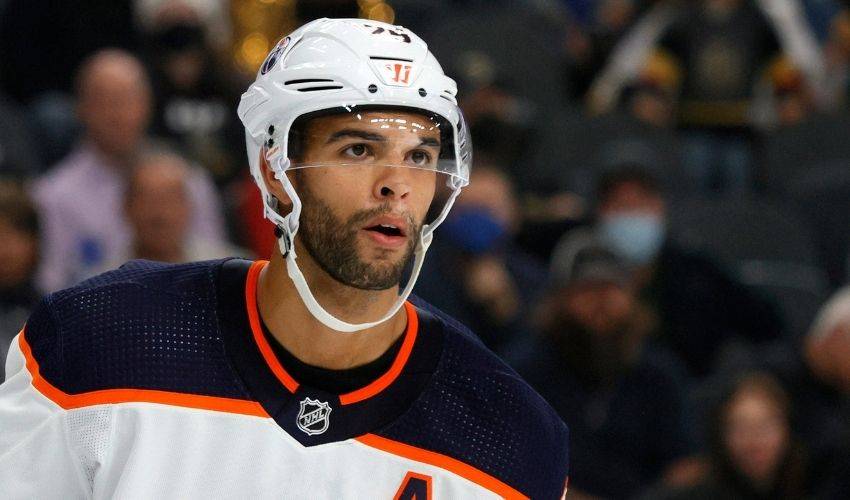 Feature photo: Getty Images
---
Darnell Nurse is helping students from his alma mater in their pursuit of higher education.
It was near the end of 2020 when the Edmonton Oilers defenceman reached out to staff at his former high school, St. Thomas More Catholic Secondary School (STM), about creating a scholarship in his name.
"When we couldn't play for a time a couple years ago, I had some free time and I started thinking about ways to get involved in the community," said Nurse, who was an honours student at the school in Hamilton, Ontario. "After talking over some ideas, we came up with the scholarship plan. I think a scholarship for those who need it is a very important thing."
The Darnell Nurse Excellence Scholarship, which will be awarded annually to two graduating students at STM for three years, is designed to ensure students are not held back from pursuing their post-secondary aspirations due to financial need.
Last year, interested candidates – 32 in all – were asked to submit an essay, which included a section on how they had overcome difficulties, yet still excelled at school.
"You read those essays and it really puts into perspective just how much these young adults have been through and how they have persevered," said the 27-year-old defenceman who recently scored his 50th career NHL goal. "It's very eye-opening. The way they are able to maintain high marks, be leaders in the community … this is the least I could do to help out."
Near the end of May, the first scholarships – valued at $40,000 per student – were presented to Tharani DeSilva and Kiarra Melanson.
In a media release from Hamilton-Wentworth Catholic District School Board, it shared DeSilva's story of how she immigrated from Sri Lanka as a young child and endured obstacles to succeed in her studies and beyond. During her time at STM, she played badminton, joined Step Dance and the Math Honours Society, and participated in Science Olympics. She also volunteered more than 300 service hours to school and community projects, including a four-year commitment as an Executive Committee member of STM's Halloween 4 Hunger Initiative.
Her goal is to become a prominent oncology researcher.
"She had a 99 average, so when you talk about scholastic excellence, that's right up there," offered Nurse. "She's so gifted, and she wants to make huge strides in the medical field. She was an immigrant to Canada and that hit home for me because my dad was an immigrant to Canada."
Melanson has also overcome numerous hurdles in her life, both inside and outside of the classroom.
After a childhood impacted by mental health and addiction issues, Melanson found stability at STM. Through a co-op placement, she realized her life calling would be to work with children.
"Kiarra faced a lot of challenges, but was able to maintain, I think, a 95 average," said Nurse. "She's faced a lot, but she was able to face those challenges head-on, having to grow up a lot faster than some of her fellow students, but still found a way to excel in the classroom. Her vision to help others is really inspiring. I told her that the story she shared is why we are doing this."
Nurse took part on a Zoom call with staff and students from STM to present the inaugural scholarships.
"It was something I won't ever forget," said Nurse. "Their stories, and all of the other stories I read, are truly amazing."
Being in a position to help others is of great importance to the Oilers alternate captain, who is approaching 450 NHL games, all with Edmonton.
So too is giving back to a place that holds great significance to his family.
"My dad went there, my aunts and uncles, my sisters – it's a school that is very close to my heart. I have so many friends from those days and I was lucky to have teachers that made a huge impact in my life. It's a place I wanted to give back to, to find a way to show my gratitude for what the school has done for me."
Nurse – who welcomed son, Aiden, with his fiancée, Mikayla, last May – has a new appreciation for his own scholastic experiences and the lessons he's continued to learn over the years.
"When you start high school, a lot of times it's that mindset of how fast you can get out and become an adult. In retrospect, those years are some of the best you will ever have, and some of the lifelong relationships you have and life lessons you learn come from those years. Those four years I spent at STM were great for me."
Nurse is hopeful others, including those who receive the scholarship that bears his name, have similar recollections of their time at STM.
"My goal is to make this something that lasts a very long time. The stories I read, they really do get to you. Every single person's story was special, and I can't wait to see the stories this year. You just want these young adults to get the most out of their high school experience, to take what they learned from those times, and go out and make a difference in the world."
Something that Darnell Nurse knows all about.