Carrick sleepless in Seattle along exciting new chapter
It's safe to say Connor Carrick is on a few exciting new journeys right now.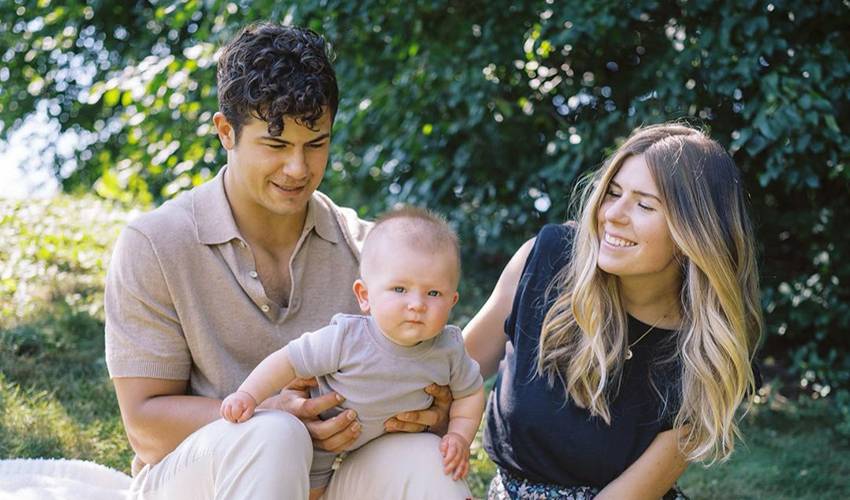 Feature Photo: IG / @connorcarrick
---
Connor Carrick has been sleepless in Seattle.
There have been times, plenty of them over the last eight months, when the Seattle Kraken defenceman and his wife, Lexi, have had to work overtime as they take turns tending to their son, Charlie, born this past January.
"It's been the best," said Carrick. "Having a kid… it's really something. There's no other way to put it. But it's definitely a lot of work. My wife, she's done a wonderful job. But there's a lot of pressure on moms. I don't know what she's always going through, but she's been amazing."
As far as the biggest eye-opener about fatherhood, the 27-year-old pointed to having his eyes open at times he normally wouldn't. That said, the Illinois native wouldn't trade any of what he's experienced.
"When they start to smile and interact with you, or mirror what you're doing – it's something that's really indescribable. When you hold him, you're around him, or when he wakes up and is smiling, it's the greatest feeling you can have."
Parental advice from family, friends and fellow players, has been helpful to the new parents. Two texts in particular stand out for Carrick.
"I had one uncle send me a message that said, 'Don't worry, you will figure out how to survive on an incredibly low amount of sleep.' I look back and that's exactly how it played out. Last season, there were times I went to the rink and found a spot in the back room to take a nap. I had another uncle send me a message that read, 'Now you know just how loved you are.' I'm fortunate enough to have both parents in my life. That was really something when I read that text."
Plenty has changed for the Carricks since Charlie's arrival, including a new NHL city for the family to call home.
Drafted 137th overall by the Washington Capitals in 2012, and a veteran of 241 NHL regular-season games, Carrick signed as a free-agent with the Seattle Kraken in early August.
The 5-foot-11, 192-pound blueliner has played in seven NHL seasons with the Washington Capitals, Toronto Maple Leafs, Dallas Stars and New Jersey Devils.
"Connor is a mobile, dependable defenseman who will be helpful to our team in all facets of the game," Kraken general manager Ron Francis said in a team statement to announce the signing. "His skill set and experience will make him a valuable asset to our organization."
Carrick, who is already in Seattle, is feeling right at home in the Pacific Northwest.
"We're thrilled to be here. We're coffee people, so that's just one of many things that have us excited to be here. There are a couple of spots I'm going to venture out to soon. Seattle has a great vibe. It's a cool, adventurous place. The food scene reminds me of Toronto. It's very diverse in what it offers, a lot of Thai food, a lot of sushi places, and farm-to-table restaurants. Lexi and I are pretty pumped about all of that."
Carrick is also looking to make the most of his new opportunity on the ice with the expansion Kraken, and he is ready for the challenge.
"I'm on a two-way contract on a very congested D-corps. I knew my career is in a tough spot over the last couple years. I've definitely done more from less. From a family perspective, we're taking a very realistic approach. We know what the highs and lows of this year could potentially look like. It's never the same when you actually go through it. This is my ninth year playing pro and you start to have conversations about your career. We all want to play for as long as we can, but you also look at how long it will actually be and look at how you're going to handle this portion of your career."
For Carrick, that means bringing his A-game to the rink every day.
"That's the focus for us, to do our best, to be physically and mentally ready. Like every player at this time of year, we're hungry to see what's next. I don't know [head coach] Dave Hakstol tremendously well, but from his years in Philadelphia, I played against him a bit and hope he has a good recollection of me as a player. I had some strong games against Philly when he was there.
"Ron Francis, who put together the club, I also admired the way Carolina – where his fingerprints are – plays the game. I think, like any player that is part of this team, you're excited at the newness. It's a situation that really allows for competition and that's what you want."
Carrick will also be devoting some time to his popular podcast.
As noted on its official page, the Curious Competitor "is a journey into the pursuit of improvement and well being-physically, mentally, and spiritually," where Carrick talks with guests about how they curate and execute their respective craft.
"I took a little bit of a break in the last couple weeks because of the move. I have an opportunity to have some sponsors come on, which is exciting. It hasn't become its own entity yet, but we're getting closer. I really enjoy the eclectic nature of the podcast and it's very stimulating for me, but I could see where the guests would want a little bit more consistent storyline.
"My goal over the next four weeks is to have a one-month focus on a particular topic with an array of different guests. One of the topics that I'm going to delve into is mental health. I'm also going to talk to Riley Sheahan, who is from Chicago, and is now with Seattle. He has his own podcast, and we're in similar stages of our careers, so we have a lot in common."
One of Carrick's most popular episodes to-date was with a guest very close to him, and also one he may not have expected would garner the amount of listeners it did.
"I'm going to talk with my wife in an upcoming one as well. That was actually one of my most successful podcasts, which she reminds of from time-to-time. I think my career has been just as much of a test for her as it has been for me from a character development standpoint. I think a lot of people connected with her on that level, and if they didn't, they were at least curious about it."
Carrick is eager to see how everything in his life, on and off the ice, plays out in the coming weeks and months.
Despite the unknowns, he's facing it all of it with a positive outlook.
"Everything is fun right now and chock full of excitement."