After the Buzzer | Bryan Rust
Michigan native Bryan Rust reveals all his pop culture favourites, what teams he cheered for growing up, and describes his ideal offseason.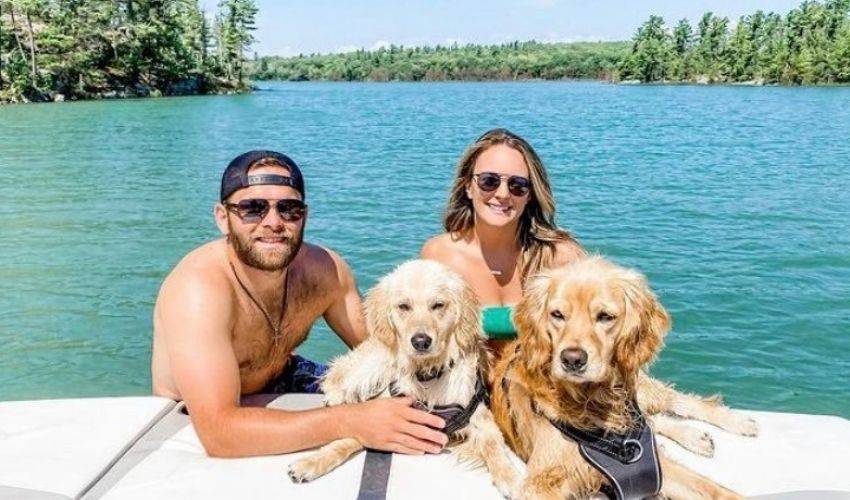 Feature photo: Instagram / @kelseyrust_
From their bond with fans to their efforts in the community – and everything in between – 'After the Buzzer' is a weekly series taking readers beyond the rink to shine a light and provide insight on players' lives away from the game.
---
Bryan Rust has some mad gaming skills. But which sports game is he tops at, hockey or football?
The 28-year-old forward recently spoke with NHLPA.com, and talked about his talent for a particular sports video game, the most memorable concert he's been to, which sports teams he followed in his younger days, and his two favourite movies.
FIRING ON ALL PISTONS
Growing up in Michigan, Rust had plenty of sports teams to support. There are two famous professional teams that he enjoyed following as a kid.
He did, however, have to give one of them up when he hit the NHL stage.
"That's a good question. Ever since I got to the NHL, I haven't really followed a particular team. I just really enjoy watching sports in general. I was a huge Red Wings fan growing up – they were very good throughout the '90s and early 2000's – and they were a big favourite of mine.
"I was also a big Pistons fan. The Pistons won the title in 2004 and that team was just so good defensively. I would usually make it down to watch a few Red Wings and Pistons games each year. But I haven't been to an in-person live sporting event in quite some time."
SUMMER FUN
Rust, drafted 80th overall by the Pittsburgh Penguins in 2010, has a pair of summer pursuits that take up a lot of his off-season time.
"When it comes to favourite things to do in the summer, I'd have to go with boating and golfing. Growing up, we had a cottage that we went to a lot and we spent a ton of time on the water. I have a place on the lake and it's great to get out on the water when the weather is nice and hot. I also like golfing too. I'd say it's a tie between the two."
SINGING THE PRAISES
A big music fan, Rust has been to his fair share of live concerts. As for which one stands out as the most memorable, the solid two-way forward opts for hit-making performer who was born in Honolulu, Hawaii.
"I would go with Bruno Mars. He was really good. It was the summer of 2017 at the Palace of Auburn Hills [Michigan]. We had a great time."
REEL TIME
When it comes to his favourite movie of all times, Rust opts for a first-place tie between a pair of films that came out in 2000.
"I'd have to go with The Patriot and Gladiator. I couldn't even tell you how many times I've seen each one over the years. I really enjoy them both."
HE'S GOT GAME
Rust was a big sports video game guy growing up, always making sure he had the latest NFL and NHL offerings.
As for which one he was most adept at the forward opted for ice over the gridiron.
"I loved playing the newest edition of Madden NFL Football, and also whatever the newest edition of the NHL franchise was. Growing up and loving sports so much, those were the two games my buddies and I would always play when we got together."
"I'm going to toot my horn a little bit and say that I was pretty good at NHL. My Madden skills probably weren't up to par, but I was pretty good at NHL."
PARTING SHOT
"I was definitely jamming along. I don't know if I was belting out the words, but I was having a good time." – Rust, on enjoying the 2017 Bruno Mars concert.