Superstitions and appreciation for Crosby ahead of 1,000th GP
Sidney Crosby has accumulated a few game-day superstitions along his march to 1,000 NHL games. Some make his teammates laugh, while others make them marvel.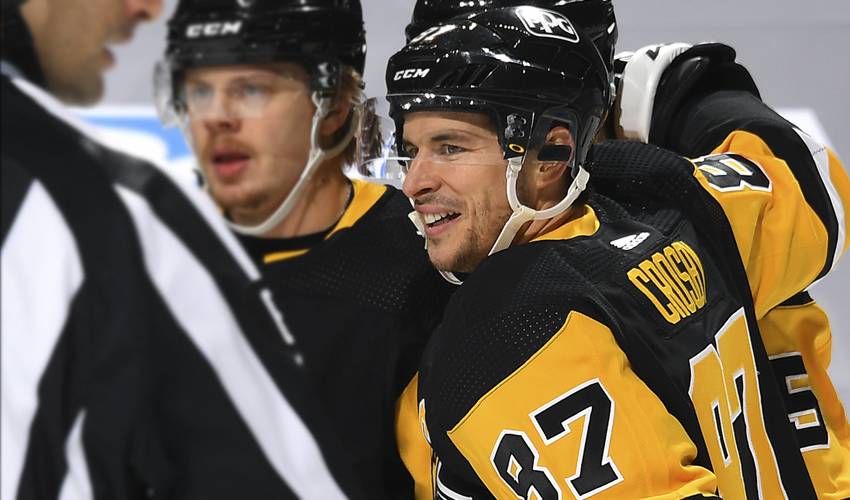 Feature photo: Getty Images
---
Will No. 87 be mixing up his routine ahead of his 1,000th NHL game?
It's unlikely.
If all goes according to plan though, Sidney Crosby will reach the milestone February 20 in a Pittsburgh Penguins home game against the New York Islanders.
Aside from the undeniable skill he brings to the ice and his status as one of hockey's all-time greats, the 33-year-old is also known for a plethora of fascinating pre-game rituals.
Throughout the course of Crosby's hockey career, he may have developed as many game-day rituals as awards and honours he has in his trophy case.
When the Penguins captain sat down to chat with NHLPA.com last May, one answer in particular shed light on his penchant for personalized routines.
"How long do we have?" laughed Crosby in response to a question about having any pre-game rituals. "Oh, yeah. I've got a few of those. I tape my stick pretty much at the same time. Everything is pretty timed, I think. I have a long list. You don't want to hear it."
But his teammates are more than happy to talk (glowingly) about which ones on the list are their favourites.
"For me, it's the ones that he ends up sucking someone else into," said teammate Jason Zucker, who came to Pittsburgh through a trade with the Minnesota Wild, February 10, 2020. "He's got teammates who do things he likes to do and now they're pulled into it. I try to stay as far away as possible from that stuff. I don't have any with him right now and I'm hoping to keep it that way. I'm the guy that will forget to do it – say the thing, the handshake, or whatever it is – so I need to stay as far away from it as I can."
Brandon Tanev, who signed as a free agent July 1, 2019 with the Penguins, has a great appreciation for the specifics of Crosby's pre-game rituals.
As for his personal favourite, the 29-year-old forward opts for something that has nothing to do with hockey.
"There's a thing we do before we play soccer. The ball can't touch him before he's ready to get into the game with us. Our team is a big soccer team, so it's kind of funny to see when he's warming up and the ball goes near him, he's always aware of where that ball is when he's not part of the game."
Bryan Rust, who has played all of his 320-plus NHL games with the Penguins, is a huge fan of Crosby's stick-handling skills.
His admiration for the captain's top-notch hand-eye coordination isn't reserved for just after the opening face-off takes place.
Rust marvels at what he sees in the moments leading up to the start of the game.
"I think it's always fun to watch him stick-handle on the McDonald's "M" that's painted on the ice. He does that during warm-ups. I always get a kick out of seeing that and watching the videos of it."
But Crosby isn't all about superstitions and rituals.
Drafted first overall by the Penguins in 2005, the Nova Scotia native was named the Penguins' captain in 2007. At the time, he was the youngest NHL player to ever hold that title. A testament to how highly regarded Crosby is among his peers, his individual NHL-level accolades include three nods from his fellow NHLPA members as "most outstanding player", for the first time in 2007 with the the Lester B. Pearson Award and again in 2013 and 2014 after the accolade was reintroduced as the Ted Lindsay Award. Filling out his hardware shelf are two Conn Smythe Trophies (2016, 2017), two Hart Memorial Trophies (2007, 2014), two Art Ross Trophies (2007, 2014), two Maurice Richard Trophies (2010, 2017), and one Mark Messier Leadership award (2010). He was also the recipient of the Lou Marsh Trophy as Canada's Athlete of the Year in 2009. Of course, he's also won hockey's most coveted team prize three times, winning the Stanley Cups in 2009, 2016 and 2017.
However when teammates speak of Crosby, the first thing that comes to mind is not his seemingly endless list of accolades and accomplishments.
"He's the epitome of just a great overall person," said Rust. "It doesn't matter if you're young or old, if you've been in the league 10 years or 10 games – he's a guy who treats everyone the same. He's definitely become a good friend of mine and we've got some great memories."
One of the first messages Tanev received when he signed with the Penguins was from Crosby.
"He sent me a text right away after I signed in Pittsburgh and when you finally get to meet him, see how hard he works and how much time he puts into his game, it's really impressive. He's just such a good person. He does everything for everyone else before he'll do anything for himself. To be a part of the team and see how he goes about things on a daily basis, it really resonates with you."
Zucker, who had 12 points in 15 regular season games with Pittsburgh in 2019-20, wasn't quite sure to what to expect when he met Crosby for the first time.
The veteran of nearly 500 NHL games was almost left speechless.
"The first time I met him, it really took me aback. I didn't realize just how down-to-earth and nice of a guy he is. He was very welcoming to me when I came here."
Zucker had a quick response for what makes Crosby the consummate professional.
"For me, it's the type of person he is. He's very easy-going. He wants to be around the guys and be involved in all the chatter and all the stories. For a lot of people of his magnitude in this sport, the amount of face time he's had in his career, that can change a person, but it hasn't changed him. He's very down-to-earth. Whether it's a rookie playing his first game or a guy like Tanger [Kris Letang] and Geno [Evgeni Malkin], who he's played with for 15 years, he's the same way with every person."
Said Rust, "To see him get to 1,000 games is awesome. I know he's definitely got a few hundred more left."
And likely just as many pre-game rituals up his hockey sleeve.