Appleton settling in to Jets lineup and hockey home
From Wisconsin to Winnipeg, Mason Appleton is drawing parallels between his hometown and hockey home.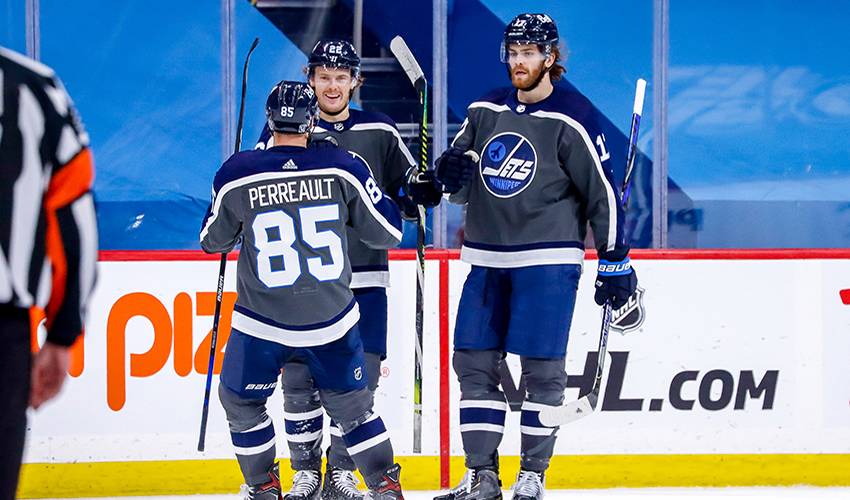 Feature photo: Getty Images
---
How can a Green Bay Packers fan feel right at home in Winnipeg, Manitoba? Easily, if you're name is Mason Appleton.
Long before the Winnipeg Jets selected him in the sixth round of the 2015 NHL Draft, the young kid from Green Bay, Wisconsin, was all about rocking the dark green and gold colours of the NFL's Packers.
"Growing up, that was the team I rooted for," the 25-year-old told NHLPA.com. "Just like everyone in the city, I was a big Packers fan."
As far as similarities between his hometown and his hockey home go, Appleton sees one obvious parallel.
"I actually compare the two a lot because of their respective fan bases. You grow up in Green Bay and it's Packers, Packers, Packers, all the time. And then you get drafted by the Jets and it's the same thing here. I think the fan bases are very similar."
Playing in Winnipeg has been a perfect fit for Appleton, on and off the ice.
Coming from a city and state that doesn't have an NHL franchise, he didn't follow any particular team or certain players as a kid.
Instead, Appleton got the best of three worlds, so to speak.
"Honestly, being from Wisconsin, I didn't have a home team, so I watched a lot of the Blackhawks, Red Wings and the Wild. There wasn't one particular guy that I followed – I just enjoyed seeing how talented the players were. That's kind of how it was for me."
Once he heard his name called by the Jets, that all changed.
"Winnipeg, it's a great city and we have a great group of guys here," said Appleton. "Both of those were obvious from the very beginning."
Appleton had caught the eye of Winnipeg brass after a 12-goal, 40-point season with Tri-City of the United States Hockey League and played two seasons at Michigan State before signing with the Jets.
In 2017-18, skating for the American Hockey League's Manitoba Moose, he put up 66 points, including 22 goals, in 76 games, taking home top rookie honours. He continued to be a steady offensive contributor in 2018-19, which prompted a midseason call-up from the Jets.
He made his NHL debut against the New Jersey Devils December 1, 2018, earning a third period assist.
"I didn't know I was playing until right before morning skate. Then it was the nerves kicking in for the next five or six hours. Then you step on the ice and take warm-ups. That's when you start looking around and seeing NHL jerseys on everyone… that's when it kind of hits you. The puck drops, you take that first shift and then it's all about hockey. That's when hits you all at once, you're playing in your first NHL game."
Now nearly 100 games into his NHL career, Appleton scored his first big league goal in a 5-3 win against the San Jose Sharks December 20, 2018.
After a dozen games into 2021 Appleton is feeling comfortable in his new surroundings on the ice with a quick seven points, and off the ice too.
"It's been really good being here. It's been tough for a while because you can't get out and do as much, but I really like it here, and I call it home now. The people here are awesome and very welcoming. You really do feel comfortable here. It's great."
So, too, is any opportunity to talk hockey with his friends and family back in Wisconsin.
"Having that time to catch up with everyone back home, you always look forward to that. It's just nice to stay in touch throughout the season and have a chance to talk hockey with everyone that's supported me along the way."
Appleton, who tallied twice in a win against Calgary February 4, doesn't have to worry about converting a certain group of Packers backers into Jets fans once the NHL season is on.
Trying to convince his Minnesota-born captain to change stripes when it comes to his favourite NFL team, however, is a non-starter for Appleton.
"Definitely not. Blake [Wheeler] is a diehard Vikings fan. I wouldn't try converting any of those guys on the team into Packers fans. I'm really happy to be in the role I'm in."
And he's equally happy to be in a place that feels just like home.