Mason Appleton feeling right at home after trade to the Jets
Forward Mason Appleton is excited to be back where his NHL career started after recent trade.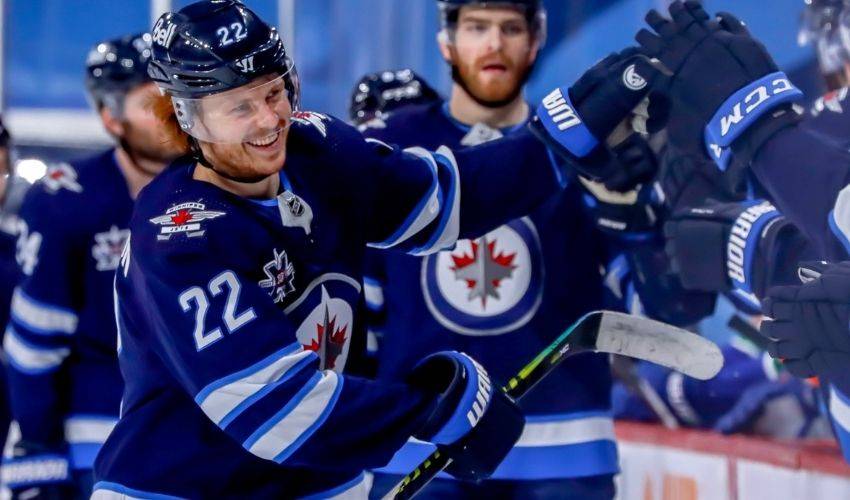 Feature photo: Getty Images
---
It wasn't quite the red-carpet treatment, but Mason Appleton's return to Winnipeg did have its share of fanfare.
When the trade became official, the one that brought the 26-year-old back to the Jets via the Seattle Kraken, it didn't take long for the text messages to start pouring in from former Jets teammates, all elated to have Appleton back in the fold.
The man at the centre of the deal, which sent him from Seattle to Winnipeg for a fourth-round pick in the 2023 NHL Draft, is thrilled to be reunited with the team that drafted him in the sixth round in 2015.
"I'm very excited to be back," said Appleton, who spoke with NHLPA.com on his way to practice, one day after a the Jets' 4-0 home win against the Golden Knights. "I was sitting there, the trade happened, it was late at night. A lot of the guys reached out and they were all super excited, just as I was. It kind of feels like I never left."
Words that Appleton, who was selected by Seattle in last year's NHL Expansion Draft, has heard more than a few times since his return.
"A couple of guys said it was as though I was either injured or on vacation, and now you're back," recalled the centre, who spent the first three years of his NHL career with the Jets, including a career-high 12 goals and 25 points in 56 games last year to finish eighth on the team in points.
Playing with Seattle provided Appleton with the opportunity to face off against the Jets on two occasions, once in Seattle, and once in Winnipeg.
Those games proved to be somewhat of a surreal experience for the forward.
"Some people love playing their old team and others don't. I find it almost a weird thing, to play against your best buddies on the other side, going out there and competing against them. You learn a lot playing with guys and then having to go up against them."
Now, the native of Green Bay, Wisconsin, will look to play his part as the Jets seek to move up in the standings in the Western Conference playoff picture.
It didn't take Appleton long to get back into playoff mindset.
"Coming back to a place where I know the city and the faces – it's not very often you get traded and know everyone in the locker room. So, it's very easy to be back in the same place with the same guys. You step back into a situation where every game counts. We're right behind those wild card spots and getting those two points each night is crucial. Everyone is pushing hard to get that chance to be in the playoffs."
Minutes after the flight from Seattle landed in Winnipeg, Appleton realized it's not just players who are primed at the prospect of playing for the Stanley Cup.
"When I was leaving the airport, a few fans came up and said hello. That was great. The fans here, they know the players inside and out. That's just one more thing that makes you feel right at home."
Appleton is searching for that same comfort level away from the rink.
Currently living at a hotel, he and his fiancée, Sydney, are looking for a spot to call home for the rest of the regular season and, hopefully, beyond.
"It was a bit bizarre coming to stay at the hotel, rather than driving to my old house, but we're looking at finding a place right now. My fiancée is a huge help with that – she's much better than I am at the stuff – so it's been a bit of a whirlwind, but at the same time, it's just really nice to be back here. We'll look to get a place for the last month of the season and hopefully, for a playoff run."
If Appleton's first game back in a Winnipeg uniform is any indication of the Jets' playoff fortunes, his return to Manitoba could read like a Hollywood script.
He would be just fine with that.
"I've said it a lot, but it really is great to be back here. To come into a situation like this, where you know everyone, and every guy is working so hard to get into the playoffs, I feel very lucky. I'm just going to do whatever I can to help the team win, and to chase that goal of making it to the playoffs. It's really exciting to be part of it all."