Full offseason plate no problem for Hathaway
From fundraising for Hath's Heroes to preparing for his new role as a father, Garnet Hathaway's plate is full and that's just the way he likes it.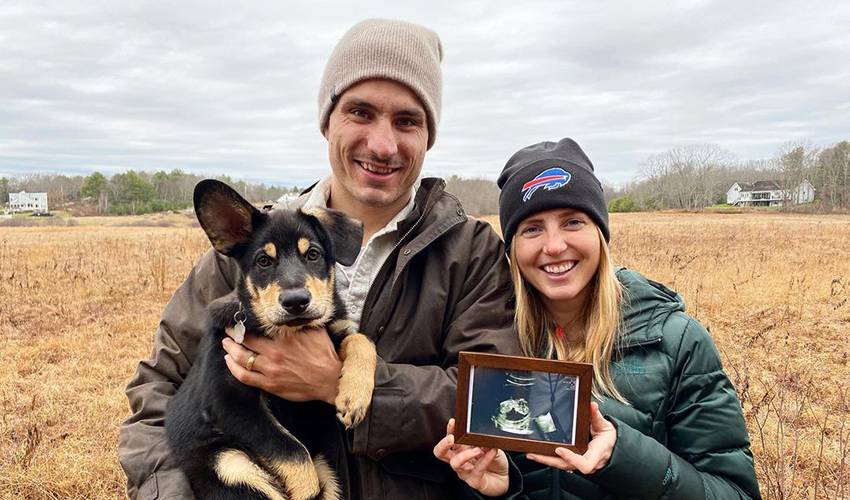 Feature photo: IG / @ghath23
---
Garnet Hathaway has a lot on his plate, both literally and figuratively, and that's just the way he likes it.
The 29-year-old forward for the Washington Capitals is definitely not a man of inaction.
In fact, the more he has going on his life, on and off the ice, the more content he seems to be.
Training for the upcoming NHL season, team meetings on Zoom, making a difference in the community through his Hath's Heroes foundation, heightening his culinary skills – Hathaway is working overtime these days.
Did we also mention that he and his wife Lindsay are expecting their first child in May?
"It's been pretty busy lately," said Hathaway. "There's definitely a lot going on. Soon enough, Lindsay and I will have a baby here with us. We don't know if it's a boy or girl yet – we're going to wait to find out. For how chaotic it was in 2020, I was able to spend that time with her, being around for the first trimester and more. I've been able to go to every doctor's appointment, which has been nice because normally that wouldn't be the case at this time of the year. So, that's one of many things that's going on in my life right now."
The native of Kennebunkport, Maine, has also found time to help others in need over the holiday season.
Hathaway founded Hath's Heroes just prior to the 2019-20 NHL campaign as a way to give back to first responders. The idea for the initiative was inspired by his great-grandfather, Garnet Mcelroy, who was a firefighter in Winnipeg.
Through Hath's Heroes, first responders were able to enjoy a special meal for U.S. Thanksgiving.
Thanks to community contributions to Hath's Heroes, we provided our First Responders with more than 940 meals this Thanksgiving holiday. To learn more about Hath's Heroes or to support future initiatives, visit https://t.co/9WCnKp7imZ. Thank you Caps fans for your support! pic.twitter.com/2OezyGsnMn

—

Garnet Hathaway (@GarnetHathaway) December 3, 2020
Nearly 950 meals prepared by SuperFd were brought to firehouses in Arlington, Va., Alexandria, Va., Fairfax, Va., and Prince George's County Md.
"It's important to recognize the first responders at any time, but even more so with what they have had to face throughout the pandemic. With the community's help, we were able to get some meals to people. It was really special. We all enjoy a Thanksgiving dinner with our families, but to know there are men and women out there away from their families working hard to protect us, to be able to team up with SuperFd and provide a really nice meal to make it feel like a holiday… it's a way to show we care. I wish we could have joined them in person, but it turned out really well. A lot of people came together to make it a success."
There was also a fundraiser which concluded on December 30, where proceeds raised will be used to fund future Hath's Heroes events and programming for first responders in the Washington area.
Auction items included a trio of 30-minute virtual experiences with Hathaway and some of his teammates, a list that included a virtual 'The Office' trivia game with Hathaway and Nic Dowd, a virtual dinner party with Hathaway and Brenden Dillon complemented by a three-course dinner prepared by SuperFd, and a virtual cooking experience with Hathaway along with Capitals radio play-by-play personality John Walton.
New Hath's Heroes fundraiser item!

We just added tickets to a future game with a post-game meet and greet! All proceeds will support local First Responders. Head to https://t.co/rrzLqMW5X1 to check out all the items available.

Thank you for your support! pic.twitter.com/wBQWD3Mkh6

—

Garnet Hathaway (@GarnetHathaway) December 22, 2020
There was also a Reverse Retro jersey autographed by Hathaway, a Capitals Reverse Retro jersey signed by Nicklas Backstrom, a Capitals Reverse Retro jersey signed by T.J. Oshie and a stick signed by Hathaway.
"I'm lucky to be on a team where the guys are willing to step up and help in a split-second. None of the guys blinked an eye when I told them what I was doing. Obviously, we'd love to be doing these meet-and-greets in person, but we were able to pivot and come up with some pretty cool ways to connect with first responders and the people in our community that support us."
In September, courtesy of fan donations, Hath's Heroes and the nonprofit organization Mindful Junkie (a not-for-profit organization that empowers first responders with mindfulness) hosted a Mindfulness For First Responders training session.
Really excited to announce @Mindfuljunkie and Hath's Heroes recent partnership to support our local First Responders! Gina works so passionately to help First Responders manage the stressors of their job, on and off duty. Can't wait to work together on future projects! pic.twitter.com/uOAbrEikGC

—

Garnet Hathaway (@GarnetHathaway) October 26, 2020
The right wing has also donated tickets to Capitals games and meets with the recipients for a postgame meet-and-greet along with a tour of the locker room.
Hathaway, who has established a strong bond with Washington-area first responders, including visits to local fire stations, was Washington's nominee for the King Clancy Memorial Award for the 2019-20 NHL season. The award is given annually to a player who best exemplifies leadership qualities on and off the ice and who has made considerable humanitarian contributions to his community.
Although his cooking skills won't garner any award nominations, Hathaway has been sharpening his food game for a good portion of 2020 too.
He was part of Skates & Plates, a league series where celebrity chefs virtually teach NHL players how to prepare a restaurant-worthy dish at home.
"I think I'm coming out of this a better cook," said Hathaway. "I can tell you I've definitely had my mishaps. I've burnt food and I've made some inedible things as well, but with the time we've had to be at home more has helped me to get better. Guys have a lot of different hobbies and for me, food is it."
Creating a meal does have its benefits.
"It really does. It's a time during my day where you can get away from things for a while, relax and hopefully, make something nice."
On this day, Hathaway, just off a team Zoom meeting, is heading outside to barbecue salmon (his specialty). He'll also do some baby-to-be planning, quickly check-in on Hath's Heroes, and chat with some of his teammates.
Just another typical day in the busy life of Garnet Hathaway.
"I guess I don't enjoy sitting around, right? But that's the way I like it."