Tatar's newly launched website benefits Dawson Boys & Girls Club
You can call him Tuna or Tatarrrr, but if you head over to his newly launched website, you can wear your Tomas Tatar fandom while supporting a good cause.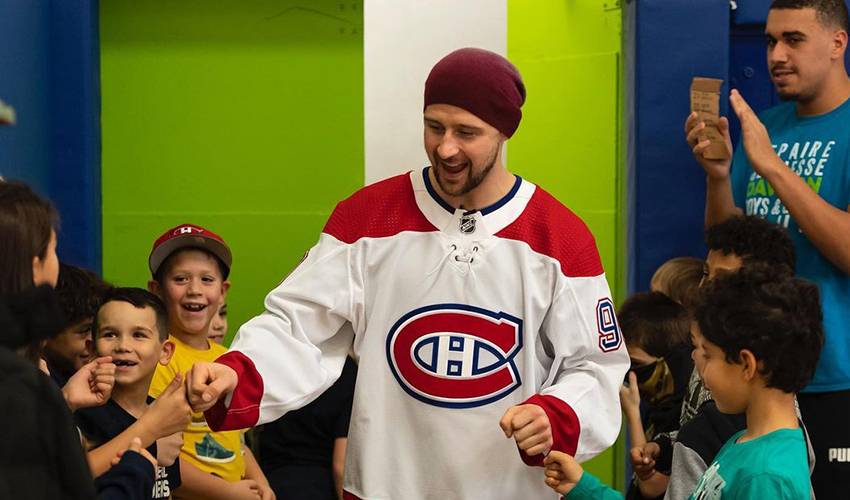 Feature photo: IG/ @tomastatar90
---
What's in a nickname? For Tomas Tatar, it's something he's hoping can give voice to a worthy cause.
The man known as "Tuna" – whose current Montreal Canadiens teammates often refer to as "Tuna Hockey" – is using both of his celebrated monikers for a good cause.
Former Detroit Red Wings teammate Tomas Holmstrom created one, fans chant both and fellow players chose the other as the league's best nickname in the 2019-20 NHLPA Player Poll for a second straight season.
The launch of Tatar's new website and a merchandising line created by 500 Level*, also comes with a charitable element to it.
"It's been great," said the veteran of 575 NHL games from his off-season home in Slovakia. "We wanted to do something for a good cause and I think is a nice way to do it. I'm trying to help as much as I can."
The recipient of his kindness is Dawson Boys and Girls Club, a non-profit recreational and educational organization in Verdun, Quebec, that serves over 700 members yearly as well as non-members.
Tatar knows the club well.
Earlier this year, he dropped by to spend some time with 20 kids involved in the recreation centre's after-school ball hockey program. He also had a surprise in store for the youngsters, doling out running shoes, hockey sticks, shin pads, gloves and Canadiens sweaters with his name and No. 90 on the back.
So, when Tatar began to give some serious thought about creating his own brand accompanied by a website and merchandise line, he wanted the proceeds from any online purchases to go to Dawson Boys and Girls Club.
"The first time I went to the club, that experience really grew on me. The kids were awesome and I wanted to help them and support them. We brought some hockey stuff for them so that they can play. Obviously, they are big fans of the Canadiens. Just to see the smile on their faces, it was really nice."
Tatar's website offers up a variety of clothing and gear for men, women and children, including some colourful shirts emblazoned with an image of the player and one of his popular nicknames.
There's a great story behind his favourite shirt.
"I like the one that says "Tatarrrr." We played a game against Vegas two years ago and there was one fan – I actually got to meet him later – named Dérek [Toulouse]. He was all over the TV screaming my last name. It went viral. It was nice to get to know him a little bit. I had a great laugh at it and I think fans enjoy that type of thing as well. I was smiling all over the screen when I saw it. I tried to find him over the internet and we did get to meet in person. I gave him tickets for a game because I thought it was so funny and I really wanted to meet him."
Tatar took to Twitter after the video made the rounds on social media, and tweeted his appreciation for Toulouse's exuberant show of support.
As for that nickname, Tatar has happily embraced it.
Between filming a commercial for Quebec restaurant Küto - Comptoir à Tartares (Saint-Bruno) to help spread the word about an offering on the menu (you guessed it, Tuna Tatar), to actor Mark Wahlberg and former NHLer Tie Domi's take with a Boston accent, the 60th overall draft pick of Detroit in 2009 is enjoying all of the good-natured fun that comes with his hockey handles.
"Even for me, the first time I heard it, I thought it was really funny. Then it seemed to spread really fast. It's nice. I'm really enjoying it and having fun with it as well. I should say thank you to Tomas Holmstrom. He started it and since then, it's just growing. I always like to see people laugh, and this nickname, I think it does make them laugh."
With the launch of tomastatar90.com, he has one more platform to show fans just how much he appreciates his backers making him feel right at home on and off the ice.
It's all about creating connections for Tatar.
"I'm having a lot of fun with all of this, the website and being able to give back to something that is very meaningful to me. I think the website design is excellent and hopefully, my fans will like it. It's not an easy thing to do when you have your own merchandise – everyone has different tastes and different styles. I think it's looking great, to be honest. I really like the idea of doing something like this, and fans have been reaching out to me. It's been great so far."
Would he consider donning a red and white suit, putting on a grey beard and delivering some of his namesake apparel to kids in Slovakia?
"Absolutely," he said with a laugh. "There's a high demand here. I would definitely need a big bag, that's for sure."
Just the answer you'd expect from Santa Tatar.
---
*500 Level is an officially licensed supplier of NHLPA products, under license by the NHLPA. Click here for more information on 500 Level.