Inspired by friend Demitra, Tatar pays it forward with hometown hockey club visit
Tomáš Tatar's recent visit with kids at his hometown hockey club was about remembering the past, embracing the present, and inspiring the future.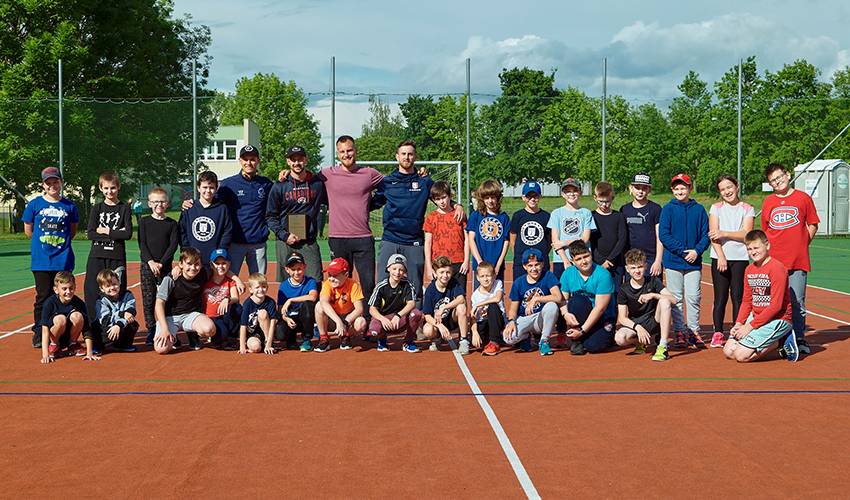 Tomáš Tatar's recent visit with kids at his hometown hockey club was about remembering the past, embracing the present, and inspiring the future.
In many ways, the experience was like a walk down memory lane for the 29-year-old Montreal Canadiens forward.
Dubnica nad Váhom is a town of roughly 24,000 people located in the Ilava District, Trenčín Region, Slovakia.
Hockey in Dubnica nad Váhom, as it is across the country, remains a beloved sport by both young and old. The Slovak Extraliga, founded in 1993, showcases 13 teams, including ŠHK 37 Piešťany, the club Tatar played eight games for in 2012-13.
Nine years into his NHL career, the 60th overall pick in the 2009 NHL Entry Draft hasn't forgotten his roots.
In May, when the opportunity to meet with young hockey players in his hometown presented itself, Tatar gladly accepted.
"Two of my ex-teammates, they became training coaches in my gym [FitFabrik] that I own here in my hometown. And because of their passion and love for hockey, they wanted to work with the kids in the hockey club – it is like their second job. They asked me if I'd like to come."
Tatar is glad he went.
"When I came, to see the faces on the kids, they were excited to see me because I am from their town, and played for the same hockey club. I think they really enjoyed it."
It was able to take place due in large part to Slovakia's quick response to the worldwide COVID-19 pandemic.
Tatar praised the country's efforts throughout the coronavirus.
"The situation here got a lot better. The government shut down everything pretty early. They closed the borders and then it was pretty much a full quarantine, and then planned phases. The first phase was opening a few stores, then there was phase two, which saw more restrictions lifted, and now, we are in the final phase, where there are almost no restrictions. The third phase included opening up everything on patios. About a week ago, they opened up restaurants and cafes on the inside, but it's still limited for guests. It is preferred that people wear a facemask in buildings. That's pretty much it. People are starting to get back to normal."
That said, Slovakians, Tatar included, are still adhering to certain protocols.
"There is still a little uncertainty, but at the same time, everyone is being very cautious about things. But the situation here is very, very good. People are not that worried, at least with the way it is now. Especially outside, in open spaces, you can do something like we did, play some hockey and enjoy each other's company. You still don't do things like high-five one another, and there is still a little social distancing, but it's a great situation. So, having the chance to visit with the kids was something I won't ever forget."
Just as Tatar has never forgotten a childhood visit from a Slovakian hockey idol and hometown hero, and how that interaction shaped his view of the game and life outside of the arena.
"I remember when Pavol Demitra came to my school when I was a little kid," said Tatar, of the star forward who played parts of 16 NHL seasons with five teams. "I still remember that day. I said that I wanted to come and make them happy the way Pavol did for us. It was a lot of fun."
Tatar went on to forge a close friendship with Demitra.
He is still deeply affected by the death of his role model.
Demitra, along with 43 others, was killed in September 7, 2011, when a plane carrying members of the Kontinental Hockey League's Lokomotiv Yaroslavl crashed in Russia.
"He was a good person," Tatar told NHLPA.com in 2014. "Everybody loved him. They still do. I would want everyone to know he had a big heart. He wanted to help every hockey player in Slovakia."
Just like Tatar is doing.
Whenever he returns home after each NHL season, the player with 575 games on his NHL resume always has time to for the kids who play hockey in Dubnica nad Váhom.
The conversations, short or long, always end with words of encouragement from Tatar.
He hopes to see more Slovakians make it to the NHL ranks in the coming years.
"Everybody loves hockey here. That, and soccer, are the two biggest sports. I look back at some of the successes Slovakia had, some of the great players [Zdeno Chara, Marian Hossa, Peter Stastny, Peter Bondra, and Marian Gaborik, just to name a few] that made it to the NHL, and those were big reasons why I started playing hockey. I wanted to be a hockey player."
Tatar might not use the words himself, but to many in Slovakia, he has become much more than an NHL star.
He's become a beloved role model.
"People are really glad to see players from here make it to the NHL. My father [Ján] really wanted me to be involved in the community here and I'm glad I can do that."
Demitra would no doubt be proud too.
"Pavol would always motivate me. There were so many times that I talked to him. And every time, I would feel very optimistic about one day playing in the NHL. He was very unselfish. He just made people happy."
The young players of Dubnica nad Váhom say the same of Tatar.