Lindblom, teammates reflect on inspirational journey to recovery
Sean Couturier takes a momentary pause when Oskar Lindblom's name is mentioned. Carter Hart does the same. So too, does Travis Sanheim.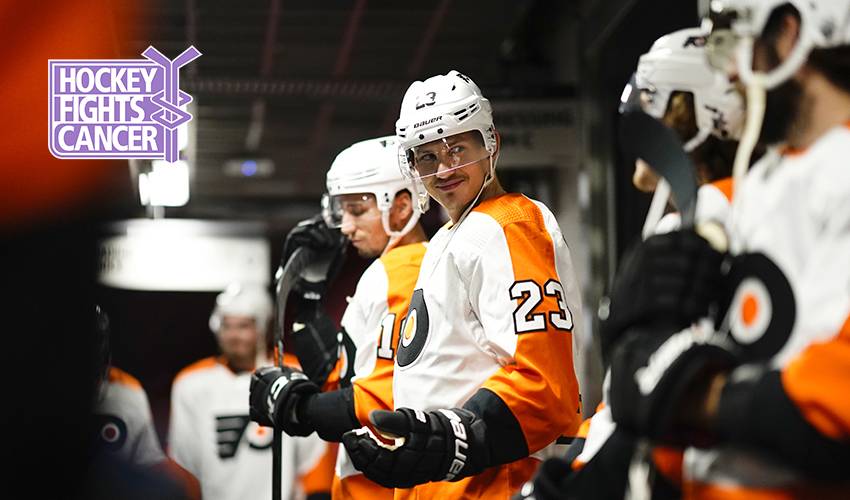 Feature photo: Getty Images
---
At times, it felt like their teammate was a million miles away. But if they ever needed a reminder of No. 23 was with them in some way, they didn't have to look far.
Sean Couturier takes a momentary pause when Oskar Lindblom's name is mentioned. Carter Hart does the same. So too, does Travis Sanheim.
It's understandable why the teammates of the Philadelphia Flyers would share a similar reaction, even more so considering that this November marks the 22nd Hockey Fights Cancer campaign, the annual initiative of the NHLPA and NHL in support of people impacted by cancer and their families.
With his treatments at Abramson Cancer Center at Pennsylvania Hospital behind him, Lindblom's story still stirs up emotions in his teammates.
From the time he was diagnosed with Ewing's sarcoma (a form of bone cancer) last December, throughout his treatment, to the moment Lindblom stunned the hockey world by returning to action in September, the 24-year-old's journey has had a profound, life-changing effect on his teammates.
Couturier, this year's recipient of the Frank J. Selke Trophy, recalled the moment he and his teammates first received the news of Lindblom's cancer diagnosis.
"I remember we were on our way to Colorado and we just landed. I think he was awaiting his results and he didn't know at that point. Once we got to the hotel, he had a meeting with our coach and some other people in the organization to find out the results. I think [Flyers teammate and Lindblom's close friend] Robert Hägg was there too. From what I heard, it was a pretty emotional moment.
"After that, Robert, he invited myself and Claude [Flyers captain Giroux] into his room to try and keep Oskar's morale up. From what I remember, he was quite sad, but you could also see that he trying to stay positive and strong. That really impressed me and it's stayed with me to this day."
Hart, selected 48th overall by the Flyers in 2016, also has that moment etched in his mind.
"We were all pretty shocked," said Hart. "It was tough to hear and it's still tough to put into words how you felt. On the ice, he's hard working. Off the ice, you saw the same trait when it came to this battle."
Lindblom knew it wouldn't be an easy fight.
It took a few days – and sleepless nights – for Lindblom and his girlfriend, Alma Lindqvist, to wrap their heads around the reality of it all.
"I felt so empty, and wondered, 'Why me?' I had a lot of thoughts running through my mind, about life, and if I would be able to play hockey again," said Lindblom in a recent Q&A with NHLPA.com. "Both me and Alma cried a lot, but we tried to stay positive even though it felt awful at that time."
Admittedly, that wasn't always easy for the couple.
"To be honest, I barely remember other than that it was such a big shock," said Lindqvist. "A lot of tears. The hardest thing was to see him being so weak. During the time he was sick, he felt nauseous very often and he could sleep all day long. It was a big change for us since we love to do stuff in our normal life, like hiking... It was really like living in a bubble."
Lindblom's absence took an immediate toll on the team.
Not just because of the character and class that makes him a favourite teammate, but also in what he brought to the ice.
"Having a person and a player of his caliber, someone you are lucky to know and to play with, is something you are grateful for," said defenceman Travis Sanheim. "It was tough to play hockey at the start when one of your buddies is going through that. It was an emotional time in the locker room, seeing his gear hanging up. We were always thinking of him."
While he wasn't winning a key faceoff or setting up a game-winning goal, Lindblom still managed to be a difference maker.
When the Flyers lost a few games after the left wing began undergoing his cancer treatments, he reached out to his teammates.
The first words he spoke weren't an update on his health.
"All the way along, I texted him to see how he was doing," said Couturier. "To be honest, he was awesome. Even the few first weeks after he had started his treatment, he had a great attitude. We went through a tough stretch when we got the announcement – we had a few losses in a row – and he let us know that we should go out there, play hard, and have fun. He said, 'If I'd be playing, I'd just want you to play your best and get some wins.' He relaxed the mood in our room. When you hear that from him, someone who is going through the biggest fight of his life… he was telling us how to handle things on the ice. That just showed the great person he is."
It's why the players kept Lindblom's jersey and hockey gear in his locker room stall during his absence.
Seeing it every day they came to the rink provided a much-needed mental boost for his teammates.
"We had his stall done up every game and every practice," noted Hart. "When he wasn't with us, there was always going to be some part of him that was."
"We had his gear all the time, even on the road," added Couturier. "He was still part of the team and we wanted him to know that we had his back. In the summer, when we were set to come back to play, AV [head coach Alain Vigneault] made a deal with him – we'll make sure we go through a round or two and he'd be ready for when we get there."
While it seemed a longshot at the time, Lindblom was working hard behind-the-scenes to hold up his end of the deal.
In an unexpected development, he resumed skating with Flyers teammates by June 23. Soon after, Lindblom rang the bell to celebrate his last cancer treatment on July 2. Six weeks later, he joined his teammates for a morning skate.
"When he rang that bell, it gave us chills," said Hart. "It was really special to see him do that. Then, he started skating with us and we realized there was a possibility that he could come back and play in the playoffs."
"It felt so unreal seeing him ringing the bell, and at that time I was like, 'How can six months fly by this fast?'" recalled Lindqvist. "So many emotions at the same time."
Lindblom, who participated in warm-ups before Game 4 of Philadelphia's Eastern Conference Second Round against the New York Islanders, was ready to go for a pivotal Game 6 on September 3.
During a morning skate ahead of his return, Hart pulled Lindblom aside on the ice.
He finally had the opportunity to say the words he had hoped to share for a long time.
"Our team wasn't skating that day, but a few of us went out. During the skate, I went up to him and said, 'How do you feel about coming back tonight?' He said he was really nervous. I said, 'You've played so many of these games in your life. Go out, have fun and enjoy it.'"
And that's precisely what Lindblom did, despite a draining initial shift.
With the Flyers unable to get the puck out of their own end, his first shift back lasted 1:39. He went on to record over 17 minutes of ice time as Philadelphia forced a Game 7 with a 5-4 double overtime win over the Islanders.
"When I sat on the bench and waited for my first shift I was so nervous," said Lindblom. "But I was also so happy to be able to step out on the ice again, and play in the best hockey league in the world."
The hockey world, including players on both sides of the puck, was thrilled to welcome Lindblom back.
"It was really emotional," offered Couturier. "I didn't get to play that game because I was hurt. That was the only game I missed, but from the stands, it was very emotional."
"You could feel it in the locker room before we stepped out onto the ice," said Hart. "You could feel the energy. It was just no nice to have him back with the boys and playing the game he loves."
Midway through the first period, players on both teams tapped their sticks in honour of Lindblom's return.
The gesture by the Islanders players didn't go unnoticed or unappreciated by the Flyers.
"Both teams gave him stick taps on the boards and showed our respect for him, congratulating him in that way," said Couturier. "Credit to the Islanders… it shows the impact he has had around the league and the type of person he is. We're hockey players, but we have compassion for one another."
They also have a new appreciation for all things in their life, big and small.
"It definitely makes you have a different perspective," said Couturier. "He was a healthy young man and a rising star in this league – he still is – but it makes you look at life differently when someone close to you goes through a life-changing event. You don't take anything for granted. And you appreciate the people in your life even more than you already do."
Hart echoed those thoughts.
"Oskar means a lot to us. We knew he could beat it. His character, his strength, his willingness to persevere – we knew he'd have no problem beating this. We also knew he wouldn't miss a beat when he came back. It's quite the remarkable journey. It's incredible. It's hard to explain. You don't want anyone to go through what he did. But you saw his resiliency and his perseverance… that's very inspirational on so many levels. It certainly makes you look at your own world in a different way."
Sanheim, like his Flyers teammates, won't ever forget what Lindblom had to endure.
He knew, deep down, Lindblom would find a way to answer the bell.
"What he's gone through, it shows his strength and determination, someone who you admire in so many ways. I'll never forget seeing him on the ice when he came back. Who could ever imagine that a player that went through what he did could come back, play in the playoffs and contribute? But that's just what Oskar did."
Throughout it all, even in the most challenging of times, No. 23 never gave up hope.
He wants others dealing with cancer to do the same.
"Always try to stay positive. It might be very hard, but it's so important and it helps a lot. It's so easy to be negative but that's just going to make the battle more difficult. Also, talk to your family a lot, and your friends. I could never have done this by myself."
---
Since its inception in 1998, Hockey Fights Cancer – a joint initiative by the National Hockey League (NHL) and National Hockey League Players' Association (NHLPA) – has resulted in donations of more than $28 million to support national and local cancer research institutions, children's hospitals, player charities, and local charities. Hockey Fights Cancer unites the hockey community in support of people impacted by cancer and their families.