A conversation with Oskar and Alma
NHLPA.com sat down with Oskar and Alma to discuss their journey through his diagnosis, treatment and life moving past cancer, as part of the NHL and NHLPA's continued commitment to support Hockey Fights Cancer.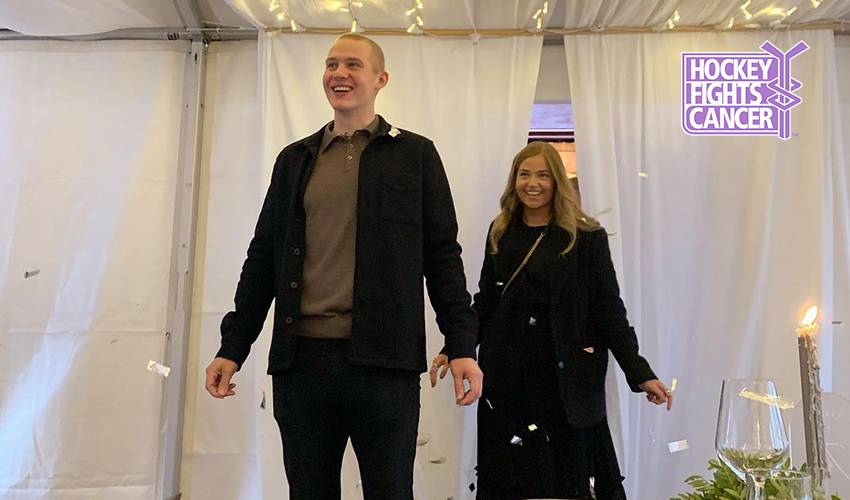 Feature photo: IG/ @almalindqvist
---
It's been a year of unpredictability as the entire world has had to navigate through the coronavirus pandemic, which continues to effect our daily lives and compound already difficult situations.
This is undoubtedly true for all those whose lives have been touched by cancer, like Oskar Lindblom and his girlfriend, Alma Lindqvist.
In December of 2019, Oskar was diagnosed with a form of bone cancer called Ewing's sarcoma. Earlier this summer, the Swedish forward for the Philadelphia Flyers completed his treatment July 2 and returned to NHL ice September 3, joining his teammates for the 2019-20 postseason in Toronto.
NHLPA.com sat down with Oskar and Alma to discuss their journey through his diagnosis, treatment and life moving past cancer, as part of the NHL and NHLPA's continued commitment to support Hockey Fights Cancer.

The following is a transcription of that conversation, which has been edited for length and clarity.

NHLPA.com: What was your initial reaction when you heard you had cancer?
Oskar: I felt so empty, and wondered, "Why me?"
I had a lot of thoughts running through my mind, about life, and if I would be able to play hockey again. Both me and Alma cried a lot, but we tried to stay positive even though it felt awful at that time.

NHLPA.com: What did you find to be the hardest part of going through cancer, mentally or physically?
Oskar: The toughest part was physically, I had zero energy and felt I was getting weaker and weaker every time I had chemotherapy.
Before my surgery I hadn't really thought about how I would feel, I had no expectations but I thought it would be fine. After my surgery I faced the worst pain I have ever felt in my life, I couldn't move.
Of course it was though mentally too. The first month, my mom decided to stay with us in Philadelphia and she helped us with everything. She's been battling cancer too and it felt special to have her with me. When the coronavirus outbreak came, Alma wasn't allowed to follow me to the hospital and that was kind of difficult since I was spending a lot of time there. In the middle of March, my dad and brother came and were supposed to stay for a week, but decided to leave earlier because of the outbreak. It was hard knowing we wouldn't have more visitors after that time. But the closer I got to the end of it all, the better I felt. Me and Alma tried to stay strong together, living up to the hashtag (he said with a laugh).

NHLPA.com: How important was it to you to be around your teammates and to have their support? Did any one player step up that you would like recognize or say a special thank you to?
Oskar: To be at the games and practices was an amazing feeling for me, to see all of my teammates made me forget a little in the moment that I was sick.
It meant a lot to have their support through the whole thing. I'm so grateful to have them around me and I'm thankful for every one of them – especially Robert Hägg. It felt good to have someone to talk to and to speak the same language with.

NHLPA.com: What was going through your mind when you skated for the first time when you joined your teammates in the Toronto Hub – and playing in your first game back?
Oskar: I remember I felt so much happiness and a lot of excitement, but I also still felt weak and that I had a lot to work on. It was a big change for me to start skating again after not being able to for more than seven months.
I felt I could start over again and look forward to my normal life again. When I sat on the bench and waited for my first shift, I was so nervous but I was also so happy to be able to step out on the ice again and play in the best hockey league in the world.

NHLPA.com: How special was the reception you received from your teammates and the New York Islanders players prior to your first game back?
Oskar: It was hard to take in that all the tributes were for me. It was a special moment for me and something I will never forget in my life.

NHLPA.com: Any words of advice or encouragement for those people who are currently battling cancer?
Oskar: Always try to stay positive. It might be very hard but it's so important and it helps a lot. It's so easy to be negative but that's just gonna make the battle more difficult. Also, talk to your family and your friends a lot. Try to find someone who has been or is going through something similar to you. I could never have done this by myself, it helps so much to talk to people around you. The worst thing with chemotherapy is the side effects – and for me it helped a lot to try to do something everyday even though I felt that I just wanted to lay in bed. I went outside with our dog, sometimes only for five minutes, but at least I did it. And it made me feel better afterwards, to get some fresh air and to just move my legs.
---

NHLPA.com: What was your initial reaction when you found out Oskar had cancer?
Alma: To be honest, I barely remember other than that it was such a big shock. A lot of tears. It was really like living in a bubble, and when it was over I could finally breathe again.

NHLPA.com: What was the hardest thing for you watching Oskar battle this disease?
Alma: The hardest thing was to see him being so weak. During the time he was sick he felt nauseous very often and he could sleep all day long. It was a big change for us since we love to do stuff in our normal life like hiking, shopping, etc.

NHLPA.com: Watching a loved one battle this disease can be very hard, mentally. Was there anything that you found comfort in during his treatments?
Alma: Our dog ,Taggie, meant everything to me during the time Oskar was sick. Whenever I felt sad or down I'd go for a walk and refresh my mind. Before the pandemic, we had a lot of family and friends visiting us and that was really nice because it felt a little like we had a normal life. We hung out a lot with Oskar's teammate Robert and his girlfriend, Klara, they were a big support for us. In the middle of March they left for Sweden and so did Oskar's brother and dad. After that time we were all alone and it ended up being more than 100 days. We didn't do much when coronavirus hit Philadelphia – I went to Ikea once to get some Swedish candy (she said with a laugh).

NHLPA.com: What helped you get through the process and treatments with Oskar?
Alma: Talking to family and friends everyday meant a lot to me, seeing the girls in the team, taking walks and making dinner.
Because of coronavirus restrictions, we didn't do a lot, but I made a friend living in our building named Rachel. Almost every day me and Taggie met her and her dog Maggie outside in the dog park. We talked a lot and that felt so great.

NHLPA.com: What was it like for to see him ring the bell and then later when you saw him return to the ice?
Alma: It felt so unreal seeing him ringing the bell, and at that time I was like, "How can six months fly by this fast?!" So many emotions at the same time.
I couldn't be with him at the hospital during his treatments, so that morning I bought us some champagne and filled like 40 balloons, ordered cupcakes and dressed up. When I drove down Spruce Street I was thinking that now, I'm driving down this road for the last time for this reason. It felt so amazing.
To see him back on the ice was just crazy! I didn't think he would be back that fast. But that just shows how strong he is and his will power.


NHLPA.com: What will you remember most about this journey with Oskar?
Alma: That you are stronger than you think, and if you keep having a positive mindset it will be okay. It's been easier than I thought and I think that is because Oskar doesn't worry, and I worry about everything. If he would've been as worried as I am this would have been a lot harder, so I'd say it's good I worry since I forced him to go see the doctor for his lump – but also good he is the other way because that helped a lot during the time he was battling cancer.

NHLPA.com: Any words of encouragement or support for those living with someone currently going through cancer treatment?
Alma: As I mentioned before, try your hardest to be positive. It's tough, it really is, but also so important.
You shouldn't forget that it's really hard for a relative, too, to be the one who sees how bad your loved one is feeling. If you have the opportunity, let your feelings and thoughts out. Try to talk to someone, it helps.
---
Since its inception in 1998, Hockey Fights Cancer – a joint initiative by the National Hockey League (NHL) and National Hockey League Players' Association (NHLPA) – has resulted in donations of more than $28 million to support national and local cancer research institutions, children's hospitals, player charities, and local charities. Hockey Fights Cancer unites the hockey community in support of people impacted by cancer and their families.