Old pals McAvoy and Nicholas reconnect on the links
Even though Charlie McAvoy's old pal, James Nicholas, missed the cut by just two strokes it was a memorable experience for the lifelong friends who played hockey together in New York.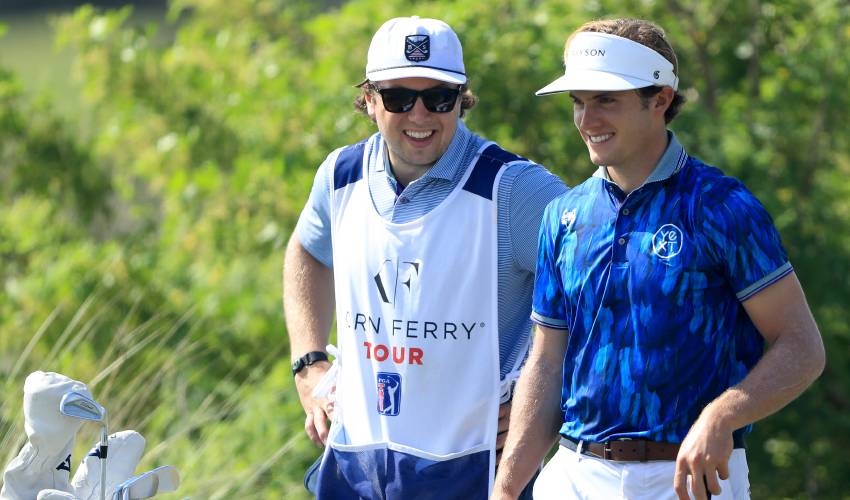 Feature photo: Getty Images
---
If Charlie McAvoy was nervous, he certainly wasn't showing it.
As James Nicholas launched his first tee shot, McAvoy watched wide-eyed as the ball sailed into the sky and then fell out of it into the middle of the fairway.
"Nice drive," said the Boston Bruins defenceman, who had swapped his hockey gear for a golf bag as Nicholas' caddy.
The 22-year-old was recently in Florida to caddy for his old pal, Nicholas, at the Orange County National Championship on the Korn Ferry Tour, the developmental wing of the PGA Tour.
Nicholas, a Korn Ferry Tour rookie, shot a solid 68-70 (4-under) over the first two rounds.
"I'll tell you, that bag was pretty heavy," McAvoy told NHLPA.com. "But it was unbelievable to get to do it. Seeing those guys out there, it's incredible how good they are. I had seen James play before and we had a couple practice rounds before the tournament started. I also got to play with him last year. I know how good he is and it was no surprise when he drove one right down the middle to start it off. It was just very unique being around all those guys. They're all so talented."

Even though Nicholas missed the cut by just two strokes, it was a memorable experience for the lifelong friends who played hockey together in New York with the Westchester Express and Jr. Rangers. McAvoy's father, Charlie Sr., and Nicholas' mom, Eileen, grew up together in Long Beach, New York.
"We both went to different paths," said McAvoy. "I chose hockey and he chose golf and football at Yale. Seeing him progress and get to where he is now, I'm so happy for him and I'm cheering on all the time. For him to invite me and let me part of it was really special. I'm very grateful for that."
While McAvoy's golf game is admittedly not up to par, his caddying skills managed to come up aces, at least on one hole during the tournament.
After leaving himself 50 feet short for a par putt, Nicholas, who didn't start taking golf seriously until his sophomore year of college when he quit football, received some words of encouragement just before he stood over the ball.
"There was no really doubt in my mind," recalled McAvoy. "I knew he was going to make that putt or any other putt throughout the other rounds. I knew I wasn't going to be behind him for putts, giving him reads or anything like that. I'm not a good golfer, period. I like it and it's a fun sport, but I know where I'm at. I didn't feel confident suggesting what he should do. For me, what I was going to focus on to try and help him was just to give him confidence. Every single shot, it was like, 'Let's go for it. You're the best player I know.' I know that helps sometimes when I'm playing my sport, to hear some of your guys give you confidence and have that belief in you. Hopefully, that helped him out a little bit."
McAvoy, who finished with 32 points and a plus-24 rating in 2019-20, doesn't see any notable similarities between golf and hockey.
"Honestly, no. It's a completely different game. They're by themselves out there. When they get down, there's no one to lean one, really. They're taking the next shot and they have to figure out what went wrong the shot before. The mental side, it's a little bit like being on an island. I've never played anything but team sports, so you have your teammates to pick you up, the whole group who can get the job done. It's not like that in golf. I have a lot of respect for these guys and the mental strength they have out there, to be able to deals with all of those ups and downs."
It's one of many reasons why the 14th overall pick of the Bruins in the 2016 NHL Entry Draft is happy to do his competing on the ice.
He thinks Nicholas would make an ideal teammate.
"I will tell you this. He was a heck of a hockey player and if he committed to hockey, who knows what could have happened. He could have played Division 1 or anything. He was a really good player. He was very fast and had a ton of skill. It was fun when we played together. He was one of our best forwards.
"He was a great teammate. He had an infectious smile and he still does. He's the type of person anyone would want to cheer for. He's so genuine, a great guy overall, and someone you gravitate to. I saw tons of guys coming up to him and say hello at the tournament. He's just a good person."
All of which made McAvoy's caddying experience something he'll carry with him for a long time.
He'll also continue to be one of his Nicholas' biggest supporters, even more so after seeing him teeing it up on the Korn Ferry Tour.
"It was such a cool experience. I got into golf about four years ago and it's grown for me a lot since then, just that love of the game. Watching the PGA Tour and following him – I'm started to understand the rules of it. I was confident when I got out there that I would be fine and wouldn't be in anyone's way. Just to be out there and see him play – we go back such a long way – it was amazing."