Strome enjoying "Summer 2.0" ahead of settling into new home
Aside from dedicating more time to his hobby of choice, Ryan Strome is taking all the time he can to spend with his wife, Sydney, and their young daughter, Harper.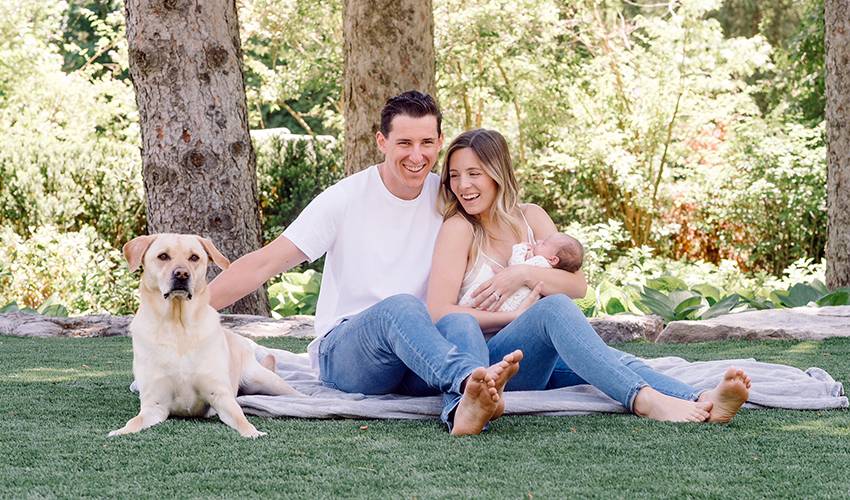 Feature photo: Courtesy of Ryan Strome
---
His golf game might be a work in progress, but Ryan Strome's fatherhood game is definitely aces.
There are few things in life – outside of family and hockey – that the 27-year-old Strome enjoys more than a round of golf.
In fact, the veteran of 491 NHL regular season games has hit the links this year more times than he ever has in his life.
While he's not thrilled with one of the big reasons behind his 2020 golfing bonanza, Strome is thrilled to have had more chances to polish his skills on the fairways and greens.
Soon after the New York Rangers were eliminated in the qualification round ahead of the 2019-2020 Stanley Cup Playoffs, the centre headed back to his off-season home in Mississauga, Ontario, the city where he was born and raised.
It didn't take him long to dig out his golf clubs and head out to play 18 holes.
"I have ups and downs with my golf game," Strome told NHLPA.com. "But it's definitely a passion of mine. I like to get out there as much as I can. That's my one off-season thing I like to do. I love being outdoors and feeling that fresh air. It's peaceful. The golf game, it's coming along."
He'll take all the golf he can get in before the colder weather hits.
"I think just adjusting your schedule is the biggest eye opener. There's not as much free time as you were used to, but that's not a bad thing at all. There's no boredom at all in your life. You're up early every day. It's a learning experience, being a parent, but it's also the most rewarding. It's been a ton of fun so far."
So, too, has been the chance to spend more time with his parents, Chris and Trish, and his hockey-playing brothers, Dylan and Matthew.
He's come to appreciate family time even more throughout the COVID-19 pandemic.
"It feels like Summer 2.0. Being around family, especially in these crazy times, we take for granted sometimes what we do have in our lives, so this situation causes you to slow down and appreciate what you do have. Most importantly, you just hope the world can return to normal soon."
In less than a week, Ryan, Sydney and Harper will move into their new digs (they had the original house torn down and are having it rebuilt) in Mississauga, not far from Strome's parents.
They'll also be joined by Miller, their beloved four-year-old yellow lab.
"We got him when I was playing with the Islanders," recalled Strome. "He's been everywhere. He's been in a lot of different homes and a lot of different cities, two countries – he's unreal. He's doing really well. He protects us. He barks at everyone that goes by. He's a great dog, and he's adjusting to life with the baby. He might not get as many walks as he used to, but we're lucky to have him in our life."
While Miller's caddying skills are questionable at best, the globetrotting pooch has plenty going for him.
"For him to be as chill as he has been through all those moves, it was amazing. It was great for my wife before we had the baby to have someone with her all the time. He was joined to her at the hip and it was peace of mind for me when I was away. We love him."
In between his upcoming move, and spending quality time with his daughter, Strome is getting his mind and body sharp for a return to the ice.
Coming off his best offensive big league season, the fifth overall pick in 2011 is looking build off a campaign that saw him create instant chemistry with 2020 Ted Lindsay Award finalist Artemi Panarin, providing New York with a solid one-two punch.
Wherever he lands – Strome is a restricted free agent with arbitration rights – the forward will be ready to go.
"You always get excited about the new season. I'll be training and skating, getting ready for the season whenever that may be."
The player who collects golf balls from every course he's ever played will also look sharpen his driving, putting and chipping talents on the local courses for now.
"It's all about hockey now, but when retirement comes, I'll be spending a lot of time on the golf course."