Strome's firehouse visit marked by mutual admiration
Ryan Strome got some major league excitement less than a minute into his fire station visit.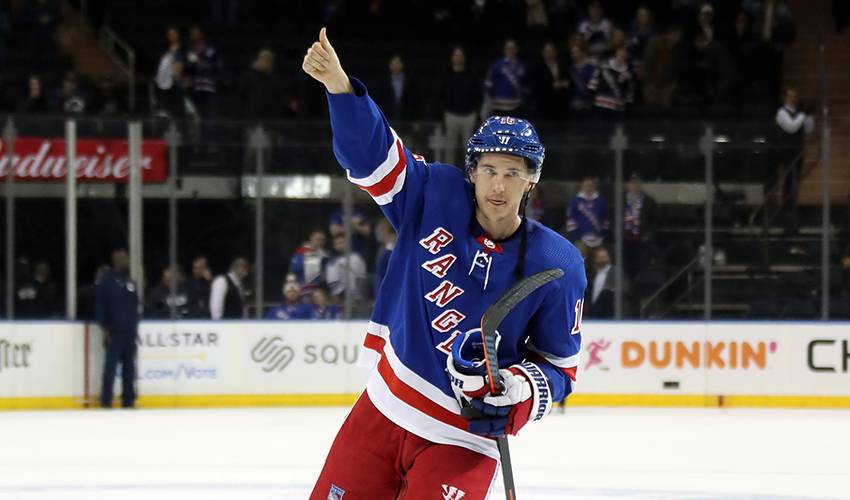 Ryan Strome got some major league excitement less than a minute into his fire station visit.
It was about 45 seconds after he had walked through the doors of Engine 34 Ladder 21 FDNY when the alarm sounded and a group of firefighters leapt into action.
Strome's day, which is part of the New York Rangers' Line Change presented by Northwell Health video series, got interesting really fast.
One's a firefighter. One's a Ranger. They're from different worlds but have plenty in common beyond a love of 🏒.

In Episode 1 of Line Change presented by @NorthwellHealth, Chris Shubert invited Ryan Strome to his firehouse to experience a day in the life of the @FDNY. pic.twitter.com/MaiGYn1PbR

—

New York Rangers (@NYRangers) December 24, 2019
"At any given moment, the alarm can go off," started the 26-year-old centre. "And that's what happened. There's an announcement as to what truck is going – there are two trucks at this station – and within less than a minute of me arriving, these guys are in the truck and out the door. It was absolutely crazy. People poured out from everywhere and then they're off. Everyone was on the ball and it was just so quick."
Strome wasn't left standing alone after the call came in.
Instead, he was given a tour of the station courtesy of Chris Schubert, a 13-year firefighter and Rangers fan.
The two hit it off immediately, even engaging in a race to see who would be the first one to put on the firefighter equipment.
No need to guess who won.
"Chris didn't have to go anywhere because it was the other truck," said Strome, who's closing in on 500 NHL career games. "It really struck me that these are just normal guys who hang out with one another, step up for one another, and work in a team atmosphere. It's like a hockey locker room. When they have to go out, every single person is prepared. In a lot of ways, it's like a real team environment, but obviously they are putting their own lives at risk to help others. That certainly separates what they do from what we do."
The visit proved to be an eye-opening experience for the forward who was dealt from the Edmonton Oilers to the Rangers November 16, 2018.
From the equipment they wear to the massive trucks they drive, the every day life of a firefighter left a lasting impression on Strome.
"To see the equipment they wear was pretty cool," said the fifth overall pick of the New York Islanders in 2011. "I said this in the video, but one of my best buddy's dad is a firefighter. As a kid, I got to go to the fire hall and see what it was all about. But that was a long time ago. To go here, and to see how these guys work every day – it was amazing. Their equipment almost weighs 100 pounds. It may sound stupid, but to sit in the truck was really cool – just to see how big they are. Driving around Manhattan can't be easy. Little things like that were really cool, but just seeing how the day-to-day operation is run was really interesting."
It turns out Schubert was just as interested in Strome's career.
He had plenty of questions for the player who's on pace for his best offensive NHL season to date.
"Actually, there's a part two of the video where Chris comes to the rink," noted Strome. "The guys at the station are pretty big Rangers fans and they follow hockey. He was almost more excited to meet me than I was to meet him, which was surprising. It was cool. We were both very interested in the other one's life. It was a cool dynamic, for sure.
"Chris thinks what we do is tough. He made a comment about blocking shots and I thought, 'Dude, you're the one running into a building that's on fire or helping someone that's seriously injured.' That's heroic. There was definitely a mutual admiration and respect for one another."
Don't expect Strome, averaging nearly a point per game this season, to trade in his hockey jersey for firefighter's gear.
"I had a few odd jobs growing up," recalled the Mississauga, Ontario native. "I worked at a junkyard for a family friend and I shot pucks on goalies for a summer job at a goalie camp. I always knew if hockey didn't work out, I wanted to go to school and do something in business or marketing, maybe law school. I never really knew what I wanted to do, but I was lucky enough to have hockey."
Lucky is also the word Strome uses when speaking of his FDNY experience.
"It's not only the mental side or the physical side they need to count on for what they do. It's a combination of both. You have to be physically ready to do your job, lugging around that heavy equipment, but you have to be mentally prepared to make quick decisions. It takes a unique skill set to be able to do that. I'm just really glad I got the chance to do this."