Del Zotto takes off-ice game to a new level
Whether it's raising money, awareness or the roof, Michael Del Zotto is taking his off-ice profile to a whole new level.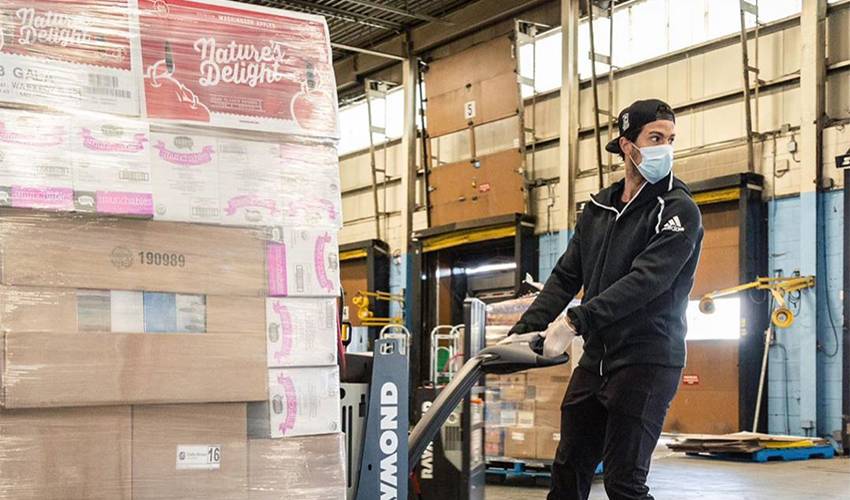 Can chat before my golf round tomorrow. Does 8, 8:15 work?
It's the text message sent by the 29-year-old Del Zotto the night before he jumps on the phone for an early-morning call.
As it turns out, his day is already in full swing.
"I've been getting up at 5:30 almost every day since the season was put on hold," started the 11-year NHL defenceman. "I've been keeping myself busy throughout the pandemic."
Del Zotto has a lot on his plate these days.
In some instances, literally.
Showing off his DJ skills. Volunteering his time at the Daily Bread Food Bank in Toronto. Learning to cook. Learning a new language. Raising money for the All In Challenge. Hitting the links.
Perhaps the first question should be, 'Is there anything he isn't doing?'
"With this time off, I've always had lots of different interests, passions and hobbies, and I thought it was an ideal time to dive into them," said Del Zotto, who is back home in Etobicoke, Ontario, just a short drive from downtown Toronto.
"When it comes to hockey, I think two of my best qualities are my drive and my work ethic. There are so many things in life that I enjoy, and I've always said that hockey doesn't define who I am as a human being. With this time off, a lot of these things are being displayed and shared with people, who probably didn't know that about me."
That list would include showcasing his DJ skills.
"I've been going on Instagram Live every Friday night to DJ, and to help raise money for the Daily Bread Food Bank. It's been really enjoyable."
Del Zotto, who recently became an uncle [his brother and sister-in-law recently had a baby boy], isn't just counting on the kindness of others to lend a helping hand to the food bank's cause.
He's been to the distribution hub on three occasions, and is one of over 10,200 volunteers at the charity organization that works to end hunger in urban communities.
"I'm trying to go once a week to help out. It's been incredible. Being able to go in to a warehouse – where you're practicing social distancing and all of the safety protocols – and see so many selfless people giving their time for the wellbeing of others, it's just wonderful to see. It's amazing to see the work that they do, and how dedicated everyone is to the cause. I'm thankful for the opportunity to help."
Neil Hetherington, CEO of the Daily Food Bank, is equally grateful for Del Zotto's assist.
"Any time that you have the opportunity to live out your values, it can be a joyful moment. When he came here, I razzed him about his pump truck skill-set, which is lacking in comparison to some of his defensive moves. With him, you see authenticity. He didn't need any razzle-dazzle, and there was no three-star volunteer that day. He just wanted to help."
Hetherington received an unexpected text prior to the blueliner's first food bank visit.
"It's just crazy to me. I used to live in New York City and I would watch Michael when he was with the Rangers. To know that this guy was texting me, saying that he wanted to volunteer – every time he messaged me, it just cracked me up. He's a genuine, authentic guy who cares about his community."
When Del Zotto's not part of a Daily Bread volunteer group that gave nearly 30,000 hours of service last year, he can be found spending time in the kitchen, hoping to sharpen his culinary game.
"I've always loved cooking, so I've been doing that. I've also gotten into baking, healthy baking, which I've slowed down a little bit. With the light load of working out, I'm trying to eat a little less so that I can maintain my pool-season body now that our [Anaheim Ducks] season is over.
So far, taste hasn't been the issue in his food creations.
Aesthetics, however, is a work in progress.
"I've been looking at different ways to start my own… maybe I'll start up my own YouTube channel, filming different cooking stuff I have going on. I do take pride in it. The only thing with me is that my dishes, for the most part, taste really good, but my presentation is just awful. You look at these great chefs who are on TV, Instagram or other social media platforms, and their food looks amazing. The presentation is so great. That's something I need to work on. But I don't have any complaints from friends and family when it comes to how the food tastes."
What about a YouTube show that combines DJing, cooking, and Italian language skills?
"You know what? That would be great. I can have music on in the background, possibly explain my dish in Italian – I like that idea. It might be the first show of its kind."
The veteran of 657 NHL regular season games could also talk about his All In Challenge experience.
Created by Fanatics with the All In Challenge Foundation, the All In Challenge enables athletes, celebrities, musicians and others to auction off items and/or experiences. The initiative has raised millions for charities committed to eliminating food insecurities during the COVID-19 pandemic.
Del Zotto auctioned off a round of golf with himself and former roommate [Dallas Stars forward] Tyler Seguin.
The winning bid to tee off with the close friends was $14,000.
"A lot of people were offering sporting experiences, where the winners would come out to watch a game. Don't get we wrong, I think that's great, especially seeing how many hockey players help raise money for such a great cause. I wanted to do something a little different," Del Zotto explained. "I'd much rather have a conversation with fans, get to know them a little bit, and have them get to know me. I want to know how they came to love hockey, who their favourite player is, their family history, as far as hockey goes – I like that personal side of engaging with fans. I thought the golf round would be an excellent way to do that. In between swings and putts, you can have some meaningful conversations. This gives you a chance to know one another on a personal level, things you wouldn't get to know by watching us on the ice, or in an interview."
Del Zotto views his busy life as a good thing.
"I wake up at 5-5:30, get a workout in, and now I'm heading out to the golf course. Then I come home, do a little reading – I love non-fiction and self-help – and finding those other ways to keep busy. With the limitations you face due to the coronavirus, you start looking for things to do, to help occupy the time, and to find something new to do. There's a lot going on, but I'm really enjoying it all."