Del Zotto finds perspective, deeper purpose in off-ice role
A 200-kilometer charity bike ride turned out to be a life-changing experience for Michael Del Zotto.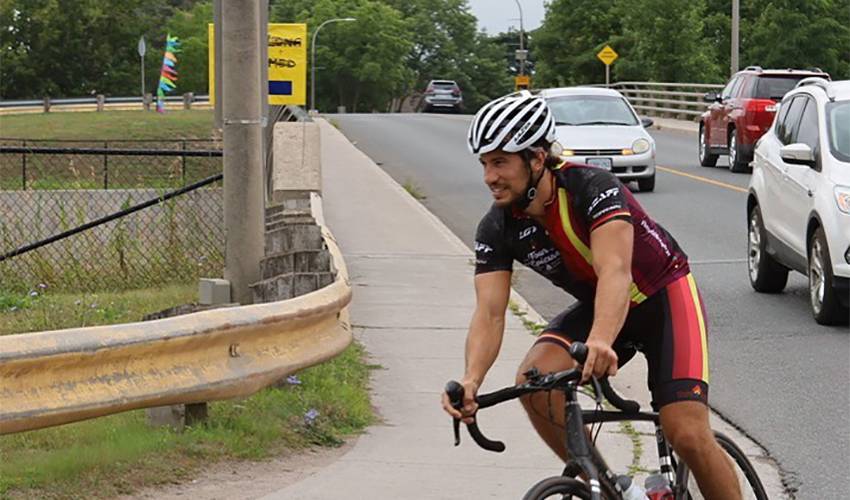 "But more importantly, it's the compassion and empathy he feels for the families that have been impacted by childhood cancer that make him a perfect fit."
Jaime Wilson, CEO of Coast to Coast Against Cancer Foundation & Childhood Cancer Canada, has no shortage of high praise for Anaheim Ducks defenceman Michael Del Zotto.
It's easy to understand why she does.
Eleven years years into his NHL career, the 29-year-old has gained a reputation as an all-star in the community, a player quick to step up and support a good cause.
The long-time advocate for, and supporter of, children with cancer joined Coast to Coast & Childhood Cancer Canada in an official capacity as its first Celebrity Champion this past April.
Since 2003, Coast to Coast Against Cancer Foundation has raised funds and awareness for children's cancer programs and research in Canada through physically challenging events that encourage active and healthy lifestyles.
"It is a huge honour to have a well-respected athlete and philanthropic-minded individual like Michael Del Zotto in our corner," said Wilson. "Michael's support of Coast to Coast Against Cancer Foundation, which recently united with Childhood Cancer Canada, helps raise our brand profile, increase our fundraising efforts, and most importantly, ensure support for children and their families impacted by childhood cancer."
Del Zotto has lent his time and energies to many charitable initiatives over his time in the NHL, including Ronald McDonald House and BC Children's Hospital. The latter of which, Coast to Coast actively supports.
He sees this latest connection as a perfect fit.
In August, he took part in a charity bike ride for Coast to Coast, a trek that turned out to be an eye-opening experience.
Finally have my link up and running. Rode 200km in August to raise money and awareness. Please go to my link to donate. https://t.co/GGdPFZt4nF

—

Michael Del Zotto (@MichaelDelZotto) October 14, 2019
Del Zotto opted to ride the first 60 to 70 kilomteres by himself, a choice he was glad he made.
"They had given me a bike and told me to ride as much as I wanted to," he recalled of the journey that began at Trent University in Peterborough, Ontario. "They followed in a car behind me and said to just let them know when I was done and they'd take me back. I told them that as soon as I got on that bike, there was no way I was stopping. That was the mindset I had.
"I actually found it very therapeutic," said the blueliner who signed as a free agent with the Ducks on July 12. "It just gave me time to think. I had a lot going on in my mind from how last season went with me, and how the off-season went. It was just great 'me' time, being on the open road and gathering my thoughts. It was almost slowing life down a little bit. It sounds weird to say, but that's kind of what it was."
It was also inspirational for Del Zotto, who addressed those in attendance before the bike ride, speaking about the early stages of his career, and how giving back to others has impacted his outlook on hockey and life.
"You always worry about one bad game, one bad shift, one bad period, whatever it may be. Those things would eat away at you. Then you start to get more involved with the community, with what others are going through – very real and tough issues. You see what these kids, their siblings, their families and their friends are going through, and it's miniscule the adversities that we are dealing with."
Del Zotto reminded himself of that throughout his trek.
"My whole mindset during the ride – we had one of the kids who was dealing with cancer speak to us before – was that it was something you were doing to help out these kids and their families. The more you understand, the more you get to know the families, and get a grasp of what their daily lives are like. That puts everything into perspective. I wasn't going to stop until I finished what I set out to do. It was a grind… I'm glad I finished it."
But he's far from finished with his role as Celebrity Champion. The defenceman is looking to spend as much time as he can with the kids, and their families.
There's no single reason, offered Del Zotto, as to why working with organizations such as Coast to Coast and Childhood Cancer Canada remains an integral part of his life.
"I truly do enjoy it. For me, once I start to get to know some of the families – I don't know how many I still text with on weekly basis, just to check in – they become friends, and they become family. I think it's important for people with our voice to be out there and to be helping, to raise awareness and raise money for the real issues that people face. I don't want be remembered as Michael Del Zotto, the hockey player. I want to be remembered as more.
"Giving back, although families might say how helpful it is for them, I think I get more out of it than they do. I hope as things progress, now working with this new charity, I can give back in even bigger and better ways."