After the Buzzer | Jared Spurgeon
It's been a whole of family time for Jared Spurgeon these days. The father of four talks everything from staying connected while physical distancing to the family's shaggy foster friends.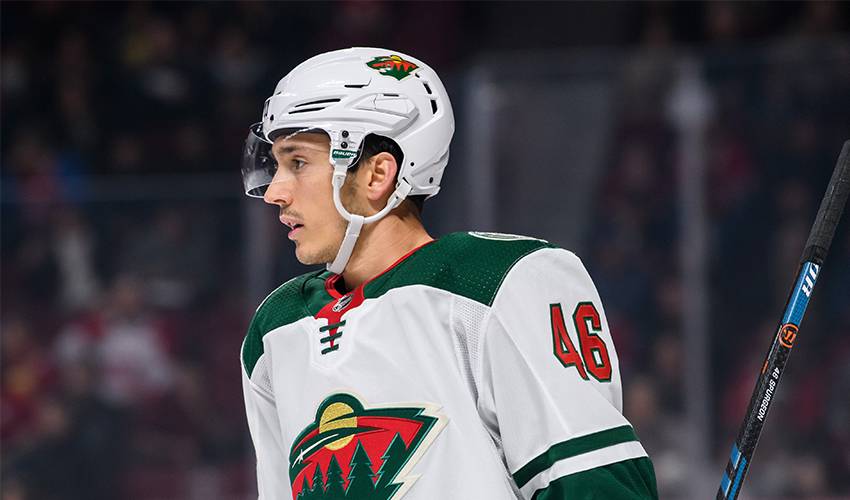 Feature photo via Getty Imgaes
From their bond with fans to their efforts in the community – and everything in between – 'After the Buzzer' is a weekly series taking readers beyond the rink to shine a light and provide insight on players' lives away from the game.
---
It's been a whole of family time for Jared and Danielle Spurgeon these days.
With the 2019-20 NHL season on pause due to COVID-19, the Minnesota Wild defenceman and his wife are working overtime to keep themselves and their kids healthy, happy and occupied.
So far, so good.
The father of four stopped by NHLPA.com to talk shuffleboard, shaggy friends, board games, brotherhood, and more.
OH, BROTHER!
Jared isn't the only member of the Spurgeon family that has some serious hockey skills.
His brother, Tyler, is the captain of HC Innsbruck in the Austrian EBEL. The 33-year-old had 21 goals and 33 points in 42 games this season.
The centre, who recently flew back home to Edmonton, is still keeping up on his daily brother chats.
"Tyler had another good year. He enjoys it over there. He has a girlfriend that is from there, so that makes it more enjoyable for him to be playing in Europe. He's a great two-way player, works hard and is very honest in game. He's not the fanciest of players, but he has a lot of skill, and he might be the hardest worker I know.
"He's a good captain because whether it's practice or games, he's always working hard. He approaches the game the same way, and he takes care of himself on and off the ice. He's a pretty easy guy to approach and talk to if you have problems with anything. He's a big team guy, someone you appreciate having around."
CALL ME
Not a day goes by without the brothers talking.
And although they have plenty to share when it comes to the game they love, typically, their conversations revolve around life outside of the arena.
"We talk every day. It's a little about hockey and then it's mostly about life in general. It's definitely nice to have a brother that you can talk about anything with, including hockey. You both go through the same things, whether it's the same time or at different points of the year. Even from a young age, I always watched him when we'd go to his games, trying to be like him. Then you get to age where you're skating together and working out together in the summers. Like I said, he's one of the hardest workers I know, so training with him in the off-season definitely benefits me.
"He just got back from Austria on Thursday (March 19). He got lucky, and was able to find a flight. Now he's doing the 14 days by himself. I'm sure he'll be catching up on movies and doing all that kind of stuff like everyone else. We're talking every day, just catching up on each other's lives."
FAMILY MATTERS
Four kids and two dogs makes life anything but boring for the 156th overall pick of the New York Islanders in 2008.
Not that Spurgeon is complaining.
Now that he's been home for an extended period of time, he's finding new ways, every day, to spend quality time with his kids.
During this call, it was all about a shuffleboard showdown.
"It's a lot of family time. I think the kids are pretty happy that they have time off from school, more than they were going to have with spring break. We're playing shuffleboard now, and we're probably going to watch every single movie that's out there. Our oldest is watching all the Marvel movies. We're trying to limit screen time as much as possible, so it's a lot of board games and other things. I'm not going to lie… it hasn't been as bad as it could have been, at least for now.
"In the summer – we live near a lake about 45 minutes away from Edmonton – to get away from the busyness of everything is something you appreciate. After you work out, then you have all day to do what you want. You mess around at the beach, spend time in the water, go golfing, or bike rides – it's nothing too crazy, but it's something I definitely enjoy the most."
DOGGOS DOING THINGS
To say that Jared and Danielle love dogs would be a massive understatement.
The couple, who foster dogs looking to be adopted, are big fans of furry friends.
"We had a Bernese, but he passed away. We waited until this past August and adopted a German Shepherd mix… he's a medium-sized dog. And then we just recently got him a buddy, a Newfoundlander that we rescued. He's a tank. He's a big boy, but he thinks he's a lap dog, which is awesome. They both like to cuddle and they're both very relaxed. They love their walks and playing in the backyard.
"Growing up, I always wanted a dog, and we didn't actually get one until I moved out of the house the next year for junior (hockey). I always wanted a big dog, and my wife is a huge dog lover. She became friends with an organization here, and we rescued the two from the same place. We had one dog that we fostered throughout all of its surgeries until it was ready to get adopted. Any time you can give a dog a second chance, it's pretty special."
PARTING SHOT
"We're playing it pretty simple. We're staying in our house and staying away from everyone, making sure we adhere to social distancing. Hopefully, this all can end sooner rather than later." – Spurgeon, on putting date nights on hold during the pandemic.