After the Buzzer | Charlie Coyle
Charlie Coyle, who recently signed a six-year contract extension with Boston, has plenty going on in his life – and it's all good.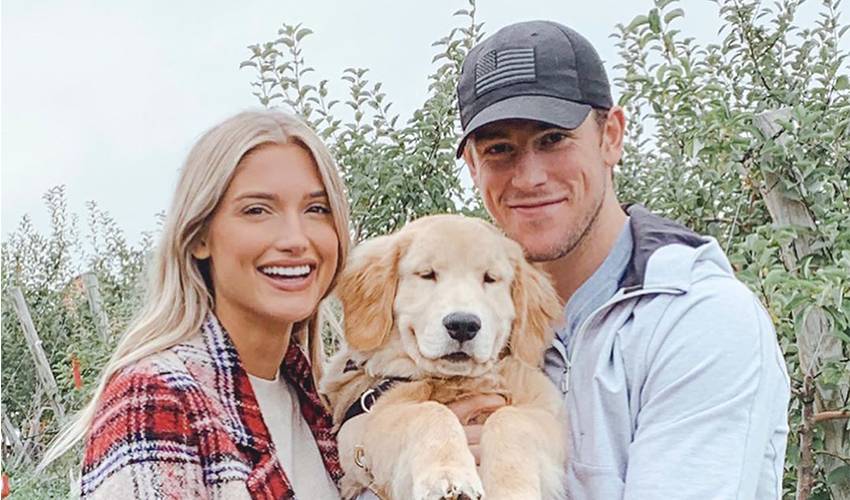 Feature photo: Instagram/@daniellehoop
From their bond with fans to their efforts in the community – and everything in between – 'After the Buzzer' is a weekly series taking readers beyond the rink to shine a light and provide insight on players' lives away from the game.
---
Puppy power. Mighty Quinn. Great gear. Thanksgiving feast. Supporting heroes. Charlie Coyle, who recently signed a six-year contract extension with Boston, has plenty going on in his life – and it's all good.
In between walks with his golden retriever pup, Bodie, the 27-year-old Massachusetts native stopped by for a chat with NHLPA.com to talk about some of the cool things going on in his off-ice life, including the launch of his new apparel line.
Just don't expect to see Coyle modeling any of the merchandise any time soon.
HOME FOR THE HOLIDAYS
Coyle was thankful for the chance to enjoy a home-cooked (literally) meal for Thanksgiving.
"The best part was just being with the family because when I was in Minnesota, I was away for Thanksgiving for those years. Being with everyone this time, watching football, spending time with one another – that was special. We had our puppy with us – dinner was at my parents' house – and my parents just love him, especially my dad. I think my dad loves him more than he loves me. He's always asking for him, asking to babysit."
DOG DAYS
When Coyle takes Bodie for a walk, the forward takes second billing to his golden retriever who always manages to take First Star honours.
"He really does. It's actually funny. You meet so many people when you have a dog. A lot of times, people will ask, 'Can we pet your dog?' After they pet him, we'll walk away, and then they come back and say, 'Can we get a picture with your dog?' It's funny. He's definitely pretty famous around here."
A LEAGUE OF THEIR OWN
Coyle is one of several players – in addition to those supporting through the NHLPA Goals & Dreams fund – that supports the United Heroes League (UHL). The UHL works to ensure that children of military service members are afforded every opportunity to participate in sports. The initiative has provided over $12 million worth of free sports equipment, game tickets, cash grants, sports camps and special experiences (like the All-Star Hero initiative) to military families across the United States and Canada.
"It has to do with our military members and veterans who are out putting their lives on the line for us. I think the least we can do is help them in some sort of way. The UHL is such a cool thing. Shane Hudella, who started it, has been doing a great job with it. He puts everything into it. Doing it through sports – it's an amazing way to help out those in the military and their families. If we can get these kids hockey equipment while they have a loved one away from home, that's such a little thing we can do. You just want to make sure their kids are having fun, getting to play sports, and being part of a team."
INSPIRATIONAL FORCE
Coyle has struck up a close friendship with Bruins fan Quinn Waters. For months, the youngster was only able to interact with the people through a window – dubbed the 'Quinn-dow' – from his family's house while he recovered from cancer. In August, Coyle visited the house for a chance to hang out with his pal who endured a brain tumor, chemotherapy, and a stem cell transplant on his road to recovery.
Now healthy, 'Mighty Quinn' presided over the ceremonial puck drop for the Bruins game on the team's Hockey Fights Cancer Night.

"He's a Weymouth kid. When someone is going through what he has and he's from your community, it hits closer to home. He feels like he's one of your own. I met his dad a few days before I went over and met Quinn. They are great people. And you just never want to see a little kid go through that. You just wish for the best and make sure they are happy and are in positive spirits. We got see him at the Quinn-dow. A bunch of people came by to take part and join in. We had some fun. We got him and his sister jerseys, and we had a Nerf gun fight by the window. I think he was having a great time. And then he got to go to the game when he was feeling better. He got to drop the puck, he waved to the crowd – he was a natural. It's humbling… very special. He's an amazing kid."
FASHION FORWARD
If you're looking for the perfect fit for a Charlie Coyle fan, check out the new clothing line that bears his name at 3Agear.com. A portion of the proceeds from the clothing and hats goes to the Weymouth High School Strength & Conditioning program.
"That came about through a kid from my hometown in Weymouth, who runs a small clothing company. They wanted to do something with me, asked me if it would be okay and I said, 'Sure.' They come up with a design and I OK'd it. A portion of the proceeds will go to this place we call 'The Dungeon.' It's a weightlifting room at the local high school where I graduated. There's a guy there, Pat O'Toole, who got me started in working out and lifting. He still runs that place, just volunteering. He's been doing it for years. So, some of the money we take in will go towards The Dungeon – for new equipment, whatever they want to use it for. I take a lot of pride in that because that's where I started working out."
PARTING SHOT
"I joke texted my dad, 'Do you want us to leave the dog at home?' I don't want it to be too crowded.' He said, 'No, no… you have to bring him.' We brought Bodie over and he got some special treats. Everybody was feeding him something, a turkey leg here, some dessert. I'm just happy he wasn't sick after." – Coyle, on Bodie's popularity with his family members.

If you'd like to help Charlie reach his goal this holiday season for the UHL to help more kids find normalcy through organized sports while their parents serve their country, click here.