From Nana Kelly to hand-eye help from sisters, Coyle grateful for support
Charlie Coyle keeps answering the bell and Nana Kelly keeps ringing it.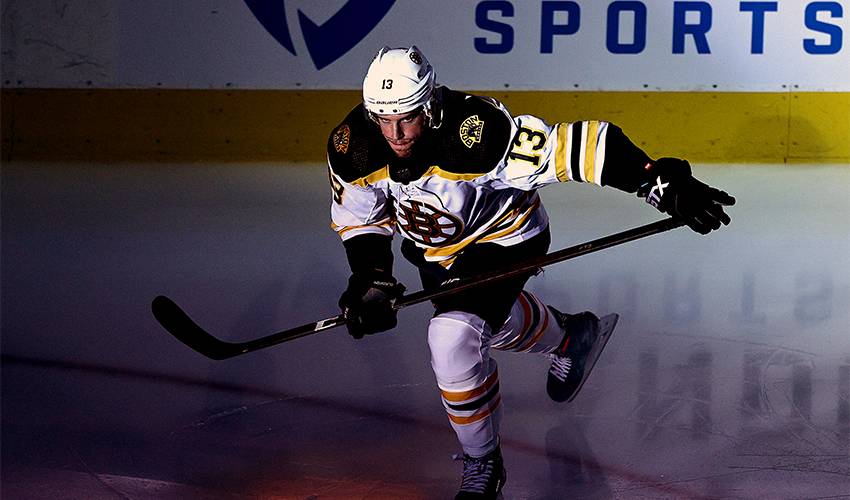 Feature photo: Getty Images
---
Charlie Coyle keeps answering the bell. Nana Kelly keeps ringing it.
Of the many fans the Boston Bruins forward can count – family, friends, former teammates, coaches and others – none are anywhere near as enthusiastic or demonstrative as his grandmother.
Mary Kelly, now in her 90s, can be seen – and heard – cheering on the Bruins, whenever the Original Six club is in action.
She also has a special way of celebrating a Boston goal.
"Everyone kind of knows about my grandma, she's got the cowbell," said Coyle, of his grandmother's now-famous cheering method. "She's either with my family, my mom, or my aunts, watching every game."
And when the 28-year-old forward lights the lamp, the energetic bell ringing goes up a few decibel levels.
So far in this year's Stanley Cup Playoffs, Boston has five wins, and Coyle has three goals with his latest contribution coming with the primary assist on the Bruins' lone goal Saturday night.
The native of Weymouth, Massachusetts, who came to the Bruins via a trade with Minnesota on February 20, 2019, has seen a few videos of his grandmother ringing the cowbell during the post-season.
It's something Coyle never tires of watching.
"Every goal, you can count on her ringing the bell. But she loves it, and that's her thing. People seem to love it and she loves it even more because of that. She's happy when we score as many goals as possible. I think there's probably a little longer ring when I do it. It's really cool. My aunt, who is usually with her, she sent me some videos of her ringing the bell after we score.
"There was one time – I think it was about a week ago – when I shouted her out during an interview, and they played it, so she had a great reaction to that. I get the videos of her sent over to me and see them after the games. It's so cool to see her reaction. She loves life, she's thankful for everything – she supports me so much. It's just a great thing."
The 6-foot-3, 220-pounder has a sizable cheering section back in his hometown, a group that includes his father, Chuck, mother, Theresa, and sisters, Jess, and Jill.
Coyle gives credit to his parents for making sure he always got to the rink on time for games and practices. He praises his older siblings for teaching him about bringing a competitive edge to his game.
Both Jess and Jill are accomplished athletes.
"I think we've all matured a little bit," Coyle said with a laugh. "Both my sisters played sports growing up, both of them are great athletes, and both played sports in college. Growing up, we always played together. Whether I was playing their sports – basketball, softball, or a little baseball – it was always fun playing catch or shooting hoops with them, and sometimes they'd play hockey with me. We had our fair share of brother-sister moments growing up… they used to throw me around when I was smaller."
That's not the case anymore.
"Now I'm towering over them, but there's no payback these days. They toughened me up when I was younger. They love watching me play, supporting me, going to games – they give me so much support."
And they might be the ones behind their brother's recent baseball-esque playoff goal.
Coyle, who used to play Little League baseball in Massachusetts, batted the puck out of the air and into the back of the net in Game 3 of Boston's opening-round series against Carolina.
"I've seen my sisters both play on the diamond, so they showed me a lot. I probably have them to thank for a lot of the hand-eye coordination, that lucky stuff I do every once in a while."
However he manages to score isn't a big deal to Coyle's cheering section back home.
As long as the Bruins get the win is what matters most to those who slip on the No. 13 jerseys and tune in to the games.
"The support is always there, which is awesome," said Coyle. "Usually, everyone watches from my parents' house. It's been the same as previous years. My sisters may go over there. My buddies from back home will get together, depending on what day of the week it is. You get your good luck texts, and when we win, you get those, 'Good job' texts. Everyone is really excited that hockey is back. There's some real excitement out there."
For Coyle, hockey's that much more exciting in knowing there's a familiar ring to it.
"Sometimes… you don't forget about it, but there are moments when you really take the time to think about all that support and what that means. It makes you feel good. I've grown up around great people, people who have helped shape me and got me to where I am. To have them riding along for this journey is really special. You have to cherish it. And I do. I think about that a lot."
Trailing 3-1 to the Tampa Bay Lightning after a 3-1 loss Saturday, the Bruins look to keep their Eastern Conference Second Round series alive with puck drop Monday night at 7 PM ET.