DeMelo bringing visibility to blood cancers, LLSC
Dylan DeMelo wanted to shine the light on a serious disease. So that's exactly what he did. Literally.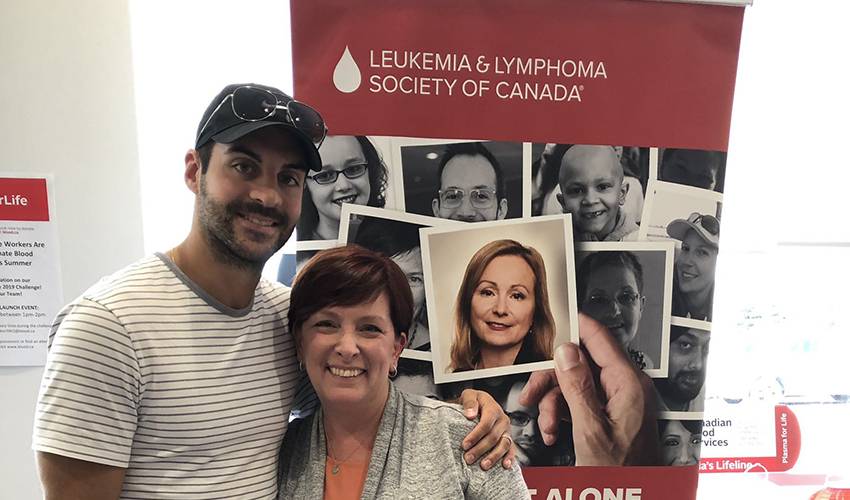 Dylan DeMelo wanted to shine the light on a serious disease. So that's exactly what he did. Literally.
On October 26, DeMelo, along with Ottawa Senators teammates and team staff, took part in the city's Light The Night Walk in support of the Leukemia & Lymphoma Society of Canada (LLSC).
There are 12 official Light The Night Walks hosted by LLSC in cities across Canada and dozens of community-based events led by volunteers and schools. Each year, over 35,000 supporters gather in places across the country to help raise awareness and raise funds for blood cancer research and support programs for patients, survivors and caregivers.
The Light The Night Walk, LLSC's signature fundraising event, is something that has deep personal meaning for DeMelo.
He first became involved with the charity in his hometown of London, Ontario, when Tammi Garrett, his best friend's mother, was diagnosed with leukemia.
Great time today at the Canadian Blood Services Centre In London ON. Thank you to all those who donated. Glad to see some Sens fans there as well! pic.twitter.com/etfdM9qfyg

—

Dylan DeMelo (@ddems2) August 28, 2019
"About five or six years ago, I found out about Tammi's battle," started DeMelo. "Obviously, she's had to deal with a lot. It's very expensive to get the care she needs. Seeing that first-hand, watching those struggles, I saw the impact it had on her and her family. Right now, she's doing well. She's in remission, but we need to raise more money for both medicine and research.
"She's a very strong woman and she wanted to make a change herself, so she started a golf tournament two years ago," continued DeMelo, who takes part in the annual event.
Alicia Talarico, President of LLSC, is grateful for all of his efforts.
"Dylan's support is a powerful morale booster at LLSC," said Talarico. "Hockey is Canada's game and professional hockey players are Canadian heroes. He brings added excitement and energy to our cause. His support helps increase credibility externally and pride internally as everyone feels that the work we do is being noticed and talked about."
While he wasn't able to take part in walks over the past few seasons due to hockey commitments, this year afforded the defenceman his first chance to get involved.
"With the walk, I always wanted to do it, but I was never able to because I was playing in San Jose, and the walk is always during the hockey season," said the 26-year-old who was traded to the Senators from the Sharks on September 13, 2018. "So I always missed out on it. Luckily enough this year, we didn't play on the Saturday, and I thought it was a great opportunity to participate. It was something I had always wanted to do.
"My teammates and staff came out and it was great night. We lit up the Ottawa night with our lanterns, and we met a lot of cool people. I ended up hearing a lot of great stories, ones that will definitely stay with you for a long time."
Please join me and some of my fellow teammates and staff this Saturday for the Light the Night walk here in Ottawa. Feel free to check out the link for additional information and where to donate. Every little bit helps! https://t.co/xLRDO77lXD

—

Dylan DeMelo (@ddems2) October 22, 2019
Garrett's own journey has been inspirational for DeMelo.
It's helped the 179th overall draft pick of San Jose in 2011 put his life inside and outside of the arena into perspective.
"I think any time you see adversity like that, a life-changing event, and you're able to spin it and stay positive – every year she's done the walk – it really inspires you. I'm sure there are times that no one sees, days and times that are extremely tough for her, but she's an incredible woman who is trying to make a positive change and help find a cure. For me, any time I can help her, I'm happy to. I hope we can find a cure.
"The golf tournament is obviously the big money-raiser for us, and we're looking for every year to be bigger and better. We were happy with what we achieved in year two, but as we gain momentum, we want to make this into something really big."
"We raised $357,000 for the Ottawa Walk, which is an amazing number. I'm looking forward to hopefully being able to do it again next year," said DeMelo.
One thing he can count on is the backing of his teammates.
"It means a lot. This is my second year in Ottawa, and the Senators Foundation does a great job at getting out in the community. It's always great to show our faces and show support for local causes. With my teammates coming out to help me, it shows how close we are as a team. To me, seeing them donate their time, it meant a lot."
DeMelo's support also means a lot to those at LLSC.
"Dylan helps bring visibility to blood cancers and the support available to Canadians affected by blood cancers through the LLSC," said Talarico. "Unfortunately, 40 percent of Canadians have never heard of the LLSC. By speaking about blood cancers and the LLSC, Dylan is starting a conversation and encouraging people to talk about their own experiences. He is helping break the cycle of cancer isolation and loneliness. He has the power to connect with and inform a new audience about blood cancers and LLSC, which is extremely important, as blood cancers don't discriminate."