Player of the Week | Elias Pettersson
Elias Pettersson moved up to the sixth spot in the NHL scoring race with his 20th point of the season after tallying nine points in four games (3-6–9).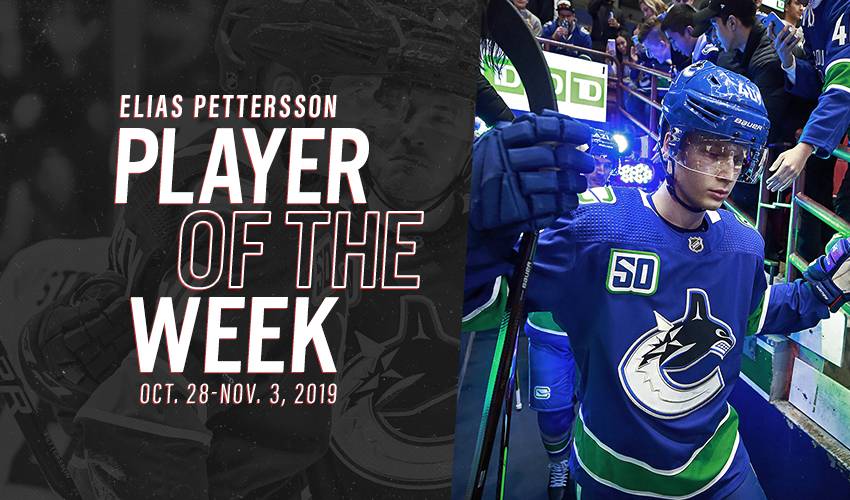 Feature photo: Getty Images.
Elias Pettersson
OCT. 28-NOV. 3, 2019
3-6

–

9 OVER 4 GP
LED NHL IN ASSISTS (6) AND POINTS (9) FOR THE WEEK

HAS RECORDED 86 POINTS IN 85 CAREER GAMES
---
Elias Pettersson moved up to the sixth spot in the NHL scoring race with his 20th point of the season after tallying nine points in four games (3-6–9) this past week, boosted by consecutive outings with three or more points.
Helping the Vancouver Canucks to a successful road trip through California by extending the club's point streak to seven games, the 20-year-old scored his 86th NHL career point Saturday and has the third-most career points among Swedish-born players before their 21st birthday.
Earning a pair of points (both off goals) in his @Canucks 5-2 win Saturday, Elias Pettersson- still 9 days away from his 21st birthday- moved into 3rd on this list among some of the great young NHL talents to come from Sweden pic.twitter.com/8SU4yo1mBK

—

StatsCentre (@StatsCentre) November 3, 2019
It also has taken him only 85 games (Sundin played in 135 games; Backstrom, 102; Landeskog, 138), and it's a list he can move up further until Nov. 12.

LOOKING BACK

OCT. 28
0-3

–

3, 4 SOG, 16:13 TOI, GAME'S FIRST STAR
---
VAN 7
FLA 2
Pettersson had three assists to help lead the Canucks to a 7-2 win over the Florida Panthers at Rogers Arena Monday night.
Pettersson set up linemate J.T. Miller for his 100th NHL career goal in the first period after he beat Panthers' goalie Sergei Bobrovsky with a wrist shot. That would help Pettersson extend his point streak to four consecutive games.
The fifth overall pick from the 2017 NHL Draft reached 80 career points in what was his 82nd career game, becoming the second-fastest player in Canucks' history (behind Pavel Bure) to reach the milestone.
Fastest to First 80 Career Points in #Canucks History:

Pavel Bure - 80 GP
Elias Pettersson - 82 GP
Ivan Hlinka - 91 GP
Brock Boeser - 93 GP
Dennis Ververgaert - 100 GP

—

Sportsnet Stats (@SNstats) October 29, 2019

OCT. 30
1-3

–

4, 5 SOG, 17:24 TOI, GAME'S SECOND STAR
---
VAN 5
LAK 3
Pettersson followed up his three-point performance with a goal and three assists in the Canucks' 5-3 win over the Los Angeles Kings at Staples Center Wednesday night.
Brock Boeser was named the game's first star after scoring his third career hat trick while Pettersson was named the second star of the game as he extended his point streak to five straight games.
Trailing 1-0 in the first period, Pettersson would feed a slap pass that found its way through traffic to Boeser who made no mistake scoring near the goal line.
The duo would connect again with Pettersson springing Boeser alone on a breakaway with a perfect stretch pass for his second goal of the game.
Pettersson would add some insurance in the third period by beating Jonathan Quick on the power play with a wrist shot from the faceoff circle after Boeser set him up with a cross-ice pass.
The Canucks improved to 8-1-1 in their past 10 games with the win over the Kings.

NOV. 1
---
VAN 1
ANA 2 F/OT
Pettersson's streak ended at five games after he was held pointless as the Canucks lost 2-1 in overtime to the Anaheim Ducks Friday. He played the second-most minutes (21:22) among Canucks forwards on the night, behind only Boeser.
The Canucks, however, extended their point streak to six games of having not lost in regulation, going 4-0-2 during that stretch.

NOV. 2
2-0

–

2, 3 SOG, 15:15 TOI, GAME'S FIRST STAR
---
VAN 5
SJS 2
Pettersson bounced back with two goals against the San Jose Sharks to lead the Canucks to a 5-2 win at SAP Center Saturday night.
He scored his fifth goal of the season in the first period after showing some great hand-eye coordination batting the puck out of mid-air to give the Canucks a 2-0 lead.
After the game, Pettersson admitted he never played baseball growing up but credited another sport he played this summer in Sweden.
Regarding his batted goal, I asked Elias Pettersson if they play baseball in Sweden.
"No, but I played a lot of badminton this summer."

—

Iain MacIntyre (@imacSportsnet) November 3, 2019
Pettersson would get his second of the game as he pounced on a rebound in front of the net to beat Sharks goalie Aaron Dell.

LOOKING AHEAD
Pettersson and the Canucks return to Vancouver to host the St. Louis Blues Nov. 5, and will end their week there against the New Jersey Devils after a two-game road trip with stops in Chicago and Winnipeg. Pettersson will look to continue his recent hot streak of 12 points (4-8–12) in his last six games, which is tied for most in the NHL since Oct. 21 along with leading scorer David Pastrnak.