Holtby a humble standout, even from a young age
He has 225 career NHL wins and 32 career shutouts. Not bad for the "quiet kid from Saskatchewan."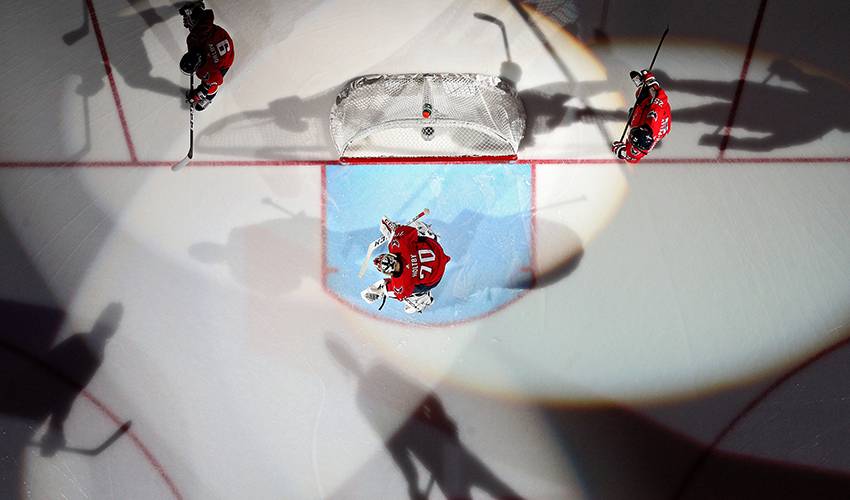 "Even at a young age, he was humble. I still remember his first training camp as a 15-year-old. He came in and was lights out. You just knew there was something there. And because of the humbleness, you wanted to see him succeed."
That's the first thing that came to mind when Saskatoon Blades associate general manager Steve Hildebrand spoke of Braden Holtby, the goaltender the Western Hockey League (WHL) team selected in the ninth round of the 2004 WHL bantam draft.
The kid from rural Saskatchewan posted a 42-58-11 record his first two seasons as the Blades starter. In his third year, Holtby, a fourth-round draft pick (No. 93) by Washington in the 2008 NHL Draft, nearly equaled his win total from the previous two campaigns, boasting a 40-16-4 record in 2008-09 as he helped lead Saskatoon to the post-season.
Hildebrand still marvels at the focus Holtby (whose father played net for Saskatoon decades earlier) displayed during practices and games over his time with the Blades.
"I know John Stevenson worked with him a ton on that," said Hildebrand, in reference to the Saskatoon goalie coach, who has a Masters in sports psychology from York University and a second Masters in counselling psychology from Edmonton's City University. "I know Braden worked extremely hard in junior on that part of his game. He excelled and took it to the next step at the NHL level."
When did Hildebrand think the organization had a future big-leaguer in the fold?
"I still think – I even think Holts himself would admit – that he was good enough athletically, but when you saw his numbers when he was playing in the minors and the confidence he had, which goalies need, I believe once he got to that point you knew something good was going to happen."
After his phenomenal final WHL campaign, Holtby hit the pro ranks the next year, splitting time between the Hershey Bears of the American Hockey League and the South Carolina Stingrays of the East Coast Hockey League. The next three seasons, he was up and down between Hershey and Washington before earning full-time status with the Capitals in 2012-13.
In the 2014-15 season, Holtby played a League-high 4,247 minutes while earning nine shutouts.
One campaign later, Holtby tied Hall of Famer Martin Brodeur's record with 48 wins when he won the Vezina Trophy as the League's top goaltender. He also finished fourth in Hart Trophy voting as league MVP and was named First Team All-Star.
He has 225 career NHL wins and 32 career shutouts.
Not bad for the "quiet kid from Saskatchewan."
"The one thing I always remember about Holts in practice is that he hated getting scored on," recalled Hildebrand. "There would never be a puck in the net. Guys would be on the line and they'd be shooting pucks at the net. Holts has a great shot and he'd take it and fire it right back at the guy. He's a quiet kid, but he has fire in his belly. The guys would give him a hard time in practice and throw pucks in the net. But he'd never have a puck in his net. He didn't believe in that. It was all part of the mental process of not having it there. It was pretty cool.
"There's a lot of pride for us. I'm always happy for the guys that come through our program and move forward in any capacity – educationally, NHL, playing pro in Europe, whatever it happens to be. With Holts, you are just extremely happy for him and his family. He's a good person. He's one of those guys you just cheer for. When I watch him, I'm excited for him. I text him after each playoff round and just say, 'Keep 'er going.' I know the organization is extremely proud of him."
They have plenty of reason to be – and not just for what he did during his junior days.
"I work closely with him here," said Hildebrand. "We do some stuff in Saskatoon called Holtby's Heroes. Basically, it's bringing inner-city kids to Blades games. He doesn't get back this way a whole lot. But when he does, he always stops by and says hello. That tells you a lot about him."