Cullen Born to be Wild
Native Minnesotan ecstatic about suiting up for his home team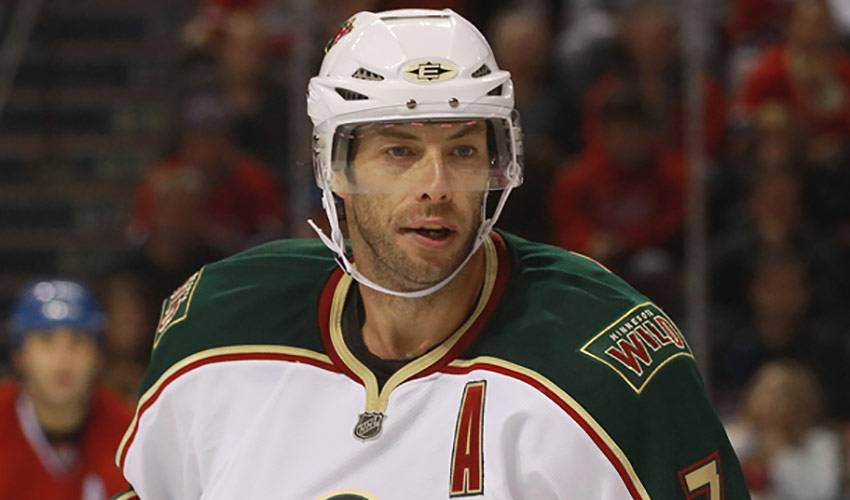 Matt Cullen is definitely going to make the most of what he terms a "special opportunity."
He never thought he'd be closing in on 1,000 games played in the National Hockey League (a milestone that is recognized by the NHLPA) and he certainly didn't expect he'd ever be playing for his home team, but 13 years after launching his big-league career, Cullen, 33, has achieved both.
Needless to say, he's on cloud nine these days.
"When you start out, your goal is to make the team," said the native of Virginia, Minnesota, who signed a three-year, $10.5-million contract, as an unrestricted free agent, with the Minnesota Wild on July 1. "And then it's all about taking the next step, improving your game and getting better each year.
"But to be able to play in my home state and to be getting closer to 1,000 games, it's amazing," he continued. "It's a special opportunity to be able to play for your home team."
Wild General Manager Chuck Fletcher was thrilled to land the versatile forward, noting the team was immediately better with Cullen in the fold.
Cullen, who has 169 goals and 461 points in 880 career NHL games, isn't worried about the pressures of playing in Minnesota, a team that finished 13th overall in the Western Conference in 2009-10.
The centreman, who was part of the Stanley Cup champion Carolina Hurricanes in 2006, is embracing the opportunity to play a prominent role on the Wild.
"For any player in this league, there is always pressure at some point of your career," said Cullen, who played for Minnesota's St. Cloud State Huskies from 1995–1997 and was named to the WCHA All-Rookie Team in 1995 and WCHA All-Star in 1996. "There are always ups and downs. For me, this is unbelievable. The pressure will be internal, the pressure that I put on myself. Any outside pressures can never outweigh that."
Cullen isn't the only one excited about his new deal.
"My wife (Bridget) was so happy, there were tears in her eyes," recalled Cullen. "My kids are getting to the age where they understand hockey more and more, and to think that they grow up around the rink in Minnesota is a great feeling. To be honest, thinking about that part of it put a lump in my throat."
Cullen, who was selected 35th overall by the Anaheim Ducks in the 1996 NHL Entry Draft, is also making a return to the Western Conference.
He played four and a half seasons with the Ducks before a trade sent him to the Florida Panthers during the 2002-03 campaign.
After two stints with the Hurricanes, along with the New York Rangers and Ottawa Senators, Cullen will now get his second taste of life in the West.
"It's been awhile since I've played in the West, but I think both conferences are equally tough," offered Cullen. "There are no nights off and it's no easy task to get to the playoffs. But I like the way our team looks."
Cullen's first order of business will be in introducing himself to his new teammates.
"I know a lot of guys around the league, but it's funny, I don't know anyone that plays on Minnesota," joked Cullen, who will host his annual Cully's Kids charity event. "But I'm really looking forward to getting to know the guys and having a good season together."
Cullen will also look to respond to a large number of messages he's received since he signed his new contract.
"I have a lot of people I have to get back to," he admitted. "It's been great. I've had a lot of players and friends email and text me to congratulate me. I haven't found the time to follow up, but I will."
It won't be long before Cullen's thoughts turn to the 2010-11 season, a campaign he hopes will be his best ever.
"You never forget how fortunate you are to play the game you love. And to have things come together like this, tdoesn't get any better. It doesn't seem so long ago that you were just starting out, trying to establish yourself. And to be at this point is something I am extremely grateful for."
You might even say he's Wild about the idea.