Realizing A Life's Work
Roberto Luongo finds himself finally in the place he has worked so hard to be; the Stanley Cup Final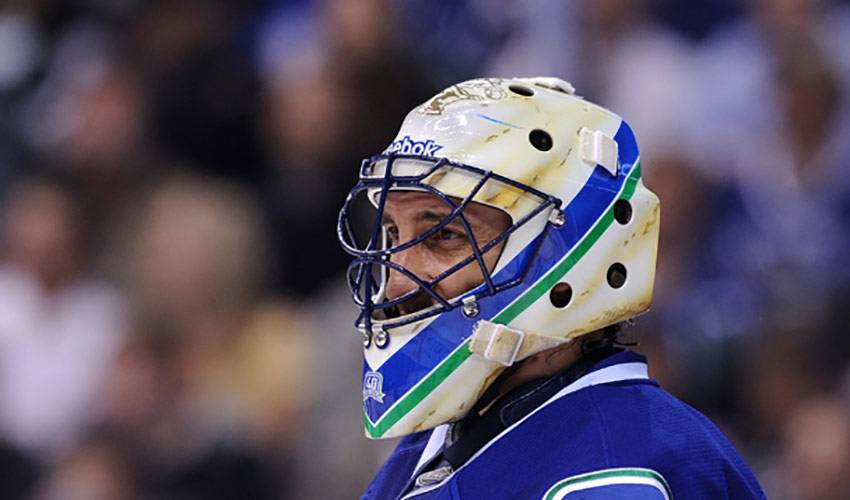 In the moments after Kevin Bieksa's goal put Vancouver fans in a state of pandemonium and the Canucks into the Stanley Cup Final, Roberto Luongo was reminded of a childhood dream that finally came to fruition.
He's one of hockey's best goaltenders, yet he often finds himself under the microscope, questions abounding about his ability to win the big game.
And while his statistics, trophy case and undeniable talent are impressive, to say the least, Luongo, who made 54 saves in the series-clinching 3-2 overtime victory in the Western Conference championship, has finally silenced his critics.
He's also realized a lifetime goal.
"We work all our lives for this, not only this season," said Luongo, who headed into the Cup final with a record of 12-6, accompanied by a 2.29 goals against average and .922 save percentage. "Growing up as a kid, this is where you want to be. There are a lot of guys in the locker room that haven't had a chance to be where we are right now, including myself.
"You know, you put in the work. It all starts in the summertime. It's nice to see it pay off at the end of the day. Obviously we have the biggest step of all coming ahead of us. But right now I think we're having the time of our lives and we're enjoying every step of the way."
Luongo, who won the William M. Jennings Trophy (lowest goals-against) along with teammate Corey Schneider in 2010-11, is not just making saves in the post-season, he's making game-changing stops.
In the opener of the Cup final against the Boston Bruins, he was simply stellar, turning back the Eastern Conference champs time and again, leading the Canucks to a 1-0 victory.
"Timmy (Boston goaltender, Thomas) made a few big saves in the first few minutes," noted Luongo. "Then they got their power-play. I was feeling pretty good. As the game was moving along, obviously there wasn't a lot of room. But when saves needed to be made, we were both making them. I had a feeling we were going to go to overtime and play for a little while here."
For as solid as he's been between the pipes, Luongo has been equally resilient. After Vancouver saw their three games to none lead evaporate against their nemesis, the Chicago Blackhawks, in their first-round matchup, Luongo was strong in Game Seven, another overtime triumph.
In their Western semifinal against the Nashville Predators, he was equally impressive, shutting down shooters as Vancouver bested the Preds in six games.
Now, he and his teammates will have the chance to deliver the franchise its' first-ever league championship.
"I said to my family before the series started, this is what I've been waiting for my whole life," said the Quebec native, who won a gold medal with Team Canada at the 2010 Winter Olympics in Vancouver.
"I'm just going to go out there and play and enjoy it. I just want to do what I do. I work hard. I've been working hard all year to be in this situation. I'm just going to go out there and play and give my hundred per cent every night."
For all of his efforts, Luongo, who has a career 2.53 goals against average and 53 lifetime shutouts, knows it has been the contributions of a variety of players that have the Canucks four games away from hoisting the Cup.
"We have different guys chipping in every night," offered the 32-year-old veteran of 10 NHL campaigns. "That's what made us successful all year. It's not always the same guy or same line contributing. We've got four great lines. Even the 'D' men obviously contribute offensively. Once in a while, I mix in a save, and that's it."
A simple approach, perhaps, but one that has led Vancouver to their first date in the final since 1994, when they lost in seven games to the New York Rangers.
Luongo is as confident as ever, not only in himself, but as a group.
"I think I've been feeling pretty good the last couple series," said the fourth overall selection of the New York Islanders in the 1997 NHL Entry Draft. "The guys I think play really well defensively. Even though they have a lot of shots, we did a good job of neutralizing some secondary chances and stuff in the slot. When guys do that, it makes my job a lot easier. It's easier for me to play the shooter, not have to worry about other things. If we can keep doing that in the next round, I like our chances."
The players and the coaching staff like what they see in their goaltender.
"Roberto's played a tremendous amount of very good games for this organization since I've been here and since he's been here," said head coach Alain Vigneault, after Vancouver ousted San Jose in the West final. "We've both been here five years. Obviously tonight was a bigger stage. It was the first time we were in this type of opportunity. He played phenomenal."
He also may have finally out an end to any questions surrounding his legitimacy as one of the very best at his position.
"I'm just really excited right now," said Luongo. "I mean, I worked my whole life to be in this situation right now. It's a great feeling."