BETWEEN THE BLUELINES WITH DEVAN DUBNYK
The Oilers netminder talks about his ideal poker game, his love of the city of Edmonton and the toughest players he faces in the NHL today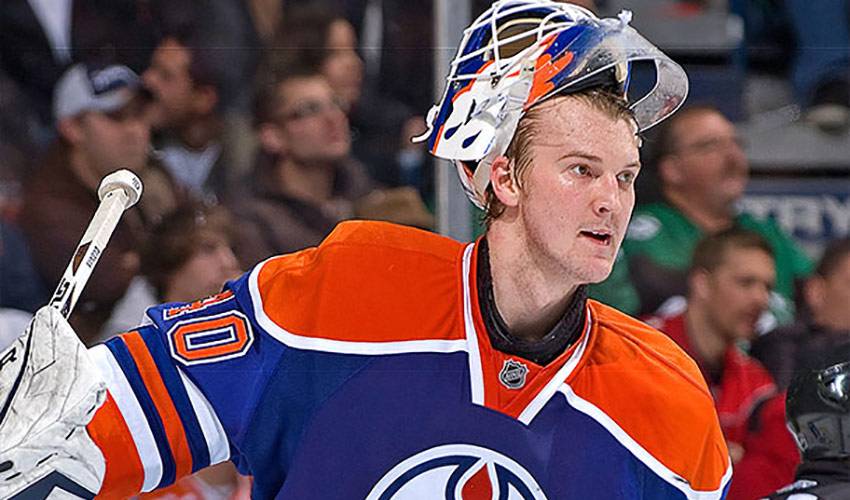 If he had his chance to invite three big-league goaltenders, past or present, over for an evening of dinner and poker, Devan Dubnyk would pick a Hall of Fame trio that would certainly make for a lively conversation.
The Oilers current netminder also gives fans the inside scoop on the toughest players he faces, his penchant for on-ice dialogue and why a walk in the park is just like an intense morning practice.
Here are 5 things you need to know about Devan Dubnyk:
TALKING THE TALK: "Obviously, you need to have focus whenever the puck is in play. But throughout the game, during the breaks, I like to get away from the tension by chatting with the referees or linesmen. I'll even skate over to the bench during a break and talk to 'Khabby' (fellow goaltender Nikolai Khabibulin). There's enough going in a game that when I have a chance, I like to keep things light. It keeps me laid-back."
WALKING THE WALK: "We have a golden retriever and she's got a ton of energy. That's why I sound like I'm out of breath. She's just over a year old and she's always playful. She's kind of like a kid in that she'll find fun even if she's tired. She wants to keep playing and finding more things to do. But it's great to get out here and go to the park, which is about five minutes away from our place."
ACES HIGH: "If I could invite three goaltenders over for dinner and then a long night of poker, I'd go with Patrick Roy, Dominik Hasek and Martin Brodeur. Patrick would be great because he has that feistiness to him. Hasek has always seemed like an interesting guy to me. I'd also pick Marty Brodeur because he's had battles against those guys and I'm sure he's got great stories. I think that's a pretty good group of goalies to hang out with for one night."
CITY FOLK: "Walking the dog in so many great spots, that's just one of the many things we love about Edmonton. The fans here, they will recognize you, but they are always very respectful and polite, which is not really any surprise at all. We really love living here. People have come up to me to talk during the lockout, but all they want is the same thing the players do: to play hockey."
RED-LIGHT THREATS: "There are so many guys in this league that are very creative and have that ability to score in a second. I suppose the Sedin twins (Henrik and Daniel) are always a handful when we play them. You have to know precisely where they are at all times. Jarome Iginla is another tough guy to go up against. He's certainly been tough on me. Whenever we play them, he always seems to step up and create a lot of chances."
The 14th overall selection in the 2004 Entry Draft, Dubnyk had his best big-league season to date in 2011-12, winning 20 games, accompanied by two shutouts and a 2.67 goals against average.
But the Saskatchewan native would prefer to talk about his teammates.
"We all want what our fans want: to get back into the Stanley Cup picture," said the 2004 Canadian Hockey League Scholastic Player of the Year. "You can feel the optimism. We have a very dedicated group of guys here. It doesn't matter whether it's the veterans or the rookies, everyone here is completely focused on winning."