Taking the Game to Canada's North
Chris Phillips and a group of NHLPA members take part in the Northern Lights Dream Tour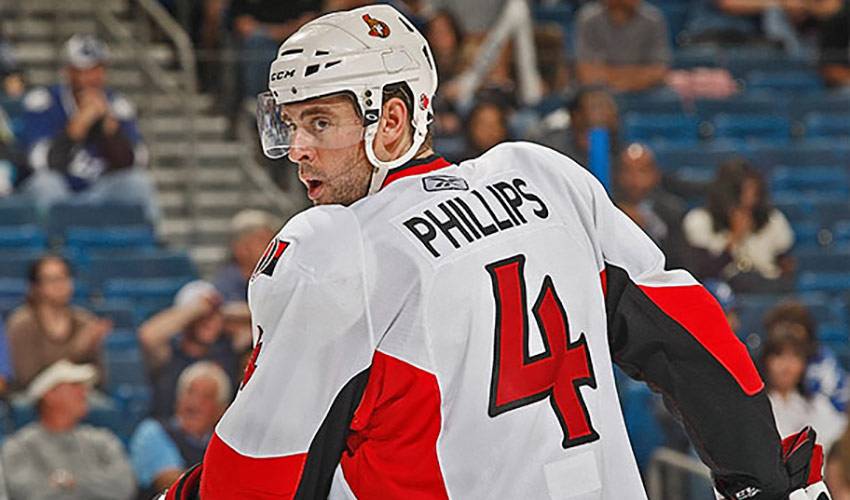 What's known as the Northern Lights Dream Tour might have lasted a week, but for Chris Phillips, the experience will last a lifetime.
Phillips, along with other NHLPA members, recently trekked to Northwest Territories and Yukon, to play hockey in front of appreciative and enthusiastic crowds at venues across Canada's north.
The Tour, which last four days, departed from Edmonton and made stops along the way in Yellowknife, Deline, Inuvik and Whitehorse.
And while the veteran defenceman, who was accompanied by his nine-year-old son, Ben, expected it to be a memorable journey for both, Phillips never truly anticipated just how impactful his time in the Canadian north would prove to be.
"I've always wanted to travel here, to see life in a way that you aren't familiar with," said Phillips, of the tour that concluded with a game in Whitehorse, Yukon late Wednesday. "On the trip up, you begin to think about what it will be like, what you'll learn about the people that live there and what you'll take out of it."
The veteran of 1,025 NHL now has plenty of stories to share – and some he'd rather not – with family and friends.
"We were able to do and see things you never really thought possible," offered Phillips, who was joined by some of his Ottawa teammates on the trip. "It was never dull for a second. When the chance came to do this, I asked if I could bring my son along. I wanted it to be something we could share together.
"For Ben, he absolutely loved dogsledding and he really enjoyed getting out on the ice and playing with the other kids," Phillips continued. "We made sure he brought his skates. I think he really soaked it all up and he'll definitely have a lot to tell his buddies about."
Phillips will be able to do the same. He might, however, try and keep one of the times he participated in traditional customs, including a Native Canadian dance, out of the conversation.
"I don't really know what to say about that part of the trip," he laughed. "I'll do my best to keep that quiet. But it was fun. Everything was. The way we were treated, the way people made us feel right at home, I can't begin to even describe the hospitality and how welcome we felt."
Although hockey was front and centre throughout the tour, each and every player involved, Phillips included, likely won't remember the goals scored or the final outcome of the games.
And that suits them just fine.
"Playing hockey and seeing how excited and energetic everyone was, that's what you will always recall," admitted Phillips. "But to be there with Ben, teammates and other players, to see life in such a unique and different way, to have met some wonderful people – that's what you end up taking away from the experience."