G&D 15: Next Stop - Ottawa
The Goals & Dreams 15th Anniversary Tour Rolls Into Ottawa In Partnership With Project North and Sledge Hockey of Eastern Ontario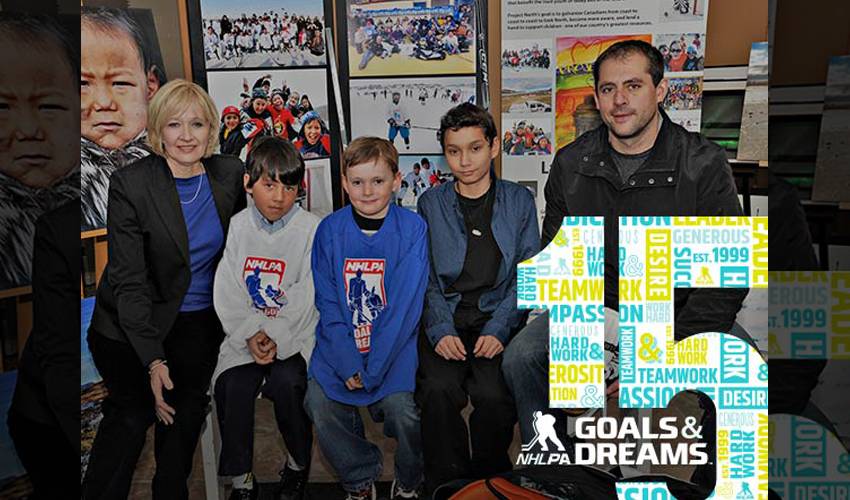 The second event on the NHLPA's Goals & Dreams (G&D) fund 15th year, multi-city anniversary tour takes place in Ottawa, Ontario, on December 8, and will celebrate three very worthy initiatives: Project North/Ottawa Inuit Children's Centre (OICC), and Sledge Hockey of Eastern Ontario (SHEO).
Throughout the 2014-15 NHL season, the NHLPA will be connecting Players and grassroots hockey organizations through G&D by donating a projected $750,000 worth of brand new hockey equipment to grassroots programs around the world. The contributions will help push the total of G&D donations to more than $22-million that has helped 70,000 children play hockey over the last 15 years.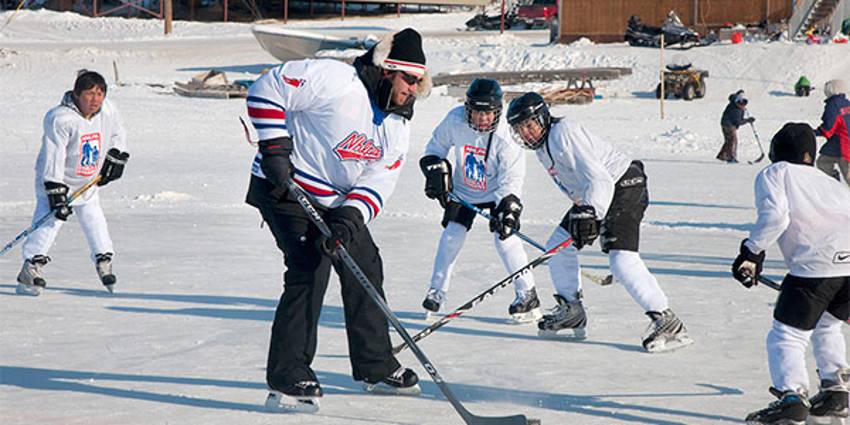 At Monday's event, G&D will donate $25,000 worth of equipment. SHEO will receive 10 sleds, while Project North / OICC will receive 25 complete sets of hockey equipment.
Michelle Valberg, President of Project North, a not-for-profit organization dedicated to improving the lives of children in Canada's north, is thrilled to once again be working with G&D, which kicked off its anniversary festivities in Hastings, Minnesota, on November 18.
"Initially, I was directed to Goals & Dreams and I had a wonderful conversation with Devin (Smith, Chairman, G&D) on the phone," recalled Valberg. "Since we met the criteria, he recommended we put in a proposal. A few months later, we received equipment and delivered to two Arctic communities.
"Because of Goals & Dreams, Project North grew and continued their campaign to deliver hockey equipment to more communities," continued Valberg. "The children in these remote Arctic communities have benefited from the hockey equipment because Goals & Dreams supported our program."
In 2010, Project North delivered $25,000 of brand new equipment from G&D to the community of Igloolik, Nunavut.
Three years later, G&D donated 50 more sets of brand new hockey equipment, which was distributed to children in Hall Beach, Nunavut.
To date, Project North has delivered over $600,000 of brand new hockey gear to 20 Inuit communities (18 in Nunavut and 2 in Labrador).
"Chris Phillips personally supported our program from the beginning as Project North's Honourary Captain," noted Valberg, of the Ottawa Senators veteran defenceman. "We are grateful to all the NHL players for their support of Goals & Dreams. It's helped us with fulfilling our mission in Canada's Arctic."
Phillips takes great pride in his relationship with Project North and G&D.
"With Goals & Dreams, you get to see, first-hand, how hockey can impact people's lives," said Phillips. "It means so much when you see the kids' eyes light up when they put on that equipment and get to take part in the game we all love. It's certainly something we are all very happy to be part of."
Phillips isn't the only player to have lent his time and support to Project North.
"We experienced first-hand the impact the players have had on these communities when we brought up Kyle Quincey (Detroit Red Wings) to Pond Inlet," continued Valberg. "They were ecstatic that an NHL player was visiting their community. Kyle spent time with the kids, signed countless autographs and gave them tips on becoming better players. This tiny remote community on the north-eastern side of Baffin Island was beaming with pride and thankful that we brought the gift of an opportunity to play hockey and on top of that, an NHL player. Dreams do come true."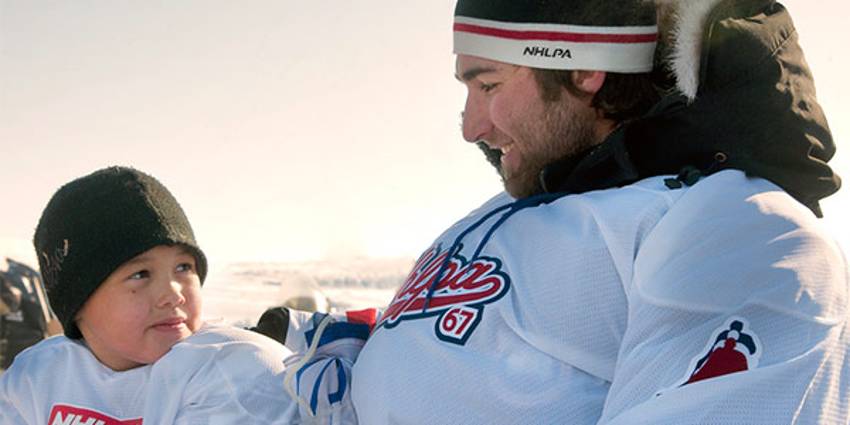 It's something that Kelli Tonner, a Program Director at the South-East Ottawa Community Health Centre and a representative with Sledge Hockey of Eastern Ontario, has seen in her efforts with SHEO.
SHEO is an association made up of handicapped athletes, their families, coaches and volunteers who take part in sledge hockey (known as "sled hockey" in the U.S.).
Players are from Ottawa and the surrounding area, including: Almonte, Beachburg, Bourget, Casselman, Cornwall, Gatineau, Lunenburg, Morewood, Rockland, Thurso, and Winchester.
Goals & Dreams has pledged to donate 10 sleds to SHEO.
"For 15 years, SHEO had been recycling old equipment between our youngest and oldest players," said Tonner. "It was outdated, old and cumbersome equipment and difficult to see our young players struggle with such ill-fitting sleds. It was clear that our players could not reach their potential without the proper equipment. In addition, the lack of adjustable equipment also prevented us from outreaching and recruiting new children and introducing them to the team sport of hockey.
"The NHLPA Goals & Dreams fund has supported SHEO to inject some life into the program and reach out to more children and youth in our community and introduce them to the thrill and wonder of hockey," continued Tonner. "With the donations of sledge equipment, we have been able to substantially grow our Novice and Junior programs and see some of our long time members improve by leaps and bounds. Our newest recruits are thrilled to get on the ice and their caregivers are grateful for the support SHEO is able to offer. The NHLPA has also given SHEO a chance to show the community how integral sport and recreation is to children – and especially to children with disabilities."
Tonner is grateful for the assistance of G&D.
"We strive to ensure that all players achieve the best skill level that they are capable of," she said. "This can mean playing at a club level and enjoying time with their peers all the way up to competing internationally. The association with the NHLPA has supported us to do this as well as build recognition within the mainstream hockey community and promote the value of inclusion and sport. Their support has been invaluable."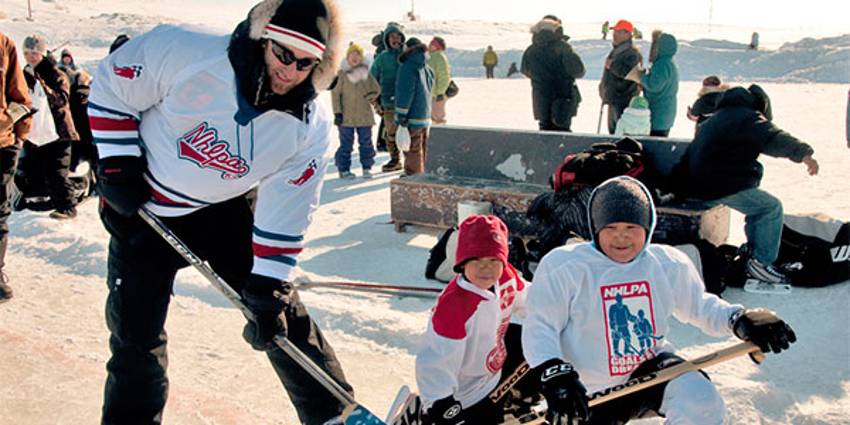 The G&D tour's next stop is in Vancouver, BC on December 18, an event that will benefit children from BC Minor Hockey and KidSport BC.