2013 All-Canadians Recap (Day 4)
Coaches Jason Spezza and Claude Giroux hit the ice with their teams for the first time today and the players learned a lesson in courage and perseverance.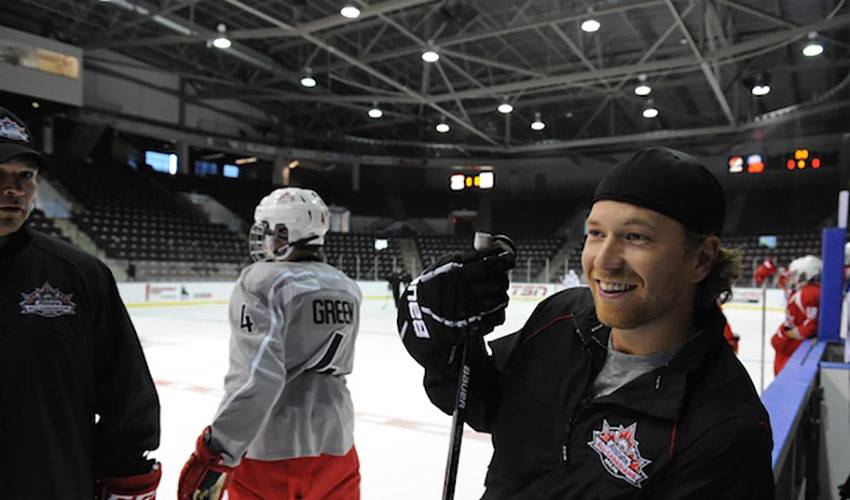 All 42 players have been preparing physically and mentally this week to ready themselves for Saturday's Mentorship Cup. Today, they completed their training with on-ice sessions led by their coaches - NHLers Jason Spezza and Claude Giroux.
Team Spezza hit the ice in the morning to practice a series of drills with their coach, while Team Giroux had one last dry land training session with top Canadian trainers Matt Nichol and Lorne Goldenberg.
At one point during the drills, Spezza was informed that one of his players, Michael Mcleod was a huge fan, so Spezza included him in a media interview he did. A bashful McLeod expressed that sharing the ice with his hockey hero was "so awesome." It was a nice moment.
Camper Michael McLeod is a big Spezza fan, so Coach Spezza took a moment to do an interview with him. #AllCanadians pic.twitter.com/oXhdNC5LlK

— All-Canadians (@All_Canadians) August 9, 2013
Former Canadian freestyle skier and Olympic medalist, Deidra Dionne, broke up the day with a life skills seminar that moved the audience with her inspirational story of success halted by a life-threatening injury, and her brave comeback. She also shared her advice for any athlete looking to succeed professionally. Dionne explained that it's the small choices you make every single day (to go to sleep early, not throw away the last five minutes of practice, etc.) that can help you gain an advantage on the competition.
Team Giroux was last to hit the ice in the afternoon for their on-ice training time with their NHL all-star coach. As Team Spezza worked out with Nichol and Goldenberg, Giroux led his team through a variety of drills, one of which included practicing shootout attempts. Giroux went first to show them how it's done, which fired up the players.
Tomorrow marks the 3rd annual Mentorship Cup game, which will be broadcast on TSN2 at 7:30pm ET and 4:30pm PT. If you're not attending in person at the Hershey Centre in Mississauga, be sure to tune in!
Getting ready to go on the ice with @All_Canadians. Lets see what these kids can do on the ice!! #AllCanadians @NHLPA

— Claude Giroux (@28CGiroux) August 9, 2013
Cant believe #allstate is almost over. Wish i could spend my life here. @All_Canadians

— jeremy smith (@jeremyAsmith98) August 9, 2013
Funnest day of my life today at @All_Canadians

— Dave Quenneville (@SuperDave_55) August 8, 2013