NHLPA and Sonnet enjoy commercial success with help of current and former players
The entertaining Sonnet commercial campaigns featuring current and former NHL players have become instant fan favourites since they first aired in 2018.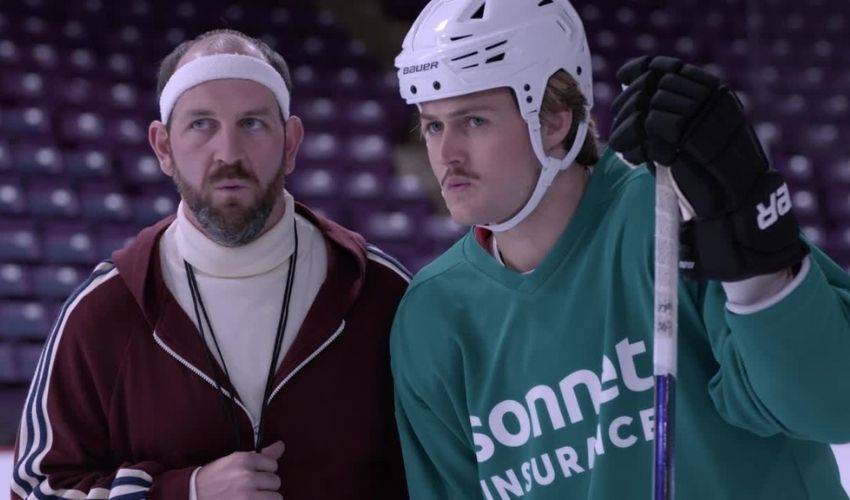 ---
Established in 2017, the partnership between the NHLPA and Sonnet – Canada's first fully online home and auto insurance company – has been much more than just a commercial success.
The entertaining Sonnet commercial campaigns featuring current and former NHL players have become instant fan favourites since they first aired in 2018.
This season's campaign, which debuted in Canada on Rogers Sportsnet in early January, features NHLPA members William Nylander and Jason Spezza of the Toronto Maple Leafs, and Jonathan Drouin and David Savard of the Montreal Canadiens, along with NHL Alumni members Doug Gilmour and Mario Tremblay.
The spots were filmed prior to the start of the 2021-22 NHL season – with everyone involved in the shooting adhering to COVID-19 protocols – at a rink in the Greater Toronto Area.
The Sonnet series has also previously featured Johnny Gaudreau, Morgan Rielly, Frederik Gauthier and Zach Hyman, as well as former NHL player Mike Vernon and Canadian Olympic gold medallist Jayna Hefford.
"The players that the NHLPA brings forward are always exceptional choices," said Jim Whitney, President and Creative Director at Whitney Creative Consultancy, who has worked with Sonnet since 2018 and is responsible for its brand creative. "They're trusting and willing to do their job in front of the camera, and first and foremost, they put a great effort into making sure everyone's expectations are met."
Such was the case of Nylander and Spezza, who spent roughly three hours filming their respective spots last year.
Nylander's commercial, "Explosive Sticks," sees the 25-year-old centre fire a series of slapshots that hit various targets.
The eighth overall pick in the 2014 NHL Entry Draft, who also appeared in a Sonnet spot in 2018 with Gilmour, was a hit on the camera and off. So, too, was his dog, Pablo, who made plenty of friends during his time on set.
Nylander even managed to make a script contribution that made the final cut.
"We had a line that said something along the lines of, 'Hey, what do you think?' and then Nylander looks at his stick," Whitney started. "We had written, 'This is amazing' as the line. "The director, Bob Rice, turned to Nylander and asked him what he'd say, what would feel natural to him. Nylander said, 'I would say … this thing really pops. That's would I say if a stick would do something like that.' We told him to do it. He delivered it in a way that was so true to him."
It was obvious to Whitney that the young standout was much more comfortable on camera than he was even three years earlier.
"The commercial Nylander did in 2018, you could see that he was a little bit shy. This time, he showed up and said, 'Hey, guys, let me see the monitor.' He wanted to watch his video playback. He was chatting with the crew. We just noticed that in the two or so years since we worked with him on the last project, that he really grew with his confidence and comfort being on set. He was amazing. He was so much at ease."
Nylander was thrilled to once again suit up for Sonnet and the NHLPA.
"It was a lot of fun to be able to be part of this again. Everyone involved was great to work with and we had some funny moments during the filming. I was really happy with the way everything turned out, but honestly wasn't that surprised after the experience I had a few years back," he added.
Spezza, now in his 19th NHL season with over 1,200 games under his belt, had one request before he agreed to be part of the spot.
Whitney and Devin Smith, the NHLPA's Senior Director, Marketing and Community Relations, assured the veteran forward he didn't have anything to worry about.
"Jason said, 'Please don't make me look foolish'," recalled Whitney. "Devin assured him that we wouldn't, and we made sure we didn't embarrass him. We don't overwrite the players, and the roles we did give them, we do our best to let the actors do most of the work, and let the players do what they are comfortable doing."
Savard and Drouin delivered the same professional performance as their Toronto counterparts in their commercials that were filmed in French.
Whitney lauded the players for what they each brought to the campaign.
"I've worked with celebrities, music and movies, over the years, but there is something about hockey players … they are really, really good to work with. Hockey is our national religion, and the NHLPA and the Players, they are really great partners in marketing. They are both great to work with. The players are wonderful, and the PA represents them very well.
"There is always a concern with non-actors of what they are going to be like when they arrive on set," Whitney continued. "Are they going to be intimidated and self-conscious? You just don't know. There will always be some concern or hesitation. But to see Jason, William, Jonathan, and David show up, and watch them trust the director and the director trust them, there's a real genuine connection between both sides. They would listen intently and delivered. As far as sports, I couldn't imagine a greater group of people to have been selected for the Sonnet campaign. They were a really, really great group of players."
Doug Gilmour, who played six seasons with the Maple Leafs in his Hall of Fame career, has enjoyed working with Sonnet, whose first two campaigns compared old-time hockey with the new era of the sport.
The centre, who recorded 1,414 career points in 1,474 games, recalled trying to keep a straight face during filming.
In one spot, current NHL players Rielly, Hyman and Gauthier are shown smirking at the new arrival of their "carbon fiber, custom curved" hockey sticks, while across the dressing room, three retired players – Mario Tremblay and Hall of Famers Gilmour and Hefford – use old-school methods to curve their wooden sticks, such as a kitchen stovetop or a handheld torch.
"The behind-the-scenes part is great," offered Gilmour, who is a Sonnet Ambassador. "You get there, and you start your filming for the commercial, and really, you can't help but laugh. A lot of these things speak to how the game has changed, so it's fun to see how the final product comes together. I have nothing but good things to say about being part of it all. The first time I saw the commercials on TV, I just had to laugh. They are just so funny and so entertaining, showing the past players, the differences in the game between then and now, and the new generation of players. The response I get from neighbours and friends is that they love it. Sonnet nailed it."
The commercials and respective campaign aren't the only way the NHLPA and Sonnet have teamed up.
In 2021, through the NHLPA's Goals & Dreams fund, Sonnet and the NHLPA launched a new program titled "Everyone Deserves a Team." Hosted by Sportsnet broadcaster David Amber, the series of virtual meet-and-greets connected young players with current star hockey players like Patrice Bergeron, Hyman, Darnell Nurse, Sarah Nurse, and Matthew Tkachuk.
The virtual meetups were produced in partnership with two Canadian youth hockey programs: the Hockey Education Reaching Out Society (HEROS)/SuperHeros and Hockey 4 Youth programs. Sonnet and NHLPA hosted six "Everyone Deserves a Team" meetups in Vancouver, Calgary, Edmonton, Toronto, Ottawa and Montreal.
On top of hosting the virtual meetups, the initiative saw Sonnet and NHLPA donate brand-new equipment to local youth hockey programs in four provinces. Gilmour was present during the events to gift the equipment to the young players.
"The opportunity to work in partnership with Sonnet has been a wonderful experience for both the NHLPA and the Players," said Devin Smith. "From working together on the commercials to working alongside Sonnet on other initiatives, we are truly grateful to be able to collaborate with people who share our same passion for the game and promoting NHLPA members."
Whitney views the relationship between Sonnet and the NHLPA as a true team effort.
"Sonnet, they understand their brand and product. The NHLPA has the star power and the fit with the creative. Along with myself and a team of three to four people that work on the creative, it's a really great trifecta of three parties who get into a room, and it always works. You can see that in the commercials, in how they turned out and how they have been received. It really is all about teamwork."