Beagle Goes Retro For Offense
Jay Beagle used the tried & true method of shooting hundreds of pucks in the summer to build his offensive game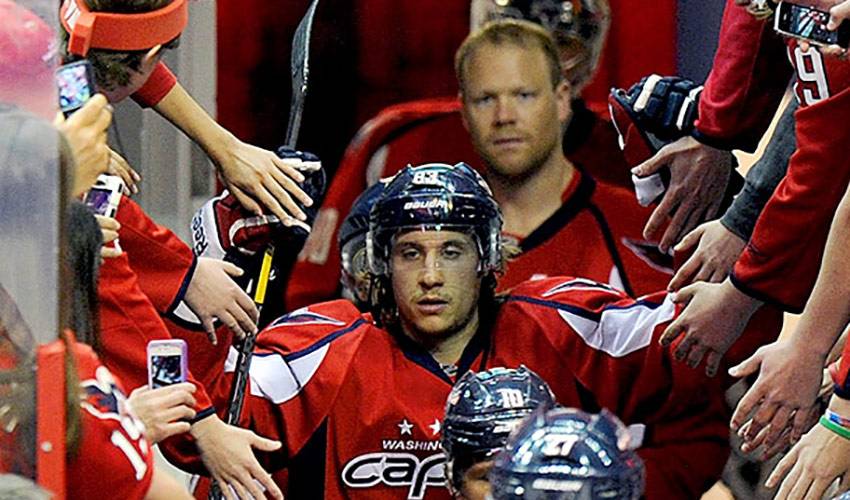 What did Jay Beagle do when he wanted to add a new skill set to his game? The Washington forward decided to go old school.
It was his defensive work, namely, penalty killing, that punched his ticket to a career in the NHL. But, for the man who wears number 83 for the Washington Capitals, bringing some offensive punch was the goal before the 2014-15 NHL season got underway.
The blueprint to achieve his objective? Beagle went retro.
"I guess I did do exactly that," Beagle told NHLPA.com. "When our season ended (in 2013-14), it didn't take long for me to start thinking of what I could do to inject some more offence into my game. Killing penalties, I think that played a large part in me getting to this level. But, in the summer, I was really focused on building my overall game."
Beagle took to the great outdoors as part of his master plan, shooting 200 pucks a day off a board in his off-season place in Calgary. He also fashioned a net to aid in his daily regimen.
"I made one that had another net in the back of it, so if I missed, it wouldn't cause any problems," laughed the 29-year-old. "I was out there pretty much every day. I also rented ice, just for myself. I've always done that, but I did it earlier in the year, about 2-3 weeks earlier than I usually do. I wanted to come into camp ready to go."
The net gains for Beagle has been an NHL career-best nine goals (including one game-winning marker) and 17 points through 56 games.
On February 11, he had two goals and one assist in a road game against San Jose.
Yet, there's been no drop-off in his defensive performance, a source of pride for the undrafted player that saw his first big-league action in 2008-09 when he appeared in three regular season contests with Washington.
"That will always be a big part of what I do," offered Beagle. "Maintaining that aspect of my game was just as important as working on contributing offensively. It's been a lot of fun playing in this system and to be able to branch out a little bit, to do a little more. It's been very rewarding."
Even more so than Beagle had ever anticipated.
Recently, the former University of Alaska-Anchorage forward decided to indulge in another throwback pursuit, one that has nothing to do with perfecting his two-way game.
"I just got back in from tobogganing with my 10-month-old son, Brandt," said Beagle. "There isn't usually a lot of snow in Washington, especially when you compare it to Calgary, so we got out there and had a blast."
As for this story, it will be Beagle's wife, Ashley, who will share it with him.
"I'm not much of a computer, Facebook or Twitter guy," he said with a chuckle. "The guys like to tease me about it."
Just another day in the life of Washington's old school forward.