Burns Suited For Success
Sharp dressed man Brent Burns helped lead the Sharks to a Game 4 victory and a 3-1 series lead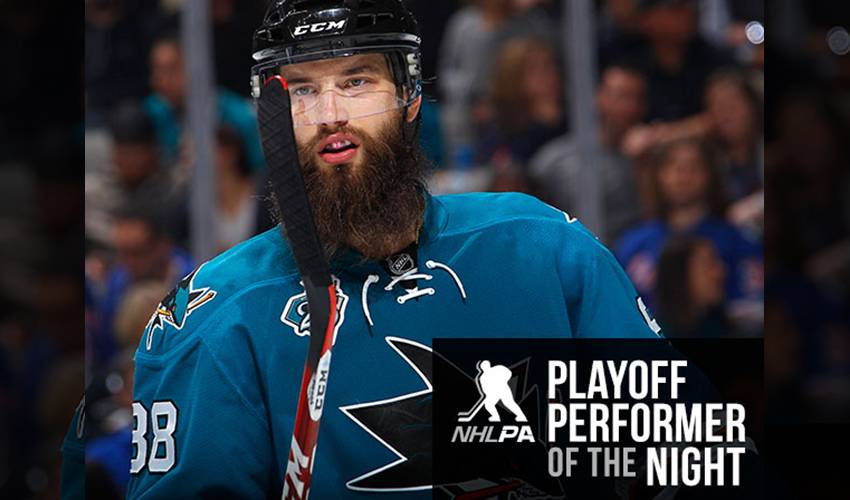 Brent Burns is perfectly suited to take PPOTN honours after his two-point performance in San Jose's 3-2 triumph over Los Angeles in Game 4 of their Western Conference series.
The 31-year-old had a goal and a helper as the Sharks took a 3-1 lead in their all-California clash.
STAT PACK: Burns took five shots, blocked two, notched a pair of hits, had one takeaway, and had 27 shifts, along with a team-high 22:44 of ice time.
THE SAN JOSE WAY: "For us, we'll get goals if we're doing the right things," said Burns. "Last game, it didn't happen and to a man, we felt that it cost us the game. It was great to come back and make a difference tonight."
THE WOOKIE LOOK: If you're going to be compared to a famous Star Wars character, you might as well look like him, right? Burns donned a Chewbacca mask at this year's All-Star Game and put on quite a show for his fellow players, the fans and his family.
FOLLOWING SUIT: From a green, Leprechaun-inspired look, to a head-turning plaid number (topped off with a brown fedora) – and those are just a couple of fine examples – No. 88 certainly knows how to up the suit game.
STEPPING UP: Burns is involved in several charitable endeavors, including Defending the Blue Line (DTBL), whose goal is in ensuring children of military members are afforded every opportunity to play hockey. "Burnzie has donated luxury suite tickets to every single home game the past six seasons so that military families can enjoy a special night out at the rink together," said Shane Hudella, DTBL founder. "The impact made by Brent and (his wife) Susan Burns, the NHLPA Goals & Dreams program, and all of the professional hockey players is absolutely immeasurable, and for that I am truly thankful."
ANIMAL PLANET: From snakes, to reptiles, to cats and dogs – saying Burns is an animal lover is putting it mildly. When your house is named Burns Zoo, it pretty much tells you all you need to know about his affinity for all creatures big and small. P.S. No giraffes or tigers, said Susan Burns.
WORK OF ART: Burns sports several tattoos, including a Canadian flag with a hockey stick (the first tattoo he got, at age 11) and another one that pays tribute to Harry Potter. Just how many he has, though, is something even he's not quite sure of.
THE YEAR OF THE BEAST!: Burns had quite a busy and rewarding time leading up to the 2015-16 NHL season, from winning gold for Canada at the World Championships, to receiving the NHL Foundation Award, and a trip to Australia to help promote the game. "I just think the past year has had so many great experiences and to share all of them with my whole family involved, it was amazing. Being in Europe for over a month with all of them and then heading right to Australia, a place I have always wanted to go with them, and then right to Las Vegas for the NHL Awards – it was non-stop, but just a great summer and one we wont forget. Then we took the Beast, our RV, for 25 days and drove around the country."
HONOURABLE MENTIONS: Alex Petrovic scored the game-winning goal as Florida beat the New York Islanders 2-1. Michal Neuvirth made 31 saves as Philadelphia bested Washington 2-1, and Jason Spezza had one goal and one assist as Dallas got by Minnesota 3-2.