Your 2020 All-Star Heroes
Get to know your 2020 All-Star Heroes, the five service members of over 5,000 nominations who were selected by the UHL after the public was asked to nominate their personal military hero.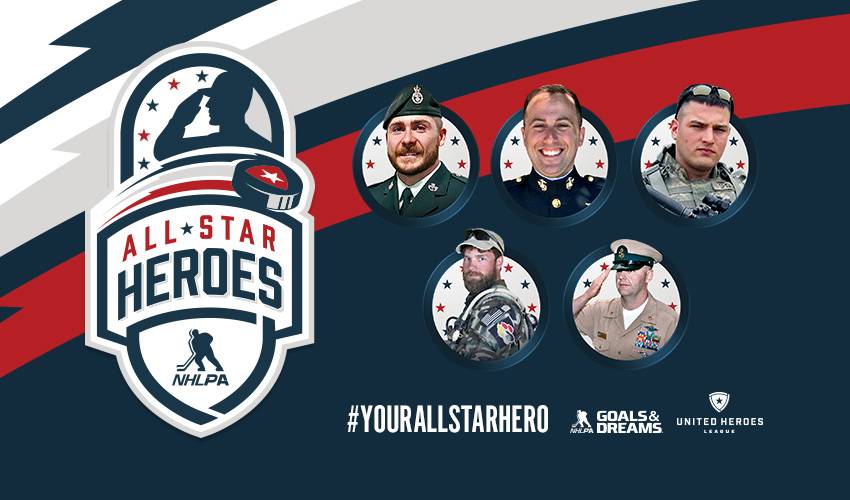 The United Heroes League (UHL) and NHLPA have once again teamed up to make the upcoming NHL All-Star Game a once-in-a-lifetime experience for winners of the second annual All-Star Hero campaign, which recognizes military personnel and their families for their service through the players' NHLPA Goals & Dreams fund.
The five service members, of over 5,000 nominations, were selected by the UHL after the public was asked to nominate their personal military hero.
Staff Sergeant Michael Spidell (US Army), Canadian Forces Master Corporal Lucas Mayo (Canadian Forces), Sergeant First Class Sean Harjala (US Army), Chief Petty Officer Roy Jaquez (US Navy), and Major James Brophy (US Marine Corps), who will be represented by his widow, Erica, are this year's All-Star Heroes.
The winners were each contacted by an NHLPA member of their respective divisions: Brent Burns (Pacific); Blake Wheeler (Central); Jake Gardiner (Metropolitan); and Torey Krug (Atlantic).
Each selected service member (or representative) and a guest will receive air travel to St. Louis for the chance to meet and interact with players in the NHLPA Player Lounge at the 2020 Honda NHL All-Star Weekend.
Tickets to the NHL All-Star Skills Competition and the NHL All-Star Game will also be provided, along with hotel accommodations, ground transportation and other prizing.
---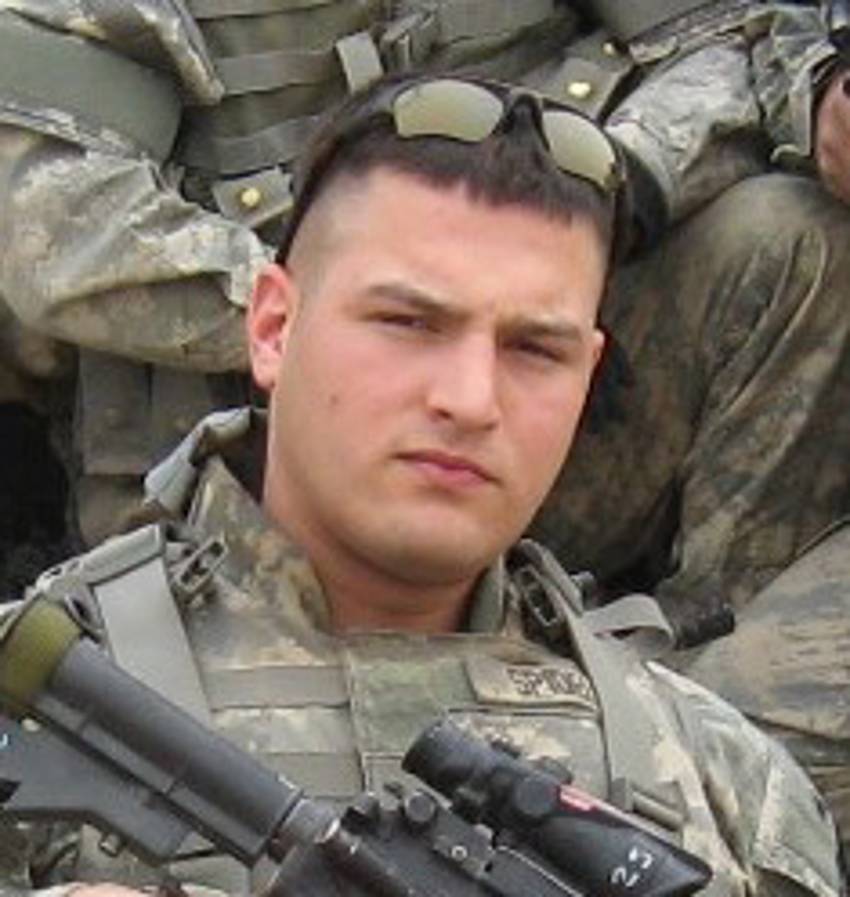 Staff Sergeant Michael Spidell
United States Army (medically retired)
Staff Sergeant Michael Spidell, of Lynden, Washington, served as a member of the United States Army for seven years. He had three tours of duty, one in Korea and two in Iraq. His military career was cut short due to injuries suffered from an IED that hit his Humvee.
After being honourably discharged from the Army, Spidell, who has a son, eight-year-old Tyler, remains a revered figure in his community. Giving back to others and making sacrifices to better people's lives – much like he did during his time in the U.S. military – is still a cornerstone of Spidell's life.
Originally from St. Louis, a longtime Blues fan and former hockey player himself, Spidell and Tyler were able to celebrate the team's first Stanley Cup championship (2018-19) together. Now, father and son will see their favourite players in action at the 2020 NHL All-Star Game in St. Louis, fittingly.
Spidell learned of his selection from San Jose Sharks defenceman, Brent Burns.
After Shane Hudella, a former First Sergeant in the US Army, and Founder/President of the UHL, introduced himself to Spidell, he put Burns, a staunch supporter of the military, on the phone.
"Hey, Michael. How's it going?" started Burns.
"Who's this?" responded Spidell, who thought he was about to deal with a service call.
"It's Brent Burns from the San Jose Sharks. I know you're a Blues fan, but I'm pretty excited to let you know that on behalf of the NHLPA and the players, you and Tyler are going to the 2020 All-Star Game, courtesy of the NHLPA and the United Heroes League."
Spidell was taken aback by the words.
"No way! So, this is the Wookie, huh?" asked Spidell, in referencing one of Burns' nicknames.
Said Burns, "I thought you were expecting a Comcast call or something. Hopefully, this is a little bit better."
"It is," said Spidell. "Thank you."
---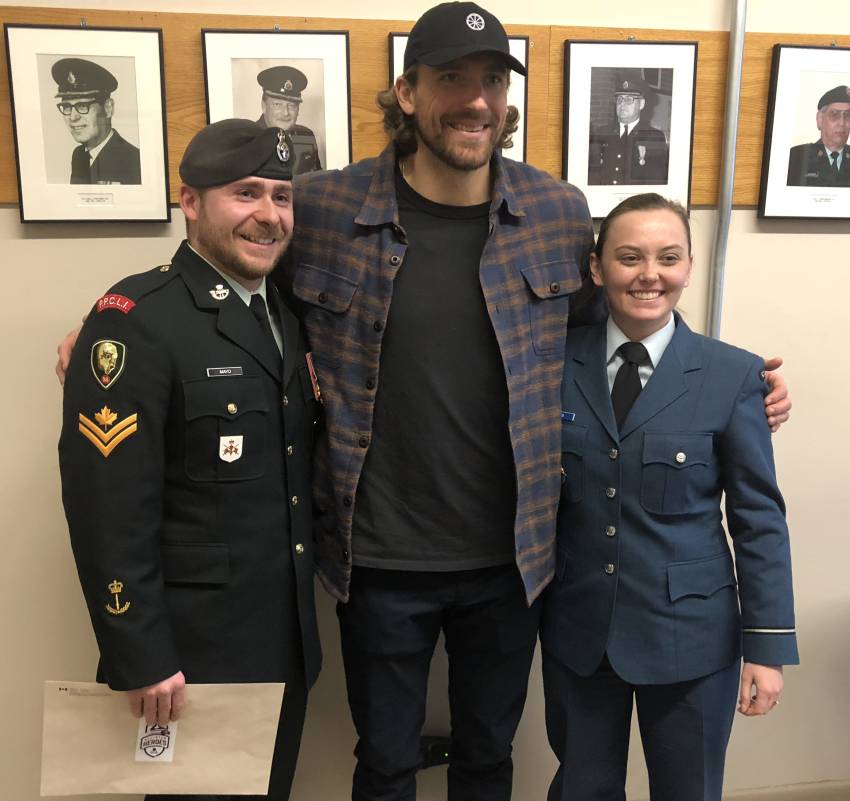 Master Corporal Lucas Mayo
Canadian Armed Forces (currently serving)
Canadian Forces Master Corporal Lucas Mayo was raised in a military family with his father serving in the 2nd Battalion Princess Patricia's Canadian Light Infantry (PPCLI). Following in his father's footsteps, Lucas joined the Canadian Armed Forces in August 2011.
After successful completion of the Basic Military Qualification and the first Development Period of infantry training, he was posted to the 2nd PPLCI in Shilo, Manitoba. He has been decorated twice for overseas deployments; the first to Afghanistan on Operation ATTENTION in 2013, and then on Operation UNIFIER in Ukraine in 2016. In addition to serving on two deployments, Master Corporal Mayo was also selected to represent Canada and deployed with Charlie Company to Germany and Belgium as part of the 2nd Battalion PPCLI's 100th Anniversary.
He has been recognized for his accomplishments on duty, but also in his regular life. He received the Chief of Defence Staff Commendation for assisting an injured civilian during a traffic accident involving two semi-tractor trailers.
Mayo is currently posted to Winnipeg as Support Staff for the Royal Winnipeg Rifles regiment. His spouse, 2Lt Nathalie Mayo, also serves in Winnipeg with the Royal Air Force.
Mayo learned of his All-Star adventure courtesy of an in-person meet and greet with Winnipeg Jets captain Blake Wheeler.
"You'll be bumping elbows with some really cool guys," Wheeler told Lucas and Nathalie. "You guys will have fun, for sure."
The Mayos, who will both go to the All-Star Game, were thrilled to have the news delivered by the Jets forward.
"Sick!" said Lucas. "That's awesome."
Wheeler acknowledged both husband and wife for their service.
"We appreciate everything you do for us. This is a little token of our gratitude."
---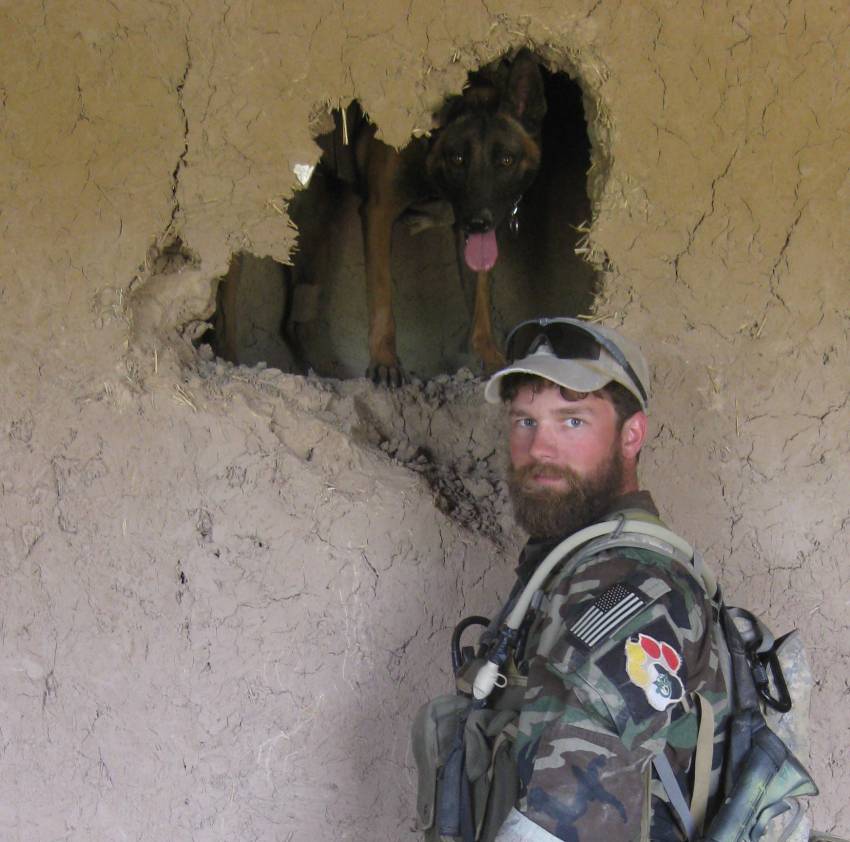 Sergeant First Class Sean Harjala
United States Army (currently serving)
US Army Sergeant First Class Sean Harjala is a Special Forces Solider posted at Fort Bragg, North Carolina with over 20 years of service to his name. He enlisted in the Army in 1999 as an Engineer and after finishing a tour overseas in Korea, applied for Special Forces Selection.
Upon completion of course in 2003, Harjala was assigned to the 3rd Special Forces Group (Airborne) at Fort Bragg as a Weapons Sergeant.
He has 48 months of combat service on multiple deployments to Afghanistan and Iraq and is the recipient of four Bronze Stars and a Purple Heart. Severely wounded during his 2005 deployment in Afghanistan when his vehicle was hit with an IED during a mounted patrol, Harjala was evacuated through Landstuhl Medical Center in Germany and sent back to the U.S. to recover from his wounds. Since that time, Harjala has been deployed four times in support of combat operations in the Middle East.
He is currently the NCOIC of the Special Operations Forces Multi-Purpose Canine program, training and deploying canines to serve alongside their human team members, then reintegrating the dogs back into loving homes once their service time is complete.
A lifelong hockey player and fan, Harjala, a forward, served as assistant captain for the 2017-2018 and 2018-2019 All-Army Men's Hockey team. He also coaches the Fort Bragg-based Camp Patriot hockey team.
Harjala learned of his selection from Carolina Hurricanes defenceman Jake Gardiner.
"On behalf of the players, and a grateful nation, I'd like to let you know you'll be going to the 2020 All-Star Game in St. Louis as part of the NHLPA and United Heroes League All-Star Heroes initiative. This is for you and your daughter, Lily. I hope you enjoy it."
There's no doubt Harjala and his six-year-old daughter, Lily, will enjoy themselves.
"That is awesome. That is great. This is amazing. I definitely appreciate it. Mr. Gardiner, thank you for your message. This is a very pleasant surprise. I can't wait."
"A huge thank you from me, personally, for what you do," added Hudella. "I really look forward to meeting you and Lily."
---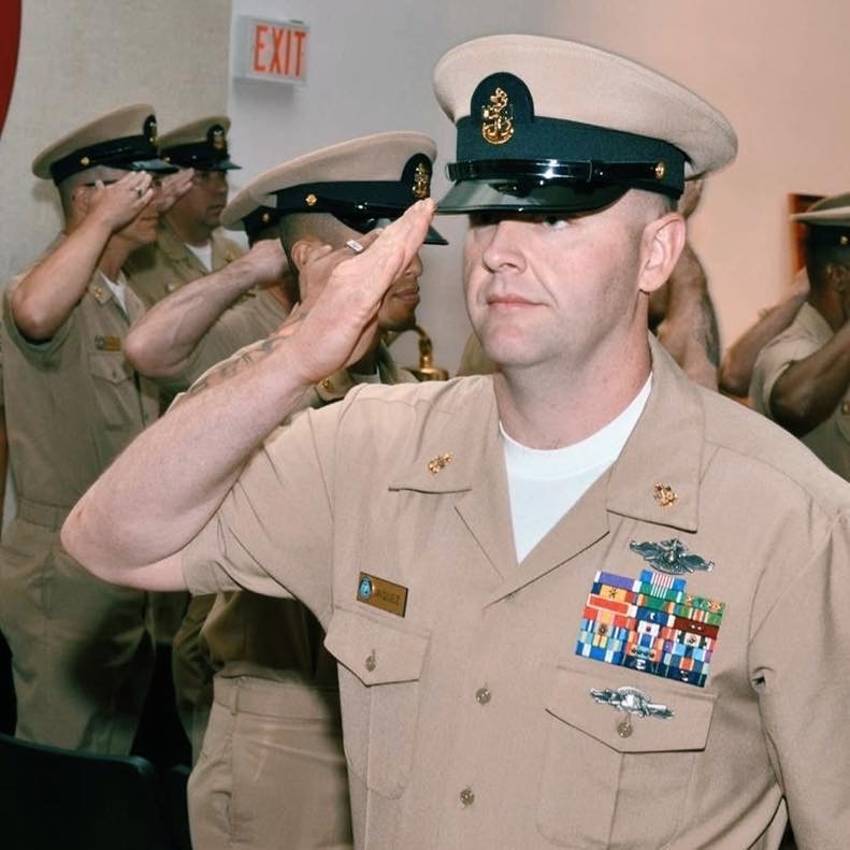 US Navy Chief Petty Officer Roy Jaquez
United States Navy (medically retired)
US Navy Chief Petty Officer Roy Jaquez was medically retired in 2017 after 14 years of service. He was a Chief Hospital Corpsman who served as a senior line Corpsman (medic) with a Marine Infantry unit. His first deployment was to Fallujah, Iraq in 2005. One month before he came home, Jaquez and fellow Marines were blown up in a Suicide Vehicle Bourne Improvised Explosive Device (SVBIED). Jaquez, who suffered life-altering injuries, tended to his fallen comrades after he regained consciousness. Those efforts earned him a Purple Heart, Navy and Marine Corps Achievement Medal with Combat Distinguishing Device, and Combat Action Ribbon.
He pushed on to another deployment to Fallujah in 2007, and then to the Middle East. He then deployed with a Joint Army and Navy unit to the Hindu Kush Mountains of Afghanistan in 2010 for 10 months. During this deployment, he and other members of his unit responded to an ammo resupply helicopter crash, with Jaquez rescuing a flight crew member. For his actions, he was awarded the Army's Soldier's Medal, one of very few ever awarded to a Navy service member. He continued on to a Navy Small Craft Unit, Riverine Squadron Three. He deployed as part of Africa Partnership Station 2012, and then again to Bahrain.
After nine surgeries as a result of service-connected injuries, Chief Petty Officer Roy Jaquez is retired to Frederick, Maryland. Jaquez continues serving in a volunteer capacity with the USO Metro in Bethesda and area events for Active Duty, Retired Military Service Members and their families. He also serves with the Mighty Oaks Warrior Programs, which helps veterans afflicted with PTSD.
Jaquez was nominated by his wife, and learned of his selection from Carolina Hurricanes defenceman Jake Gardiner.
Gardiner, a strong supporter of the military, enjoyed another opportunity to share some good news.
Jaquez, who was on his way to see the Star Wars: The Rise of Skywalker movie, didn't mind running a little late to get the theatre.
"Thank you all so much," said the father of five-year-old John, who he will be bringing to St. Louis. "This is going to be so awesome. Thank you, guys. I appreciate this."
---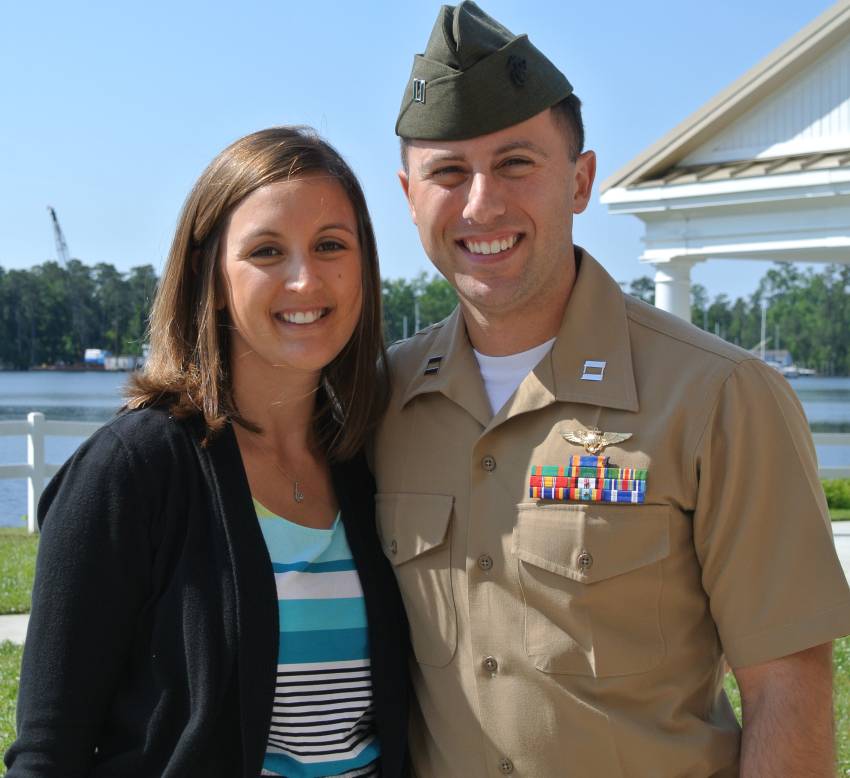 Marine Corps Major James Brophy
United States Marine Corps (Killed in action, represented by his widow, Erica Brophy)
Born in Poughkeepsie, New York, Marine Corps Major James Brophy was killed in action in a mid-air collision in 2018. Known as an exceptional pilot, he was the recipient of the air medal and two strike flight awards. Other awards include the Navy and Marine Corps Commendation Medal.
Attending Officer Candidate School (OCS) in the summer of 2005, Marine Corps Major James Brophy was commissioned into the Marine Corps and reported to The Basic School (TBS), Quantico, Virginia. In July 2007, he reported to Naval Air Station Pensacola, Florida for primary flight training as a Student Naval Aviator. In September 2008, he reported to Naval Air Station Corpus Christi, Texas and joined Training Squadron 31 (VT-31). In 2009, he earned his gold wings and the title of Naval Aviator in Corpus Christi, Texas.
He spent much of his Marine Corps career (2009-2017) at Air Station Cherry Point, North Carolina as a pilot for VMGR-252, then an instructor at the KC-130J Fleet Replacement Detachment (FRD). In June 2017, following his tour at the KC-130J FRD, he attended Command and Staff College in Quantico, Virginia, graduating with a Master of Military Studies. In August 2018, he reported to Marine Aerial Refueler Transport Squadron 152 (VMGR-152) at Marine Corps Air Station in Iwakuni, Japan. In September 2018 he deployed as Officer-in-Charge of a three-plane detachment in support of joint exercise Valiant Shield in Guam. Upon his return, he served as the Assistant Operations Officer.
Brophy also had a great affinity for hockey, either playing pond hockey growing up or travelling to watch the Washington Capitals and Carolina Hurricanes with his wife, Erica, and young son, Jack.
Erica Brophy, who nominated her husband, learned of the selection from Boston defenceman Torey Krug.
Krug, a proud supporter of the military and its members, called Erica with the All-Star news.
"On behalf of the players and our great nation, I'm excited to tell you that you and Jack will be going to the 2020 All-Star Game, through this initiative with the NHLPA and UHL. We're very excited that you guys get to go. We appreciate everything that you do and the sacrifices that everyone has made."
Erica is thrilled to be able to share the experience with her son, in honour of her late husband James.
"Awesome! Thank you so much. I really, really appreciate it. Jack is going to be so excited to go to this."
Added Hudella, "I know it means a ton to the players all across the league. This is just a small token of gratitude to bring you and Jack to the All-Star Game, to meet the biggest names in hockey and share a special weekend. I know how important this is to Torey and all the players."
---
To relive the 2019 All-Star Hero experience and for more on last year's All-Star Heroes, click here.