Couture In Control For San Jose
Logan Couture is hitting his stride and has helped the Sharks reach the Western Conference Final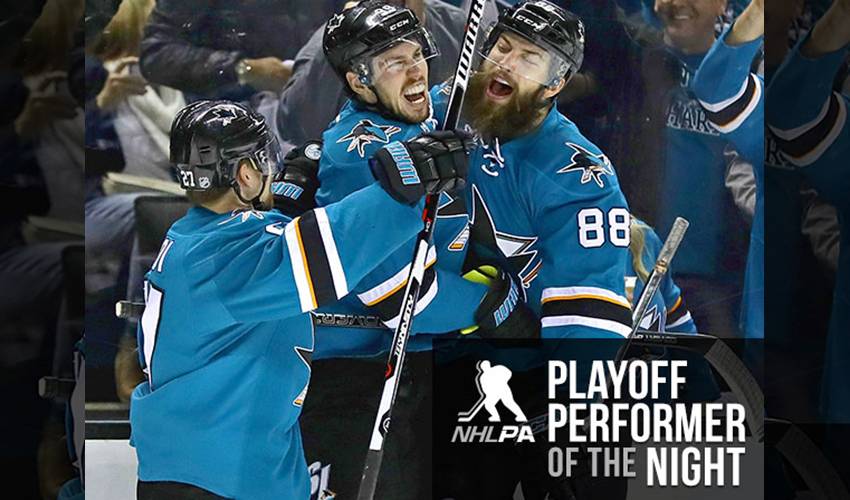 A three-point night earns Logan Couture PPOTN honours as the San Jose Sharks beat Nashville 5-0 in Game 7 of their Western Conference semifinal series.
The centreman scored one goal and had two assists for the Sharks, who punched their ticket to West Final against St. Louis.
STAT PACK: Couture had a team-high four shots on goal, blocked one shot, recorded one hit, and took 26 shifts in 15:40 of ice time.
READY TO ROLL: "As soon as the puck dropped tonight, the guys were going," said Joe Thornton. "It was nice to see. It was a huge game for us. I'm just glad we came [out] on the good side tonight."
HOT COUTURE: "He (Logan Couture) was outstanding," praised San Jose head coach Peter DeBoer. "He's just getting better. Everyone saw how much we missed him. To get him back now, he's fresh, obviously. He's feeling, I think, getting back to 100 per cent, and we're seeing it, the season he maybe could have had had he been healthy all year. He's an elite player."
LEADER OF THE PACK: Couture leads all players with 7-10-17 during the 2016 Stanley Cup Playoffs (12 GP).
TEAL PARTY: Couture posted 6-5-11 in the seven-game victory versus Nashville. That is a Sharks record for points in one postseason series, besting the mark set by Igor Larionov in the 1994 Western Conference Quarterfinals vs. Detroit (2-8-10 in 7 GP).
MORE TO COME: Couture's 17 playoff points also are one shy of Larionov's single-year franchise record, established in 1994 (5-13-18 in 14 GP).
A LITTLE LUCK: "He was a really cool guy," said Couture, who met star NFL quarterback Andrew Luck. "When our PR guy said he was coming to the game, I definitely wanted the chance to say hello and hang out for a bit. He's a hockey fan and he's been to games before, so I was pretty excited to talk to him."
CRYSTAL BALL?: "One thing that every athlete has in common is that shared desire to be at your best when the games mean the most," said Couture. "You want to be counted on when the big games are on the line. It's what we all strive for."
BOOK IT: "I love to read," offered Couture, who scored his first NHL goal on November 5, 2009. "Whether I'm at home, or on the road, I enjoy it. When we're on the plane, and if we don't get the deck of cards out, I'm reading."
HONOURABLE MENTIONS: Patrick Marleau and Joe Thornton each had a goal and an assist. Marc-Edouard Vlasic contributed two helpers. Martin Jones made 20 saves.