Mario Ferraro remains motivated by the challenges ahead
Despite the tough year for the San Jose Sharks, Ferraro sees many reasons for optimism.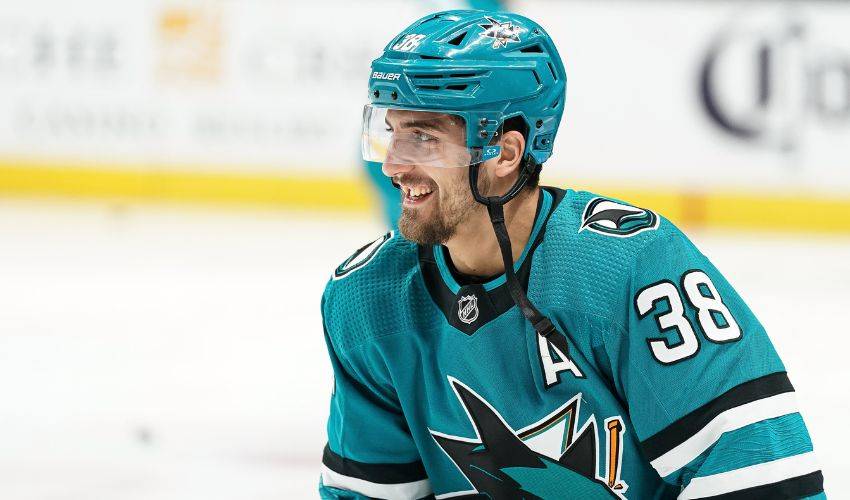 Feature photo: Getty Images
---
The San Jose Sharks' first road trip of the 2023-24 NHL season is three months away, but Mario Ferraro has already taken one of his own.
The blueliner hit the open road just after San Jose's season ended, and he has been all over the map since then.
"It's been a good summer. I took a few weeks to unwind and went on a road trip. I went from Southern California up through Utah and visited a bunch of national parks, which was really cool. We had a good time, me and my girlfriend. I had a week in Florida, which was nice too."
Currently, the 24-year-old Ferraro is staying with his parents in King City, located 50 kilometres northwest of downtown Toronto.
He is still logging plenty of miles though.
"It's been good, a nice time to be back with the family and having a little fun. It's been a lot of family time and there are a lot of weddings this summer. They kind of came all at once. I can't complain. Weddings are always a great time. It's a good celebration. It's been pretty busy. Every weekend seems to be full."
In between wedding receptions and spending time at home, Ferraro has been readying for the season – one he and his teammates hope yield different results than 2022-23.
The Pacific Division residents missed out on the postseason for the fourth straight year, winning 22 games and posting 60 points.
Despite the tough year, Ferraro sees many reasons for optimism as he enters his fifth season in the NHL.
"I think I can say for myself and from the team perspective that our willingness to come to the rink every day and work hard to get better was what I took away from last season. Obviously, it wasn't the year we wanted to have. The goal is to make the playoffs every year, take it as far as you can, and put yourself in a position to win the Stanley Cup. For us, we want to play good hockey, get better every day, and build up to becoming a playoff team. As much as we would have liked to have been there, what mattered last season was that everyone was committed to coming to the rink and worked towards being the team we want to be."
Ferraro, who ranked first on the team in blocked shots with 145 and second in average ice time (21:36), is intent on contributing to those goals.
"I don't think I had the best season I could have, but again, like everyone on the team, I had the mindset of wanting to get better and that's something I take a lot of pride in. My work ethic, my grind to be a better player, I can use that throughout my whole career, to work every day to be better."
Ferraro, who inked a four-year contract last August, also wants to become a leader in the locker room.
"I have an awesome opportunity with the age I am and the position I'm in. I've been challenged to be a better leader and I've always loved those challenges. It's a huge opportunity. In order to play in this league, I think every player has to bring a form of leadership, whether it's verbally or by example."
It is a thought, among many, that is pushing him in the offseason.
Ferraro, who was selected 49th overall by the Sharks in the 2017 NHL Draft, is ready to get things rolling.
"I'm skating, and I'm in the gym with Joe Costa, a trainer I grew up with. I'm back in my routine leading up to the season. I'm just really looking forward to taking another step forward as a team and as an individual. I really want to solidify myself as a consistent defenceman, but the main thing is that I'm excited for us as a group, to grow together.
"Every year is a fresh start and I think that's what we are looking forward to. I'm excited to see the boys and get back at it. I spoke with [San Jose captain] Logan [Couture] recently and I've been texting with a few guys, just to see how everyone is doing."
Soon enough, road trips will be much different than what Ferraro has been used to over the summer.
And that suits him just fine.
"Doing your own thing in the summer is good because when the season starts, we're on our own little planet and we don't see anyone but our teammates. I love my teammates, but having this time to do your own stuff isn't a bad thing. But as much as time off is nice, you do get that itch to get back out there. I'm pumped for the season, and I know the guys are too."
The Sharks will kick-off their upcoming campaign with four straight home games, including their curtain-raiser against the defending Stanley Cup champions, Vegas Golden Knights, on October 12.