Following a career year, Taylor Raddysh is optimistic about his future with a young Blackhawks team
The forward tied for the most goals on the Blackhawks with teammate Andreas Athanasiou in 2022-23.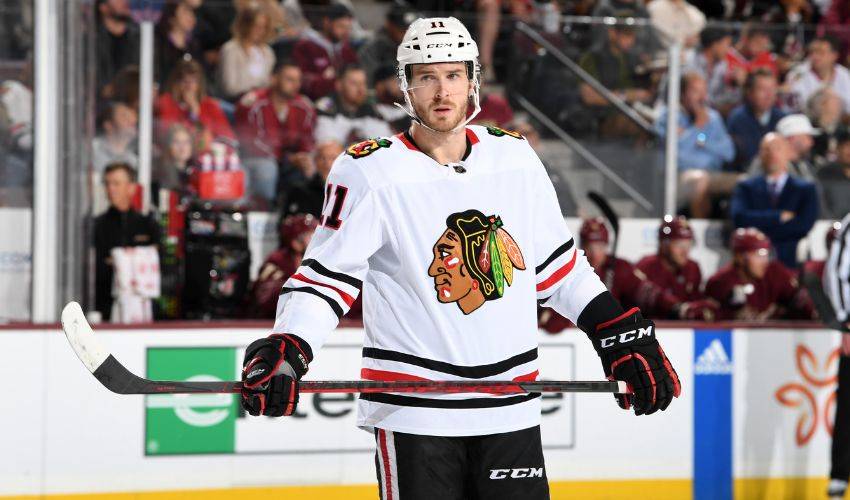 Feature photo: Getty Images
---
Taylor Raddysh is ready for an encore performance.
In his first full season with the Chicago Blackhawks, in which he recorded a career-best 20 goals and 37 points, the 25-year-old is full of optimism ahead of the 2023-24 NHL season.
Raddysh, who was dealt from the Tampa Bay Lightning to the Chicago Blackhawks in March 2022, has hit his best stride in the Windy City.
"It was obviously difficult leaving a team like Tampa who was coming off two straight Stanley Cups and went to the final the following year. It was a difficult transition to go from a team who was winning regularly to a team that was in the midst of a rebuild. But I looked at it in a positive way. I came to Chicago with an open mind, willing to work and earn my role."
Mission accomplished for Raddysh.
The forward tied for the most goals on the Blackhawks with teammate Andreas Athanasiou, and was a force to be reckoned with in front of the opposition's goal.
But the Caledon, Ontario, native is much more than a goalmouth presence, often utilizing a quick release to catch goaltenders off guard.
"Once I got traded from Tampa to Chicago, it was a very smooth transition. Ever since I've been part of the Blackhawks, I was given a great opportunity of being put in a position to succeed. It was a great chance for me, but when I look at our team, we are very young, but we grew a lot throughout the season. We went through so many changes, guys coming in, guys leaving, but I think we handled all of that well and really came together as a group by the end of the year."
For as much as he could speak of his personal highlights, Raddysh opts to look at last season through a collective lens.
With many new faces in the lineup, including Taylor Hall, Nick Foligno and the highly anticipated arrival of Connor Bedard, Raddysh sees plenty of reason for optimism for the Original Six club.
"I think, if I had to look at my game, it was being consistent, whether that was producing or having a good game overall. In Chicago, getting chances and earning more ice time, that's something I'm proud of. But I think what I'm most excited about is the new faces and the guys that are returning. I think we are going to have a pretty good team and we are building in the right direction."
Raddysh, selected 58th overall by Tampa Bay in 2016, is sincere in his belief that both he and the team can take the necessary steps to up their game this season.
"If we can just keep building and everyone buys in and gets better, I feel the biggest step we can take is to do that every single day. You never know what can happen. We're going to put it out there every single night and you never know where that can take you."
The former Ontario Hockey League standout with the Erie Otters and Soo Greyhounds is also enjoying life outside the arena.
Although he enjoys cooking his own meals, Chicago's vibrant dining scene has meant less time in the kitchen.
Raddysh is just fine with that.
"It's an awesome city. The fans are great, the food is unbelievable, too. I used to cook a lot, but when you're in Chicago, it's pretty hard to want to make something at home when there are so many great places to go to. I just feel very fortunate to play there."
Raddysh has been keeping busy in the offseason ahead of his return to Chicago. He has been working out with Blackhawks teammate MacKenzie Entwistle and is keeping in touch with other teammates before training camp begins.
Looking ahead to the 2023-24 season, Chicago opens with five straight road dates, including the curtain-raiser against the Pittsburgh Penguins on October 10.
Raddysh is already in competitive mode.
"I'm excited for the season. We've had a long offseason and I think we all have that itch to get back out there and start it up again. Definitely lots to look forward to."