Two-time Stanley Cup winner Yanni Gourde continues to impress in the playoffs
Despite being passed over in the NHL Draft, Gourde has since played in nearly 500 regular-season NHL games.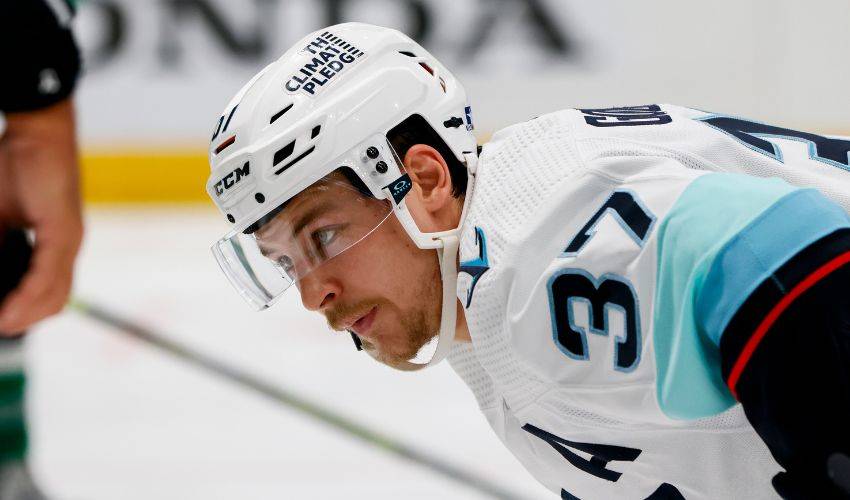 Feature photo: Getty Images
---
Nearly 500 NHL regular-season games, seven-plus seasons and two Stanley Cups later, Seattle Kraken forward Yanni Gourde is as motivated as he has ever been.
Highlighted by his overtime goal in Game 1 of the Kraken's Second Round series against the Dallas Stars, Gourde continues to shine in big moments. In many ways, the native of Saint-Narcisse, Quebec, is very much the same player who made his NHL debut in 2015-16 with the Tampa Bay Lightning.
Whether it was going undrafted in the major junior ranks, being passed over in the NHL Draft despite winning a Quebec Major Junior Hockey League scoring title, or playing in over 330 minor league games between the American Hockey League and ECHL, Gourde, at every turn, never gave up on himself.
"Yanni was just a late bloomer," Victoriaville head coach Yannick Jean told the Athletic. "Just keep fighting, and good things will happen."
That belief continues to pay off handsomely for a player who won back-to-back Cups (2020 and 2021) with the Lightning, the same one who is now playing a starring role for the Kraken.
"There are certain things you can control and that's what I focus on," said the 31-year-old forward. "It's always been about working hard, striving to get better each day and giving my best every time that I come to the rink."
It has proven to be a winning formula for Gourde, who has walked one of the most interesting paths to make it to the NHL stage.
After suiting up for the Victoriaville Tigres in 2009, Gourde put up a 124-point campaign in 2011-12, where he led the QMJHL in scoring and was named the league MVP.
Gourde saw action with the Worcester Sharks of the AHL, along with the San Francisco Bulls and Kalamazoo Wings of the ECHL before signed a contract with the Lightning to play with their AHL affiliate in Syracuse.
In 2014-15, he recorded 29 goals and 57 points in 76 games to finish second in team scoring behind Jonathan Marchessault. In the two seasons following, as an important offensive contributor with Syracuse, he earned a few call-ups to play with Tampa Bay.
It was in 2017-18 when Gourde made the Lightning starting roster out of training camp. He skated in all 82 games and set the team's rookie scoring mark with 25 tallies and 64 points.
"I just keep believing in myself. I worked hard every day and pushed myself to get better."
Gourde established his role as a key member of Tampa Bay's third line, centering Barclay Goodrow and Blake Coleman, who all played an important part in those Cup runs.
After 310 games with the Lightning, Gourde was selected by the Kraken in the 2021 NHL Expansion Draft.
His return visit to Tampa Bay illustrated the level of respect his peers have for him, which has continued in Seattle where he wears an 'A' on his jersey as one of the Kraken's alternate captains.
"I've been lucky enough to be around a lot of great teammates and it's the same thing here in Seattle. You learn a lot from different people along the way and you try and pass along some of things you learned."
Gourde has played a key role in helping Seattle shrug off a tough inaugural season by making the playoffs and getting their shot at vying for the Cup.
"Everyone is 100 percent committed to the success of the team. We are all so close to one another – that's what makes this group special."
What makes Gourde a special player is his ability to impact a game in multiple ways.
As for when he is most effective, it is a combination of shutting down the opposition and getting under their skin.
"If I had a successful playoff game, first it would be that I had a good game defensively, and then it would be to bring energy to my team and feel like I have been a pain to play against."
So far, it has been a winning formula for Gourde and the Kraken, who knocked off defending the Cup champions, Colorado Avalanche, in the First Round and are now embroiled in a heavyweight tilt against the Stars.
Currently, the Stars hold a 3-2 series advantage.
As always, now and throughout his career, Gourde is up for the challenge.
"I love the game and I love coming to the rink every day. It's been quite a journey, but I'm happy to be where I am at."