Devils' veteran defenceman Damon Severson relishes playoff action
Now in his ninth NHL season, Severson has an optimistic outlook on the Devils future.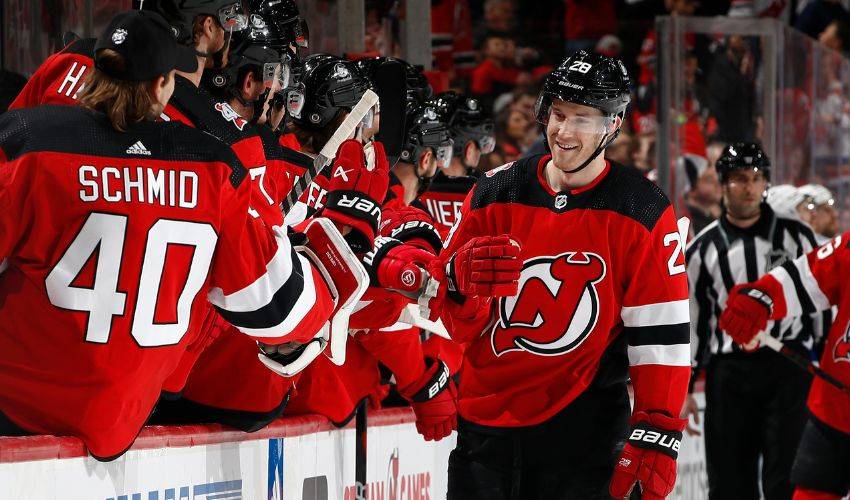 Feature photo: Getty Images
---
It has not always been the easiest of journeys, but Damon Severson is grateful to be on the road to contention.
Now in his ninth NHL season with the New Jersey Devils, the 28-year-old Severson is relishing the opportunity to be a part of playoff action as the Devils take on the New York Rangers in the First Round. Prior to this season, the defenceman's only postseason experience was in 2018 when the Devils bowed out to the Tampa Bay Lightning in the First Round.
"It's been one playoff series and it was a short one against Tampa, so it's nice to have that feeling of being a perennial contender. Hopefully, things go our way in the playoffs. But it is nice to be back in the fun stuff."
Severson, drafted 60th overall in 2012, has an optimistic outlook when it comes to the future of the Devils.
"As a young guy, I was just trying to break into the league on a veteran team," said Severson of the 2014-15 Devils squad, which included the likes of veteran forwards Jaromir Jagr and Scott Gomez. "You could see a lot of turnover coming and I was focusing on solidifying myself as a really good NHL player. And then the tables turn, and you become a veteran. I had a couple of good years, personally, and some tougher ones, but it was nice the one year we made the playoffs.
"Last year, I had my best year offensively and it was pretty solid again this year, but the playoffs are the most important part. It's a lot more fulfilling when you are able to make a deep playoff run … hopefully we can do that, and I want to contribute in any way I can."
This season, the Saskatchewan-raised defenceman has posted another strong campaign, one in which he recorded 33 points in 81 games and averaged nearly 20 minutes of ice time per game. He enjoyed his best offensive campaign last season when he tallied 46 points, a career-high 35 assists and matched his personal best with 11 goals.
The biggest difference between those seasons was the playoff picture. After the Devils endured a disappointing 2021-22 season, New Jersey finished second in the Metropolitan Division to close out the 2022-23 regular season.
When did Severson see the team turning the corner?
"Early on. You could see the skill and the talent, and they brought in some good guys as well, through trades and free agency. We knew if we were able to bring it together as a team and play the right way, we would be able to do some damage. Our goaltending has been lights out since the start of training camp, and you could tell we had two really good goalies."
In February, New Jersey added to an already deep group – led by Nico Hischier, Jack Hughes, Jesper Bratt and Dougie Hamilton – when the club traded for sought after Swiss winger Timo Meier.
"Right from the start, we got on that little streak, which gave us confidence and led to a little swagger in our game. That's what has carried us. You get that right away and you are able to carry that into the hard part of the season. Ultimately, if you can do that, you put yourself in the right spot for the big games. I didn't know what to expect coming into training camp after the summer, but once camp started, you could tell we were going to be a heck of a lot better team."
A team that is not dependent on a handful of players to find success in the regular season and beyond.
Severson, a standout in the Western Hockey League with the Kelowna Rockets, points to the depth of the Devils' roster as a key factor in their resurgence.
"You have your all-stars and the guys that are expected to produce every day, but we've had depth players who have had good career years and found their niche. Whether it's faceoff guys, penalty kill guys or finding that role in a certain area of the game, we've had a lot of guys contribute in meaningful ways. It goes to show you that when you put it all together in the right way, it can click for you."
Severson, who made his NHL debut October 9, 2014, is enjoying this time of the year on multiple levels.
"Now that it's getting nicer outside, my wife and I like to take the dog for lots of walks, and for us to get some fresh air. It's a good way to take your mind off things. Being so close to New York, you can walk along the Hudson River. When you aren't doing that, we have electric scooters we like to take out. We'll go to a restaurant or a café and have a little something to eat and just relax. There are a lot of cool places around us, so it's nice to just enjoy that and get away from the game for a little while."
Although, as Severson admitted, it is also nice to be a part of meaningful games.
"As a team and players, you hold one another accountable to certain standards. We know when we have to be better in certain areas. For the most part, we do that ourselves. We know when we have to kick ourselves in the butt and know how we have to play to be successful."