Anthony Duclair launches foundation to help Black and minority youth in hockey
Earlier this month, the 27-year-old Quebec-born forward unveiled the Anthony Duclair Foundation.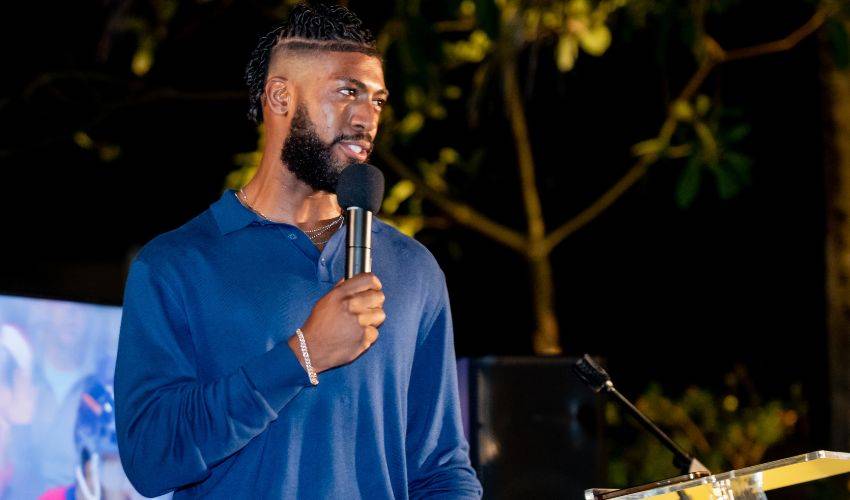 Feature Photo: Bells & Whistles Photography
---
When Anthony Duclair set out to establish his own foundation, he wasn't sure what to expect in terms of support. He got his answer during this year's NHL All-Star Game.
It was something the Florida Panthers forward had thought of for a while, creating a platform to help young Black and minority hockey players discover the game of hockey or further their love for the sport.
Earlier this month, at a venue in downtown Ft. Lauderdale, the 27-year-old Quebec-born forward unveiled the Anthony Duclair Foundation.
After nearly half a year constructing the idea for the foundation, Duclair raised upwards of $200,000 — including a $50,000 donation from NHLPA Goals & Dreams – at the ceremony announcing his initiative.
"When I started this, I didn't know what to expect," he told NHLPA.com. "This is my first time doing something like this. To see the love and the support I've been getting from so many people, from Panthers' ownership, and the NHLPA, through Chris Campoli and Devin Smith, my teammates, past and present, it means a lot. It means that it's going to be something special, and that people share the same values and mindset. It motivates me to do more."
The 80th overall pick of the New York Rangers in 2013 is no stranger to racism, something he has had to contend with throughout his life, inside and outside of the arena.
Duclair will share those stories with the kids he meets through his work in helping to build ball hockey rinks in South Florida, including in the Little Haiti neighbourhood, as he pushes to help grow the game of hockey in that community, as well as through the summer hockey camps he will run in Montreal.
Duclair will get a helping hand in his home province from Bokondji Imama, a fellow player who is in the Arizona Coyotes system.
"The demographic here in South Florida, there are so many different ethnicities and religions, I felt that if we can grow hockey down here, we can grow it anywhere. I thought, 'Why not be the first one to start it?' I'm of Haitian descent and there is a big Haitian population here in South Florida, so I want to introduce the Panthers and hockey to them. Hopefully, it goes from there.
"Bokondji and I linked up a couple of months ago and we decided we wanted to start the same thing in Montreal. We work together and train together in the summers, so it was the same idea, same mindset. We're going to do a very cool hockey camp this summer in Montreal. One of the rinks I actually grew up in, a rink in Pierrefonds, so that will be pretty special. We want to give the kids all the knowledge we have gained throughout our careers and share our stories. Black kids are looking up to us and we want them to know we are here for them, to give them a helping hand."
Duclair bristles at the thought of a kid leaving the game because of racist abuse.
"That's the reason you want to do this. You read stories where kids want to quit hockey because of what's happened to them. It doesn't only affect their love of the game, but it also affects their personal lives too. Those stories are the reason we are doing this. When they lace up those skates, we want them to know they are in a safe environment, that they can be themselves. Hockey can be a pathway to happiness and success."
It was one of many things he was reminded of during the foundation's kickoff festivities.
Seeing his dream come to fruition has been, at times, emotional for Duclair, who is working his way back into the lineup after tearing his Achilles last June.
"It's always been in the back of my mind, where at some point in my career I want to open up and do bigger things. That's been on my mind for years. It was always a question of timing for me. The past few years in my career have been awesome and I feel the timing couldn't be more perfect. Unfortunately, with my injury, I've been out a while and had free time, so I wanted to put that time to good use and maximize these past few months, to clear my mind and doing what I wanted to set out to do, which is to help Black and minority kids get into hockey."
Those efforts, offered Duclair, will eclipse any of what he has or will accomplish on the ice.
"Any work I've done in the community or goals that I have for that side of my career in the future are definitely going to be more special than any accolade I receive on the ice. My love of the game has never been stronger, and I want to share that with as many kids as possible."
He is looking forward to the moment he welcomes the first group of kids to his hockey camp in Montreal, a place that continues to hold special meaning for the veteran of 470 NHL games.
Duclair, who had a career-best 31 goals and 58 points last season, will have plenty of stories to share with them.
"I want to show the kids my story, where I grew up and where my journey started. Montreal holds a special place in my heart. That's where my family is, and where I go back to several times in the summer. I wanted to do something tangible there. It's going to be a cool moment to be there with the kids. It's going to be an NHL-style camp like the guys do in the summer. To give them that experience at a young age is going to be pretty cool. It's using our platform to make the biggest impact possible."
As for the message he wants to leave with the kids, whether in South Florida, Montreal or elsewhere, Duclair has already given it plenty of thought.
"There are so many. The biggest one is for them to just be themselves, don't ever put yourself down because of someone else's actions or words. I want them to stay true to themselves and believe in what they can achieve. Hockey is a predominantly white sport, but I want any kid to feel they can play the game without judgment. They shouldn't have to change anything because of the colour of their skin."