Lars Eller continues to strive for improvement, grow the game in Denmark
Eller, a revered figure in his homeland, hopes more Danish players get the same opportunities to reach the NHL level.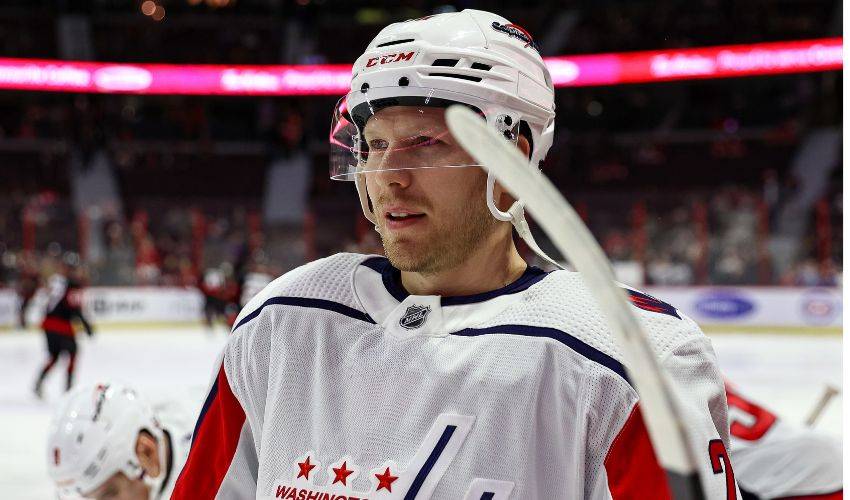 Feature photo: Getty Images
---
There have been plenty of memorable snapshots for Lars Eller to look back on throughout his 13-year NHL career, but for the Washington Capitals forward, it has always been about the big picture.
Hours after playing in his 900th career NHL game on December 11, the 33-year-old centre from Rodovre, Denmark, found himself thinking about the road he had traveled to get there.
"I certainly didn't think that far ahead, playing in that many games, when I started out," reflected Eller, who scored a goal in the milestone game, a 5-2 road win against Winnipeg. "When I got into the league, the big goal was that now I had to establish myself as a player and become a regular. That was the first thing you want to accomplish and really the only thing you think about at that point. And once I got to that, then it became wanting to win and playing for a long time. You want to experience the playoffs and you want to win a Stanley Cup. I've played for a long time, and I've been lucky enough to play on a team that's won the Cup [2018 with Washington]. And now, you want to keep doing it and play as long as you can."
"My earliest memories from Denmark are all about hockey, going to the rink, where if I wasn't playing, I was watching my older brothers play. My dad, he was coaching when I was growing up, and I would watch his teams play. Some years, my brothers were on that team. I remember watching them and looking up to them, wanting to be like them. I really grew up with hockey. If I wasn't playing, I was watching."
Eller was selected 13th overall by the St. Louis Blues in the 2007 NHL Draft – the first player born, raised and trained in Denmark to become a first-round NHL draft pick. After developing through the Danish program, Eller moved to Sweden at 16, where he played until the end of the 2008-09 season before he inked an entry-level contract with the Blues. He spent the majority of the 2009-10 season with Peoria of the American Hockey League and was named to the AHL All-Rookie Team, courtesy of 57 points in 70 games. He made his NHL debut on November 5, 2009, scoring his first goal in a 2-1 loss to the Calgary Flames.
Traded to the Montreal Canadiens in the June 2010 deal that saw Jaroslav Halak traded to the Blues, Eller went on to spend six campaigns with the Original Six club, scoring 12 or more goals in four of those seasons. He was also a key contributor in Montreal's run to the 2014 Eastern Conference Final with 13 points in 17 games.
"Maybe there's a misconception or it's something that I learned, a truth that became obvious to me at a certain point, that trying to get better never stops. There is always something else. When you come into the league, there can be a sense of an accomplishment, that you reached a goal. But once you've reached some goal, there is another goal to reach or another plateau to get to in terms of your personal development, and also keeping your spot. That is certainly true every day and every year of your career. And if you have that mindset and you can stay healthy, then you can play for a long time."
Traded to the Capitals on June 24, 2016, Eller was front and centre throughout Washington's championship run two years later. In Game 5 of the Stanley Cup Final, Eller scored the biggest goal in Capitals history. His tally with 7:37 remaining in the third period gave Washington a 4-3 win and clinched the team's first-ever championship.

"It can feel like your career goes by fast, but when I sit down and reflect on the memories, there are so many good recollections, so many playoff series. The most memorable parts of your career, at least for me, are those playoff series, the wins and the emotions that you recall. I've been very fortunate to be in a lot of playoff series. I've been in the playoffs most of my seasons and every one of them stands out in my mind. When I reflect on them, there are so many that come to mind. You can't help but realize that I've experienced so many exciting moments, up and downs with different teams and teammates. There are so many great memories and that does make you realize it has been a long time."
Eller, a revered figure in his homeland, hopes more Danish players get the same opportunities to reach the NHL level.
"It's certainly something I am aware of and proud of. In the end, you play for yourself because it makes you happy to play the game you love. But you are also aware that you represent a city, a country, a team, and I hope that I have played some part in creating awareness and influencing the game back home in Denmark. Hopefully, a lot more boys and girls picked up a stick, put on their skates and played hockey because of the success some of the Danish players have had over here in the past 10 years or so."
In 2019, Eller took to Instagram to announce an initiative that bears his name, accompanied by the words: "As a way to give back to my roots, I'm proud to announce the 'Lars Eller Legatet.' A scholarship especially designated to help the underprivileged kids in my hometown club of Rodovre, Denmark. I believe all children, no matter the income status of their family, deserve a chance to find happiness, community, and personal satisfaction through ice hockey. Just as I was lucky enough to do."
Helping grow the game in Denmark, now and in the future, remains a big part of Eller's life.
"Certainly, yes. I would like to have a positive influence in that sense. At the end of the day, after what you have accomplished for your team and your family, it's about what you left behind, hopefully, that you had left a good impression on your teammates and those who surrounded yourself with in the NHL over that time. Even though you're in a different country and on a different continent – I'm not in Denmark as much as before – you want to help grow the game back home, and hopefully, we can have more players in this game that I love so much. I would like to see other kids fall in love with it because it has given me so much and I would love to see it give them that as well. That's something if I sit down and think about, reflect on, I hope I can leave that behind when my career is over."