Mark Scheifele pays a special visit to young cancer patient
When the opportunity arose for the forward to meet with five-year-old Victoria who is battling cancer, both quickly accepted the invite.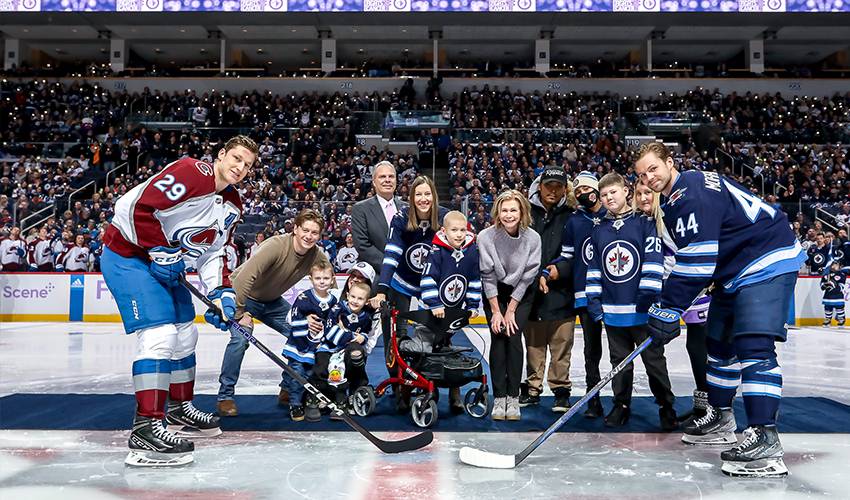 Feature photo: Getty Images
---
It was a moment both Mark Scheifele and a young Winnipeg Jets fan will not soon forget.
When the opportunity arose for the 29-year-old Jets forward and five-year-old Victoria battling Stage 3 rhabdomyosarcoma (a form of soft tissue cancer) to spend some time together, both quickly accepted the invite.
"It was awesome," said Scheifele of his experience with Victoria. "It was kind of out of the blue. I don't think it was anything she was expecting or her family was expecting. Obviously, seeing a kid going through something that you can't even imagine is tough. But seeing her smile and her family smile, that meant so much to me."
The meeting was arranged by Sumit Thapar, Senior Product Specialist with Murray Hyundai in Winnipeg, and Aaron Quintos of Hyundai Auto Canada Corp.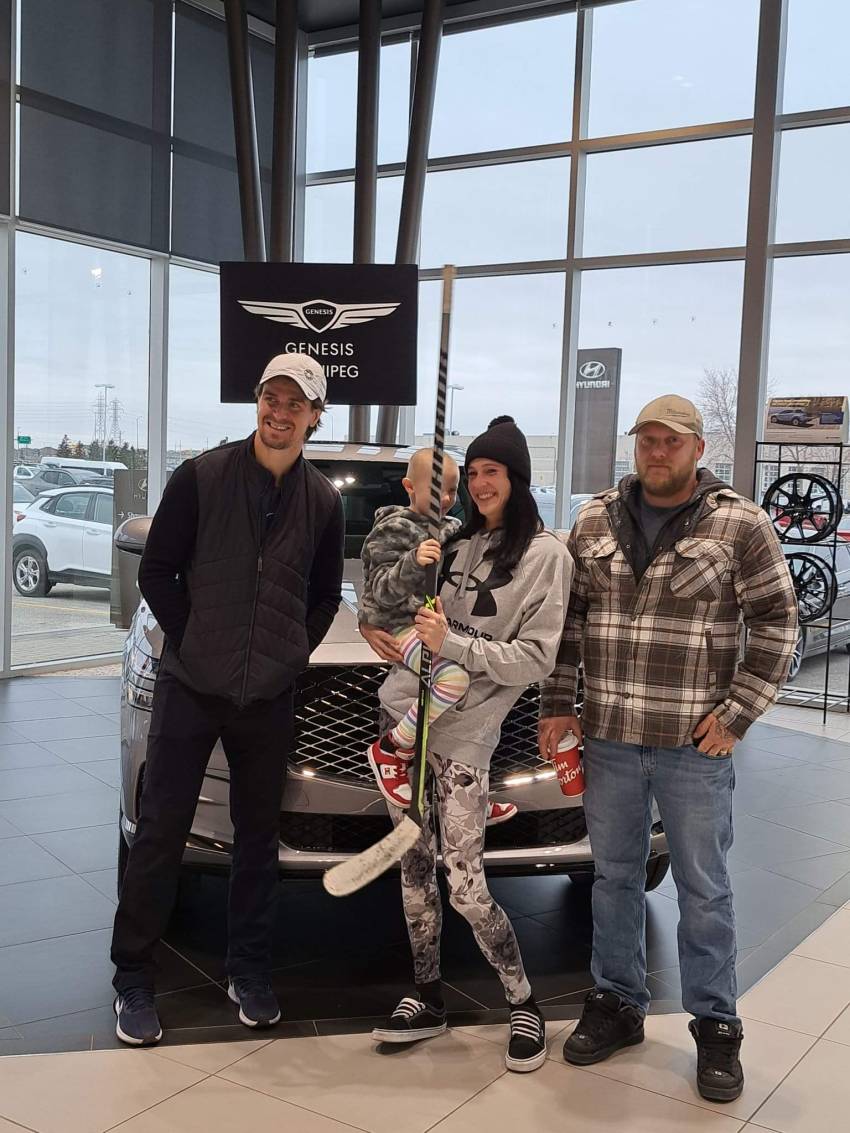 "He knows my mom, and he knows all about her [Victoria's] story," said Victoria's mother, Danielle. "When we got there, Victoria was a little bit shy. She's funny in that sometimes she's shy and sometimes she's just wild. But she warmed up and started crawling up to Mark like she was a puppy. And he was just so nice. He had a big smile, and he just has those kind eyes. She's been through a lot, so you really appreciate moments like these."
Just over one year ago, Danielle took Victoria to the emergency room after she had endured weeks of persistent stomach pain.
An ultrasound showed a large mass in Victoria's pelvic area, which required several tests, including bone marrow extraction, eventually yielding the cancer diagnosis.
Surgery, accompanied by 44 weeks of intense chemotherapy, was required to address the cancer. Currently, Victoria is on a 24-week maintenance chemotherapy regime.
"I know we do hospital visits and other things along those lines, and those moments can be so impactful on someone who is going through something that is quite difficult," added Scheifele. "I think having this chance to meet was awesome for her, but it was awesome for me too. I brought her a stick I had at home. She was super happy and so was her family. It was just one of those things that came out of nowhere and it really made my day.
"Whenever you have an opportunity to make someone smile – we've seen that through the hospital visits – it's something you really appreciate. Right in the moment, you don't truly understand what's going through their mind. You see them smile and you see them excited, and that really does stay with you. When you can see that reaction, the way it changes their demeanour, that's an amazing feeling for me, to be able to put a smile on someone's face. That's when you truly get humbled by the position we're in."
It is something Scheifele, who has played a prominent role in Winnipeg's strong start to the 2022-23 campaign, has given a lot of thought to since his interaction with Victoria and her family.
"You have a tough game, you turn a puck over, something as menial as that, you see a child going through something like Victoria is, the bad days she has, the tough times she and her family goes through, you realize it comes nowhere near the struggle and the battles they are experiencing. It really does put a lot of things in perspective, and it makes you even more grateful for the life and health that you have. Sometimes you do forget that, but an experience like this reminds you."
Although it took her a little time to open up to Scheifele, photos of their time together captured how much it meant to Victoria and her parents.
For the player who has skated in nearly 660 NHL career games, all with Winnipeg, the meeting was equally memorable.
"To see that smile, especially in knowing what she is going through, words can't really describe what that means to you. It's amazing to see that smile and it's amazing what you smiling can do for someone. I'm really happy that it means a lot to her because it meant even more to me."
Victoria has put the stick Scheifele gave her to good use.
"It was just the nicest thing for him to do that," said Danielle. "She's been playing with it a lot. She just loves it. It means the world. It really has been a tough year and I'm so proud of her and my family. We've banded together and reminded one another not to let this get us down. Moments like that, it really does mean everything."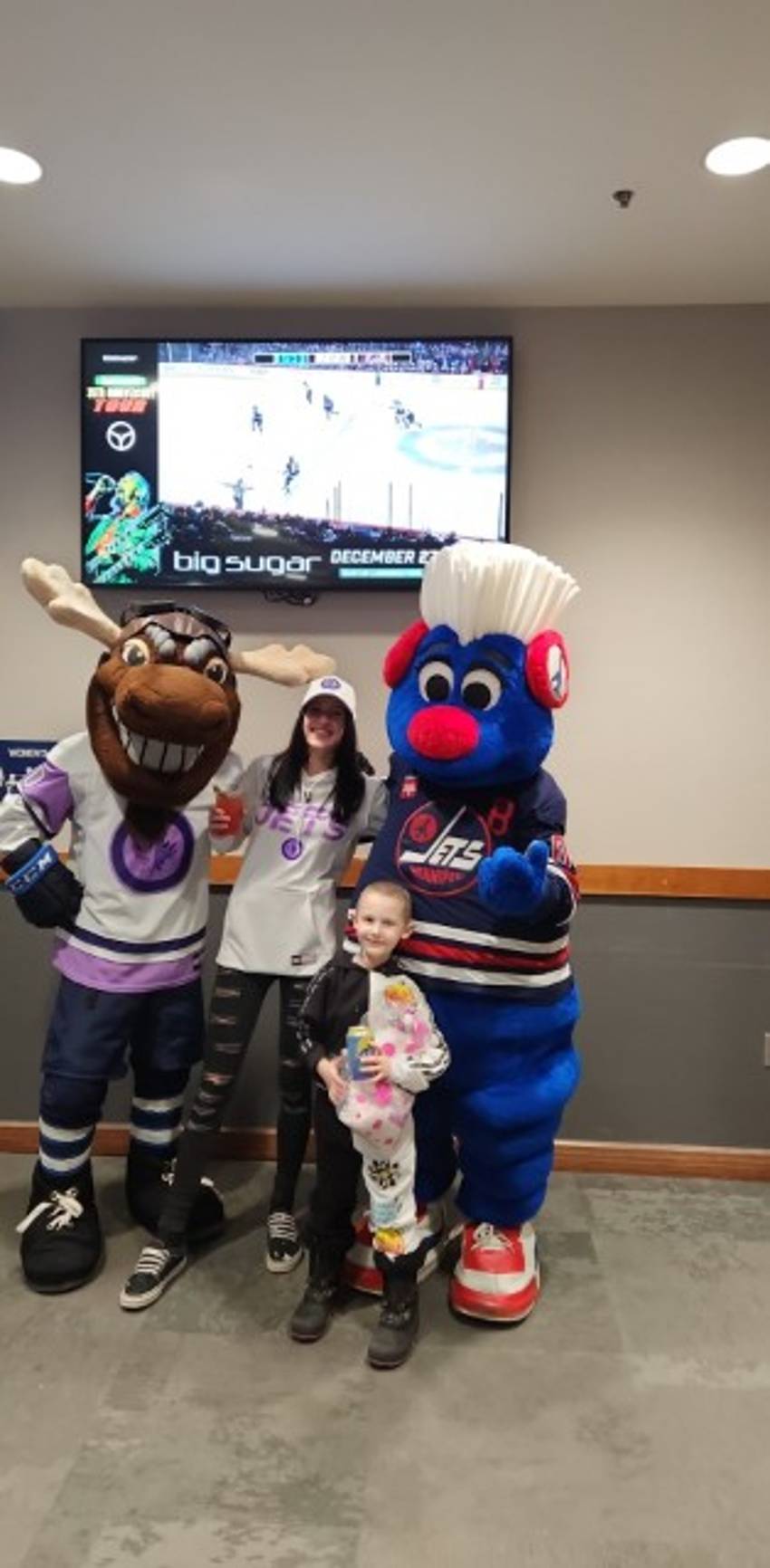 The Winnipeg Jets held their Hockey Fights Cancer night on Tuesday for the Jets' game versus the defending Stanley Cup champions, Colorado Avalanche. In addition to Jets players sporting special Hockey Fights Cancer jerseys and using lavender stick tape during pre-game warm up, the Jets had Victoria in attendance.
Scheifele and his teammates put on a good show for Victoria and their special guests on Tuesday night, with the Jets winning 5-0 and Scheifele recording three points in the win. The forward has had the date circled on his calendar.
"With it being Hockey Fights Cancer month, it's one of those special moments for all of us players, to think of our loved ones, to know that there are a lot of people fighting it every day, and how it affects everyone in our world. You're not just playing for the Winnipeg Jets or for yourself, you're playing for a lot of people who are battling a terrible disease."
"It's great that we are able to have something like this, to put the spotlight on those going through a very difficult fight."
Prior to the game, Danielle expressed Victoria's excitement for the evening ahead.
"She gets overwhelmed sometimes and that will be nice for her to know that he is there. It's going to be hectic, but there will be someone she recognizes. And she thinks he's cute. That's what she told me."
The last word goes to Victoria.
"I liked meeting Mark. He was really nice."