Jake Sanderson has big postseason ambitions in first NHL season
The son of 18-year NHL veteran Geoff Sanderson, Jake has the goods to be a major contributor in the Senators' playoff quest.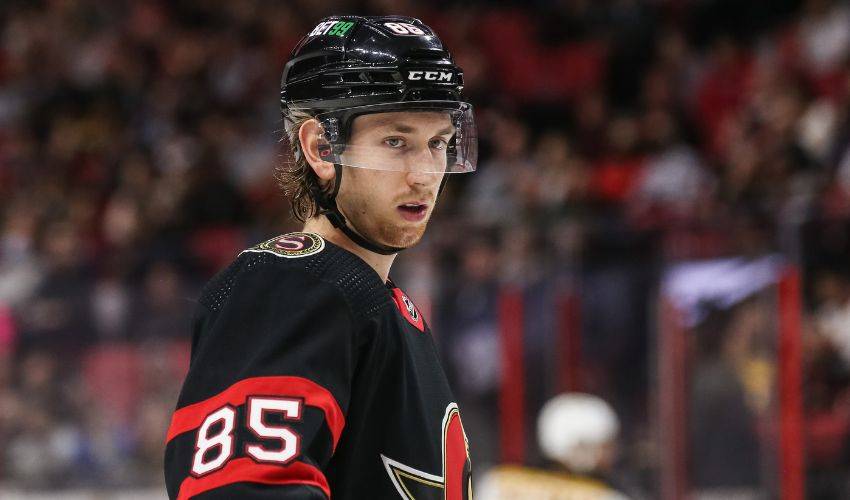 Feature photo: Getty Images
---
Jake Sanderson could have set any number of goals to achieve in 2022-23, but one stood out above all the others.
Just ahead of his first NHL season with the Ottawa Senators, Sanderson, the fifth overall NHL Draft pick of the Senators in 2020, shared what he wanted to achieve as a member of the team's defensive corps.
"I have personal goals in that I want to play well and impact the team. But I think everything around Ottawa this year is making the playoffs, which has to be the main goal for myself and the team. I want to do everything I can to help make that come true."
The son of 18-year NHL veteran Geoff Sanderson, Jake certainly has the goods to be a major contributor in the Senators' quest.
A star on the rise with the Edge Prep School program before playing with the United States National Team Development Program in 2018-19, Sanderson suited up with the North Dakota Fighting Hawks in the NCAA starting in 2020.
During his two seasons with the Fighting Hawks, Sanderson was selected as the USA Hockey junior player of the year for 2020. He was a key contributor in North Dakota becoming NCHC champions in the NCAA and also struck gold with USA at the world juniors.
Sanderson averaged more than a point per game in 23 NCAA games in 2021-22 and was also named to USA's Olympic roster. He had a chance to turn pro after his freshman season, but opted to come back for another year with the Fighting Hawks.
"There are a couple of things that come to mind," said Sanderson of lessons learned from his time at North Dakota. "The first would be just how important being in the gym is, giving all of your effort there because it really does translate onto the ice. There's also the food aspect. When you're at home, you're used to mom and dad making your meals, so you have to grow up and learn how to cook. I make steak, salmon, chicken teriyaki … kind of basic but it works for me."
His recipe for NHL success goes well beyond the gym and kitchen.
Top-notch skating skills combined with the ability to outmaneuver forecheckers and rapid acceleration has allowed him to keep pace with the competition beginning with his first NHL game on October 13, where he saw 22:21 of ice time.
"Just being ready every time you take a shift is key," said Sanderson, whose cousins, Wade and Sheldon Brookbank, also both played in the NHL. "Even within a game, you don't want to look beyond the next shift you take. I like to keep the focus on that."
But it doesn't mean he's so dialed-in that he's not also enjoying himself.
When he heads to the rink, Sanderson usually remembers one particular piece of advice his father and other former NHL players have shared with him.
"I know it's cliché, but the one bit of advice that has stayed with me is the idea of having fun. Looking back, my dad played 18 years, but he said it flew by. I want to enjoy every minute of it. There is going to be good and bad, but whatever it is, you have to take it in stride. You can build from those good moments and learn from the tough times. I feel pretty blessed to be here and I want to make sure I'm able to enjoy all of it."
Does that mean he'd be okay with the same length of career his dad enjoyed?
"That would be ideal," he said with a laugh.
Sanderson would also be thrilled with emulating the successes of two of the NHL's top defenceman.
"Cale Makar is pretty special and fun to watch. I like Roman Josi. I actually got to meet him in Nashville this past year when we had a game there when I was with North Dakota. When I came off the ice, I got to talk to him for a couple minutes, which I thought was pretty sick. He's one of my favourite players and I had no idea I would have a chance to talk to him. He was a super-nice dude and I was kind of in awe."
For now, in typical fashion, it's all about staying in the present for Sanderson.
The first American-born player and first defenceman to be selected in the 2020 NHL Draft, and the second-highest drafted UND player of all-time behind Jonathan Toews, who went third in 2006, already feels right at home in Canada's capital city.
"I'm excited. I've been in Ottawa pretty much the whole summer, so guys filtered in and out. I was with [Tyler] Boucher a lot of the summer, but we got to skate with [Alex] DeBrincat, so it was to be on the ice with them and to get to know them away from the rink a bit too. I really like Ottawa. The downtown is really nice, and the people really like their hockey, so it's great to be part of this team."
A team on a playoff mission in 2022-23.
"That's the top priority," said Sanderson. "We are all focused on that."