Fort Mac Hockey Brothers and NHLPA Goals & Dreams help bring hockey to Alberta youth
The Fort Mac Hockey Brothers Foundation, with an assist from G&D, is making difference in the lives of children.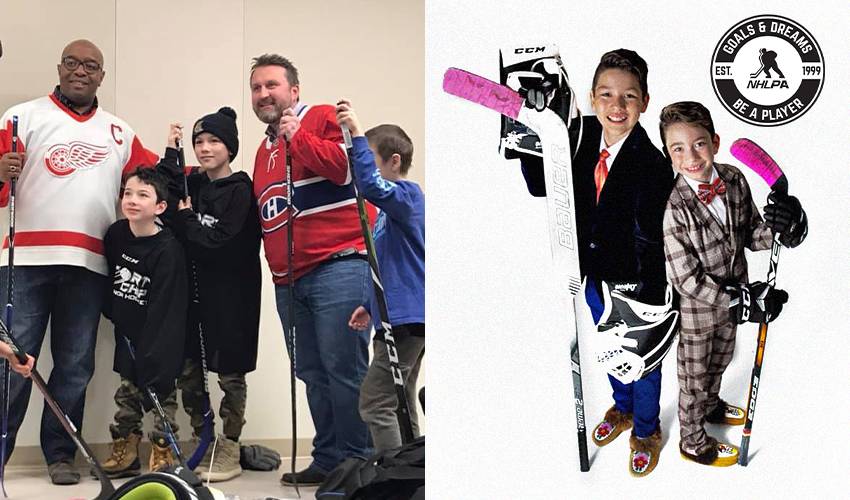 ---
The Fort Mac Hockey Brothers Foundation, with an assist from the NHLPA Goals & Dreams fund, is helping make a difference in the lives of children in the Indigenous communities of Wood Buffalo, Alberta.
Since 2018, brothers Parker and Cruze Flett, known as the Fort Mac Hockey Brothers, have made it their goal to ensure children in the communities of Fort Chipewyan, Fort McKay, Willow Lake, Javier and Conklin have more opportunity to get out on the ice.
The Fort Mac Hockey Brothers Foundation has worked to eliminate financial barriers for families in the aforementioned communities by providing new hockey equipment to youth, ages 2-18, regardless of skill level. The overarching goal is to ensure children can take part in physical activity, promote self-esteem, self-confidence, and develop skills while participating in a team sport.
Through its "Fill the Box" campaign, the Foundation has helped more than 300 kids suit up to play hockey. All donations to the annual campaign are used to purchase new hockey equipment for children to get out on the ice.
Recently, the Foundation received a donation of 25 brand new sets of hockey equipment, courtesy of the NHLPA Goals & Dreams fund, which has donated more than $26 million to grassroots hockey programs across the world since it was established in 1999.
"I can say that it's absolutely heartwarming to see these kids receive the equipment," said Flett. "I came from a time where you'd be in a room at the arena, and they would dump a big box of equipment on the floor. Sometimes, you'd take a folded-up hockey sock and tape it to your arm so you could have matching elbow pads. The kids would see that and want to make a change in the community. It's almost come full circle. You're very proud as a parent and community member to see young kids have fun and experience what they experienced at hockey. It's harder in rural areas because there's no league to play in. It's more important for these kids because it's something they get to enjoy together and as a community."
Equipment donations, like the one from G&D, are a game-changer for the kids in the region.
"Any donation is very meaningful," said Allison Flett, mother of Parker and Cruz, and member of the Mikisew Cree First Nation. "We live in a region that has five rural communities, and in these communities, there are no stores where you can go and get equipment. I'm from the second-northernmost community in Fort Chipewyan, and we went up to visit family. We saw kids out playing street hockey and they all had to share a couple pieces of equipment to play this game, so not everyone could play at once. The kids didn't understand that you can't run the store and get another stick, puck, ball or shin guard. That's how we started getting the donations together, to help that need."
NHLPA Goals & Dreams – which has donated to more than 80,000 deserving children worldwide – is pleased to work with the Fort Mac Hockey Brothers Foundation to help the deserving youth of Wood Buffalo.
"The NHLPA Goals & Dreams fund is thrilled to assist the Fort Mac Hockey Brothers Foundation with this donation of 25 sets of hockey equipment," said Devin Smith, NHLPA Goals & Dreams Chairman. "We commend the Ford Mac Hockey Brothers for the opportunities they provide Indigenous youth in Wood Buffalo to play the game of hockey."
The Foundation's efforts have made a significant difference in the communities they support.
It's something Flett and Kelly Tole, Director of the Fort Mac Hockey Brothers Foundation, have seen first-hand during visits to each region.
"Kids growing up in these communities, they all come together to play hockey," shared Flett. "They don't have much to do, recreation-wise. If they aren't hunting or out on the land, these kids are at the rink playing hockey, or at the gym, playing another sport. But hockey is a big thing in these communities because it's something you can do with your friends. The big takeaway is the kids helping other kids. The older kids helping the younger ones. We met some of the older youth when we went up north to bring up gear, and then had a chance to visit with them during the Indigenous Games for another sport. You can see that connection between the older and younger kids, talking about hockey at a different sporting event, and what their plans are for the year. Those kids helping kids turns into adults helping kids. That's a big takeaway."
"I helped some high school students pick out some gear over the summer," added Tole. "The sense of pride that they had, that they actually were able to use brand new equipment, you could see it in their faces. They appreciated having it and you could see it."
Promoting togetherness through hockey and other sports in the communities they serve is a key element of the Foundation's mission.
For Flett and Tole, the future is equally important as the present.
"Both long and short term is to just help these kids create a healthy community, friendship-wise, sports-wise and teaching them how to help each other," offered Flett. "Any ability, wanting to get them off the sidelines and onto the ice, through learn to skate programs. We are really happy to get them on the ice or on the pond, that they have gear to play with."
The youth in the Indigenous communities have several NHL role models to look up to.
"There is a lot of focus in rural communities on sharing information about the Indigenous players that have made it to the NHL. My son, Parker, played goalie, and Carey Price was a big influence. We had a chance to meet Carey in Kelowna [British Columbia] when he was doing a hockey school for the breakfast club Carey runs. It was amazing to watch Parker lay eyes on his idol. He was on cloud nine. To this day, he follows what Carey is doing and sharing on social media."
Whether the youth in the communities of Wood Buffalo make it to the NHL or not, Flett and Tole are hopeful Canadians appreciate what the game means to them. Despite less opportunities than many Canadian youth to play the game, their love of hockey shines through.
"We try to bring a sense of culture and combine it with hockey," said Tole. "If there is a sport they want to try, we will certainly do our best to help them out. Canada should be very proud of the children in this region for the hard work they are putting in as well, getting out there, finding the gear, and getting out on the ice. It's not easy, but they are doing something they love to do."
It's a sentiment echoed by Flett.
"I would want the rest of Canada to see what a sense of pride they have in participating in hockey and sharing the game with their community, being a part of a team. It's not about winning or losing, it's about love of the game."
And creating a foundation for them to chase their own dreams.