Thomas Chabot has plenty to boast about with current Senators squad
Young talent fuels Chabot's excitement for the season.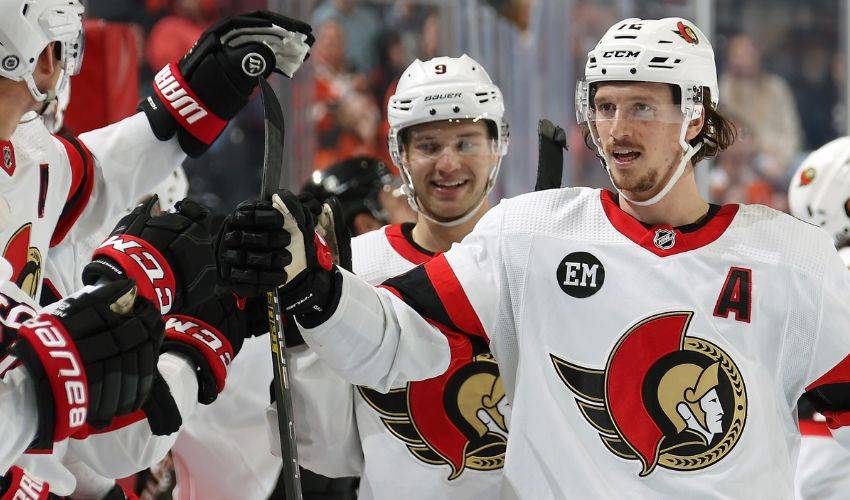 Feature photo: Getty Images
---
Thomas Chabot likes what he is seeing and hearing surrounding his NHL team heading into the 2022-23 season.
There is no overconfidence in his tone or words when the 25-year-old defenceman, who has played his entire 313-games in his NHL career with the Ottawa Senators, speaks about the opportunity that lies ahead for himself and his teammates heading into the season.
"Definitely excited, not just myself, but I think everyone," Chabot told NHLPA.com. "Being there for five years and now going into my sixth, there's been a lot that's happened over the that time, guys going out, getting traded or whatever it might be. So, a lot of good friends and lot of good players you see go, but now there's a chance to be on the other side, going out of our way to sign or trade for some very, very talented players, who can help us win now. It's pretty neat."
The addition of top-flight forwards Alex DeBrincat, acquired in a trade, and the signing of free agent Claude Giroux, are two examples of the Senators' busy offseason, a summer that also included bringing in veteran Cam Talbot to help between the pipes.
"I called Claude once we heard the news. I gave him a phone call right away. Obviously, he was really excited. Alex, he was probably in a little bit of shock. Being traded, it can be tough. I've never been traded, but you can appreciate that it might not be fun at the time. But just talking with him, he was very excited. He knows we have a good group of young guys that get along, and he's looking forward to coming to Ottawa."
Couple those moves with one of the league's top young rosters, featuring names like captain Brady Tkachuk, newly extended Tim Stützle, along with the likes of Josh Norris, Drake Batherson, and Alex Formenton, and Ottawa's goal of a playoff berth this season appears to have a realistic shot.
With three post-season showings in the past 10 seasons, and none since 2017, a spot in the Eastern Conference playoffs would be a huge victory for the current group.
"It's very special and everyone is very excited," said Chabot. "We are [excited], as players, but the city of Ottawa, you can feel the fans have a little more excitement going into the new season, seeing the talent that we are going to have up front, the amount of players that we brought in, a hometown guy like Claude who is going to bring a lot of people to the games and drive up that excitement. There's definitely a lot of excitement. We always say it, between each other, that there is a lot of work to win in this league and make the playoffs, but to be in that position to achieve that is awesome."
Despite sitting on the Stanley Cup sidelines last year, Ottawa did manage to make an impression around the league, something Chabot has heard plenty about in recent times.
"Through different events, we meet guys from other teams, and everyone says the same thing, that we are a talented team that never gives up and never stops working. We've added some great players over the summer to take another bigger step in the right direction, but we're not thinking playoffs are just going to happen. There is a lot of work to be done, but we've given ourselves a better chance of achieving that goal this year. Everybody is excited. It's pretty cool."
A thought that has crossed Chabot's mind on several occasions throughout a busy summer, one that has included stops in Europe and North America.
"It's been a fun summer. I went on vacation in France, enjoyed some red wine and great food, and visited some very beautiful places. It was the first time for me, but my girlfriend's family is from there, so she's been there multiple times. It was nice to be able to go with her. We also went to Mexico. I brought my whole family – my mom, dad, brother, his girlfriend, their daughter – and my girlfriend, so that was awesome. That was a week together. We hadn't done a family vacation like that in the last eight years. It was nice to have that time together. Otherwise, it was playing golf."
Teeing up a new NHL season, one full of hope for the Senators and their supporters, has Chabot eager to see the puck drop.
"We always say it, but the summer does fly by. It really does. But we can't wait to get to Ottawa and get things rolling again."