Like father like son – Jack McBain takes tips from dad on his journey to the NHL
Although he wasn't around to see his father play, the Jack McBain has seen plenty of video from his dad's time in the NHL.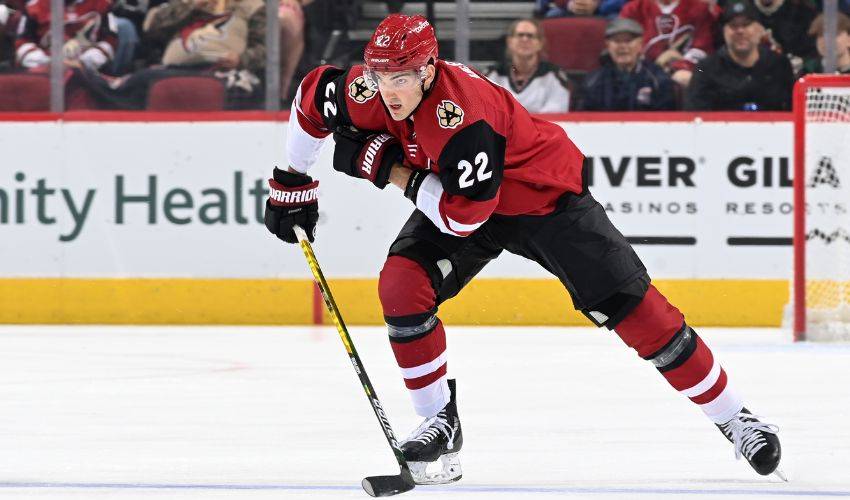 Feature photo: Getty Images
---
Jack McBain's model for NHL success runs in the family.
Almost 40 years before playing in his first NHL game with the Arizona Coyotes, the father of the 22-year-old winger, Andrew McBain, was just starting his career.
Albeit different times, a different era, and a different brand of hockey, there are some notable similarities between the start to the respective careers of the father-son tandem.
"When I look at Jack play, he's a more physical player than I was," said Andrew, who played in 608 NHL games, sporting the jersey of four different NHL clubs. "We do have some similarities in the ability to kill penalties. But Jack is very much his own player. As you go through trying to prove yourself as a pro, you find the spots that you'll fit into. Over the course of my NHL career, it evolved where I had to establish myself in certain ways and with that came the confidence, which opened the doors for a bigger role. Where Jack lands as a player, I can't say for certain. But I do know whatever it happens to be, it will be a good fit for the team.
"Jack's work ethic is very strong," Andrew continued. "His skating has improved, along with the physical aspect he brings. That sort of style, not as many players have that size and play that game as much now. A lot of teams are looking for that and I think there's a lot of opportunity for him to play a good, power forward game."
Originally selected in the third round, 63rd overall, of the 2018 NHL Draft by the Minnesota Wild, Jack's NHL rights were traded to the Arizona Coyotes on March 21, 2022.
The centre made his NHL debut this past April, and he scored his first NHL goal on April 26, with the tally coming in a road game against Minnesota.
"That was a special night. I was back in Minnesota. It was a great play by the d-men. I think it was [Shayne] Gostisbehere and [Anton] Stralman. Stralman made a great play to the net, and I got a stick on it, and it found a way in. It was my first win here with the team, so it was a great night. It was a great experience, the 10 games I played in. We played against a lot of good teams and a lot of really good players. It shows you what you have to work on and how important the little details are at this level, how aware you have to be at all times, and where other players are at all times."
Andrew's first NHL tally, however, was a markedly different moment.
"Tough for me to forget mine. It was in Pittsburgh, back in 1983, and it was the year before they would draft Mario Lemieux. The team wasn't having a good year and the fan support wasn't that great. It seemed like there were 4,500 to 5,000 fans that night. It was like a cave. There was no sound in there when I scored other than me running around screaming."
Although he wasn't around to see his father play, the younger McBain has seen plenty of video from his dad's time in the NHL.
Jack also kept close tabs on other players over the years, picking up tips along the way and incorporating some of their skills into his own game.
"When I was younger, I loved watching Rick Nash, the power forward guys," he said. "Even before that, Eric Lindros, someone who could make plays all over the ice, was a player that I liked watching. Guys like Ryan Getzlaf, Anze Kopitar, they're fun to watch and are great players. I like to watch what they do and pick up things from them, here and there. I've seen a lot of videos of my dad, and he seemed to be a big body out there too. He was physical and that's something I try to bring to my game. He had some good offensive seasons as well, which is something I'd like to add to my game."
Although it was only a short stint with the Coyotes last season, Jack took plenty away from the experience. Lessons learned about life in the NHL came quickly.
"The little time I had last year, you realize it's a different game. Things are quicker, the guys are bigger – you have to find what you're good at and what makes you useful in the lineup, and then try to contribute in as many ways as possible."
It's an approach that resonates with the senior McBain, who crafted a similar game plan in his early NHL days.
But it's something else that makes him proudest of his son.
"He's a solid individual. He's a good kid. He went to Boston College and applied himself and ended up getting a double degree in finance and marketing, so we're really proud of him to follow through on that. After year three, he said that he wanted to finish what he started. It's worked out well for him so far."
As for what he would like to achieve in 2022-23, Jack prefers to look at the overall picture rather than statistical snapshots.
There is, he noted, always something to chase every shift.
"I never really like to put any specific number on what I'd like to achieve. I'm trying to shoot more and get my shot total up per game, a certain number of hits per game too. Even if you're not having a good night, I still want to be effective … that's something that is really important. It's about being consistent and finding that role so I can help the team win."
A family trait that continues to play out well on the big stage.