Tying the knot to a new team – Dylan Strome keeps busy this offseason
Strome, who signed as a free agent with the Washington Capitals in July, has had a jam-packed offseason.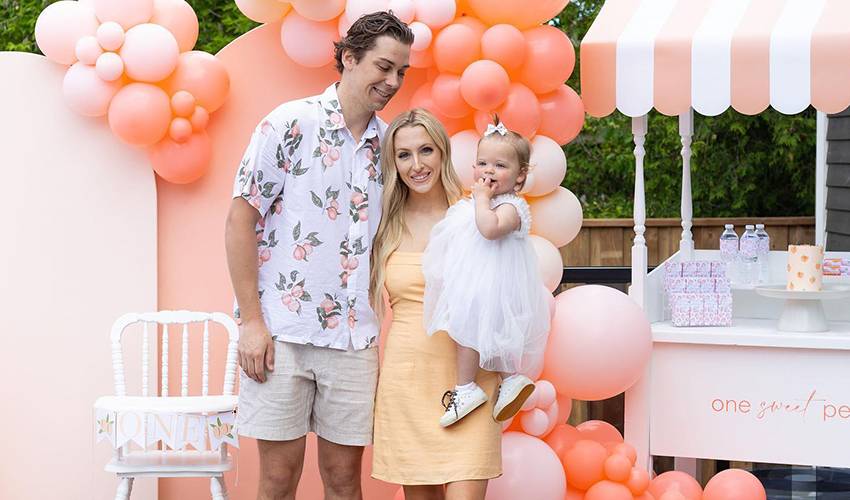 Feature Photo: IG / @taylermcmahon
---
Given everything that's going on in his orbit these days, it's somewhat surprising Dylan Strome had time for another phone call.
"It was a couple of days ago when I thought, 'I'm only 25 and I've got a lot going on in my life.' This summer, the wedding, going to a new team … definitely a lot going on and a different offseason than I've ever had. But in saying that, it's all good things, and I really couldn't be happier," he recently told NHLPA.com.
Tying the knot to his fiancée, Tayler, a young daughter, a new dog and a new team have made for interesting and often busy times this summer for the 6-foot-3 forward, who signed as a free agent with the Washington Capitals in July.
Soon enough, the Stromes will leave their summer residence in Oakville, Ontario, a 40-minute drive west of Toronto, and head to their new NHL home.
The first order of business, though, is a celebration that includes 170 guests.
"We're looking forward to the wedding day. There is a lot of planning that goes into it, mostly my fiancée and the wedding planner, but I'll take some credit for it too. A lot of running around and doing things here and there. It's exciting times."
Strome is also enjoying fatherhood.
Daughter Weslie Strome, now 16 months, is keeping him on his toes.
"She's up on her feet and flying around. The team actually just sent her a little Capitals jersey the other day. It has No. 17 with 'DADDY' on the back. That was nice of them to do. We're really having a lot of fun together as a family and watching Weslie doing new things almost every day."
Strome is also excited at the prospect of being part of a tight-knit group in Washington.
Some of his new teammates reached out to him right after the news broke that he had signed with the Metropolitan Division club.
"Nic Dowd and Tom Wilson reached out, which was really nice. Having those guys welcome you to the team, asking if you need help with anything, wanting to know if you have any questions, all of that makes you feel comfortable and looking forward to playing there."
Strome, selected third overall by the Arizona Coyotes in the 2015 NHL Draft, will see plenty of familiar faces in the Washington locker room, including a Stanley Cup-winning goaltender.
"Every one that they signed – this is kind of weird – I know them. Connor Brown, who I played with in Erie, we were talking. He got traded there. Erik Gustafsson, who I played with last year in Chicago, he's there now. Henrik Borgström, he was also with Chicago, and then Darcy Kuemper [a member of the 2022 Stanley Cup champion Colorado Avalanche], we played together in Arizona. So, I know all of those guys, which is awesome. It makes going to a new team so much easier. Training camp, and everything else that goes with that, it's going to be great to get to know the guys before the season starts, learn more about the team and the city."
Despite the hectic moments, the centre, who is approaching 300 career NHL games played, is in an upbeat mood.
"There is so much to look forward to, for myself and my family. Like I said, there is a lot going on, but I wouldn't have it any other way. I really mean that. The support I have from Tayler and so many others is something I truly am grateful for. I'm excited for the wedding, continuing to watch my daughter growing up, getting to play with a new team, and a new puppy, Benny, who has been keeping us smiling."
This April, the Stromes first dog, Wrigley, sadly passed away after post-operative complications at the age of two.
Strome continues to receive an outpouring of support from fans through social media posts and messages, while sharing his thoughts on Instagram.
"I get emotional talking about it … he was the best dog ever. People are still reaching out, whether it's posting something, calling or texting, saying how beautiful he was. Tayler did something really special. There's a little tree where we got engaged in Oakville, right by the water. He used to always sit there after he'd go running on the beach, so Tayler put a little plaque there for him. He's got a tree growing there forever now. I can't say enough about how much support we've had, and he deserved every second of it. He was so loving and loved people. I would tell people who reached out, 'Give your dog a big hug and tell them that you love them every day.'"
It won't be long until the Stromes and Benny make their way south, settling into the house they rented and familiarizing themselves with their new surroundings.
There is already one date, October 12, circled on the family calendar.
"I can't wait to play that first game," said Strome, of Washington's regular season opener, a home game against Boston. "I'm really looking forward to it. Hopefully, it can be a memorable year for us."