Montour and Henrique tee up to make an impact with 2nd annual charity golf tournament
The second annual Henrique Montour Golf Classic was a huge success on all fronts.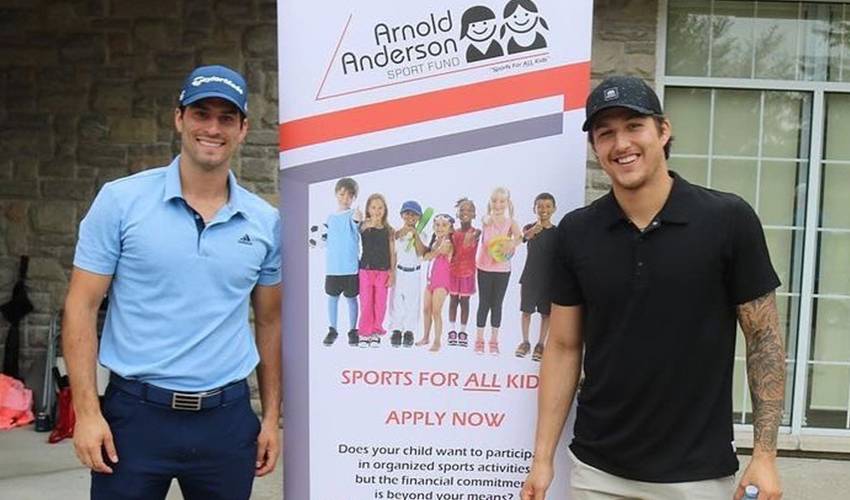 Feature Photo: IG / @adamhenrique
---
Admittedly, their golf games aren't quite up to par, but when it comes to making a difference, Adam Henrique and Brandon Montour know how to come up aces.
The second annual Henrique Montour Golf Classic, held on July 8 at the MontHill Golf & Country Club in Caledonia, Ontario, was a huge success on all fronts, including the money raised for several charities in the area surrounding Brantford, Ontario.
Hitting the links with more seasoned duffers wasn't a top priority for the Anaheim Ducks forward and Florida Panthers blueliner.
"My golf game is getting a little bit better," offered Montour, who posted career-best numbers with the Panthers this past season while playing in 81 regular-season games and 10 playoff games. "I joke about it with my buddies. I tell them if I have a golf tournament every year, I should be somewhat decent at golf. I'm starting to get a bit better at it, but Adam is more of a veteran than I am."
Henrique's best shot of the day came at the expense of his close friend.
"By far," quipped the 82nd overall pick of the New Jersey Devils in 2008, as to whether his golf game is better than Montour's. "But I'm not that great either. He just started golfing, so I'm sure he's coming along. I'm still the same golfer… just okay, not great, but keep going after it."
Golf talent, or lack thereof, aside, Henrique and Montour, who were both born in Brantford, Ontario, shared that the day couldn't have gone any better, with the exception of a short rain shower, as the best friends welcomed other friends, family and fans to the event that bears their names.
"It went really well," said Montour, a veteran of 374 regular-season NHL games. "We had 200-plus golfers. The MontHill Country Club allowed us to fit a few more bodies in for the tournament and there were probably close to 250 people for dinner. It's a rough estimate, but it looks like we were able to raise around $100,000 for some really great causes and organizations. Everyone really seemed to enjoy being there. We had a lot of great support from our sponsors and everyone who came out."
Henrique, who just completed his 11th NHL campaign and is approaching 800 regular-season games played in his career, was also pleased with how the event turned out and the number of people who came to support the causes.
"We had more golfers and more spots for people to golf, which was nice," said the Anaheim forward. "We had rain again this year, but it was only for 10 or 15 minutes, so we lucked out on that end."
The money raised will be spread around to various initiatives.
"The Arnold Anderson Sport Fund is an organization that helps underprivileged kids in the Brantford area," said Montour, who grew up on the Six Nations of the Grand River First Nations Reserve, located right outside of Brantford. "We're going to spread it around Burford and Six Nations, too. The places we chose revolve around kids in sports, minor hockey, minor lacrosse, helping Six Nations through the police, who have a great program on the reserve. We're planning on looking at schools that need anything, maybe schools in Burford. It was about giving back to as many places as we could. With COVID, sports are now up and running again, and we want to see as many kids enjoying the opportunity to play the sports they love."
"I think it's nice to be able to give the money to different causes," said Henrique. "We're continuing to look at ways to help out back home and in the surrounding areas. The goal moving forward is for us to keep having the tournament, continue to keep building it and continue to try and help as many local areas as possible. Long term, if we keep this going, our hope is to have a big impact on our community."
Both players, who became close friends during their days playing together in Anaheim, are grateful to be in the position to help others in their communities.
This year's event was a reminder of that.
"It's great," said Montour, who was drafted 55th overall by the Anaheim Ducks in 2014. "People know we have a tournament in the summer now and I think people really get excited about it, whether that's coming out and participating or supporting it in whatever way they can. From last year, when we had our first tournament, to the success from this year, I think it's going to keep growing and getting bigger and better. We really do enjoy being a part of it and make as much of an impact as we can."
Henrique, who has 217 career goals and 441 career points, echoed Montour's thoughts.
"We're watching people check in and I realized it's a lot of family and friends, guys I went to high school with who have come out the last two years to be there for us. A lot of my family and Brandon's family come out, which makes it really special. It felt like a family and friend reunion of sorts. They love being there and we really enjoy seeing them there. It really is a group effort. From the people behind the scenes, to the sponsors, to those that come out to golf and the dinner after, we're very fortunate in a lot of ways."
The two friends have another notable day in their shared calendar coming up at the end of the month – Montour and his fiancée, Ryian Roberts, are getting married on July 29.
The Florida Panthers defenceman and his bride-to-be are in the process of putting the finishing touches on their upcoming nuptials in Nashville.
"That's the focus now," said Montour. "There are about 150 people heading there for the day. She's from California and I'm from Ontario, so we figured that would be a good middle ground for us. From what we've heard, the people that are coming are making it a week trip. It'll be a blast. We'll head back to Florida after that and hopefully have a really big year."
For his part, Henrique won't be making mention of golf during his reception speech.
That alone might be the wedding gift Montour appreciates the most.
"I'll give him a break on that, maybe for one night," offered Henrique. "The good thing is that people will probably ask how the event went and we'll be able to tell them some really good stories about that."