Players pay tribute to O'Ree with specially commissioned portrait
In honour of his legacy, lasting impact on hockey – and the players who came after him – Willie O'Ree was gifted a special portrait by NHLPA members.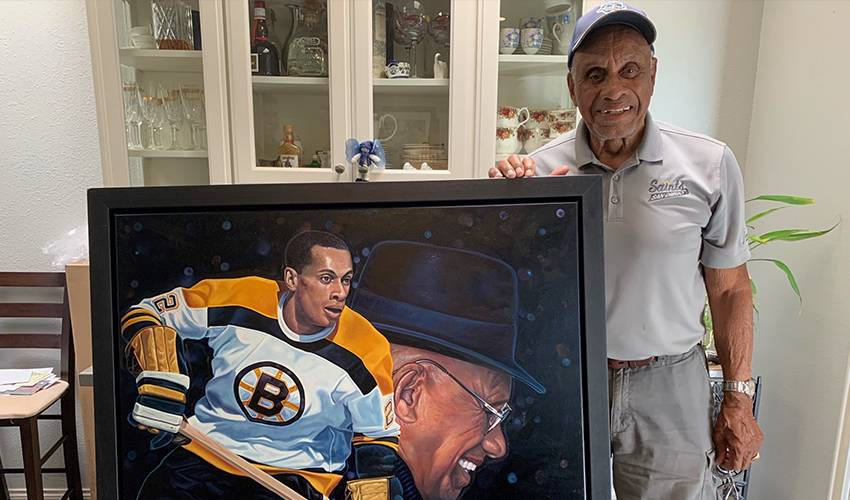 ---
It's a work of art that comes from the players' hearts.
Earlier this spring, Mathieu Schneider, on behalf of the players, gifted Willie O'Ree, the first Black player in the NHL, with an original painting.
The NHLPA commissioned piece, created by renowned sports artist Tony Harris, pays homage to O'Ree's legacy – which was also commemorated by his No. 22 being retired by the Boston Bruins on the 64th anniversary of his debut.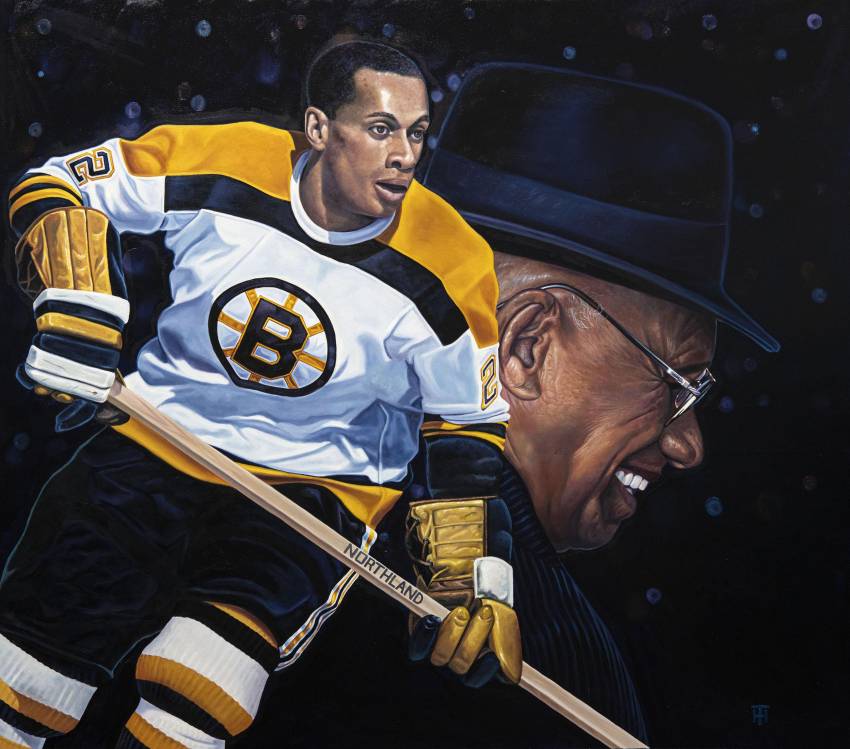 "Tony did an amazing job capturing Willie during his ground-breaking career in the NHL, as well as Willie's ongoing work off the ice as an incredible ambassador of hockey," said Schneider, the NHLPA's Special Assistant to the Executive Director. "It was really special to be able to deliver the beautiful painting to Willie on behalf of all NHL players."
Patrice Bergeron, Boston Bruins captain and veteran of 1,216 regular-season NHL games, is thrilled that O'Ree will have this special keepsake to remind him of how he is revered and respected by the countless players he has influenced over the years.
"Willie is a trailblazer and an icon to generations of players," praised Bergeron. "My teammates and I felt very fortunate to be part of his jersey retirement ceremony earlier this season, as he has done so much for the game of hockey both on and off the ice. We hope that Willie will proudly display his gift from the players in his home."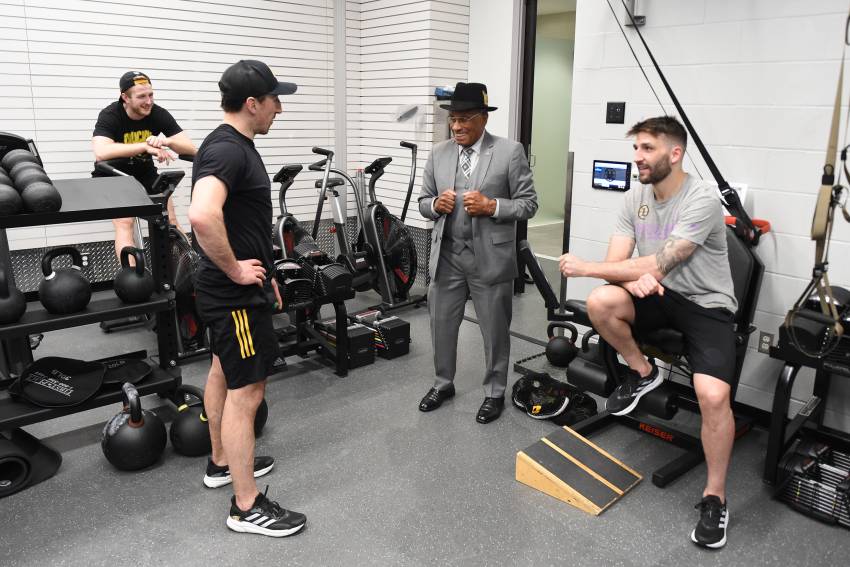 O'Ree, now 86, was moved by the gesture, one he wasn't expecting.
He's grateful for the players' support.
"It was a pleasant surprise to receive this beautiful painting from the current NHL players," said O'Ree. "The last couple of months has really been a special time for me and my family to enjoy the celebrations surrounding my jersey retirement."
Harris, a professional sports portrait and landscape artist, was honoured to have been given the opportunity to create the painting.
"Every now and then I get a commission that really makes me smile," offered Harris, who also paints the NHLPA's Ted Lindsay Award recipient each year. "This painting, honouring Willie O'Ree's No. 22 being retired by the Bruins, is one such commission."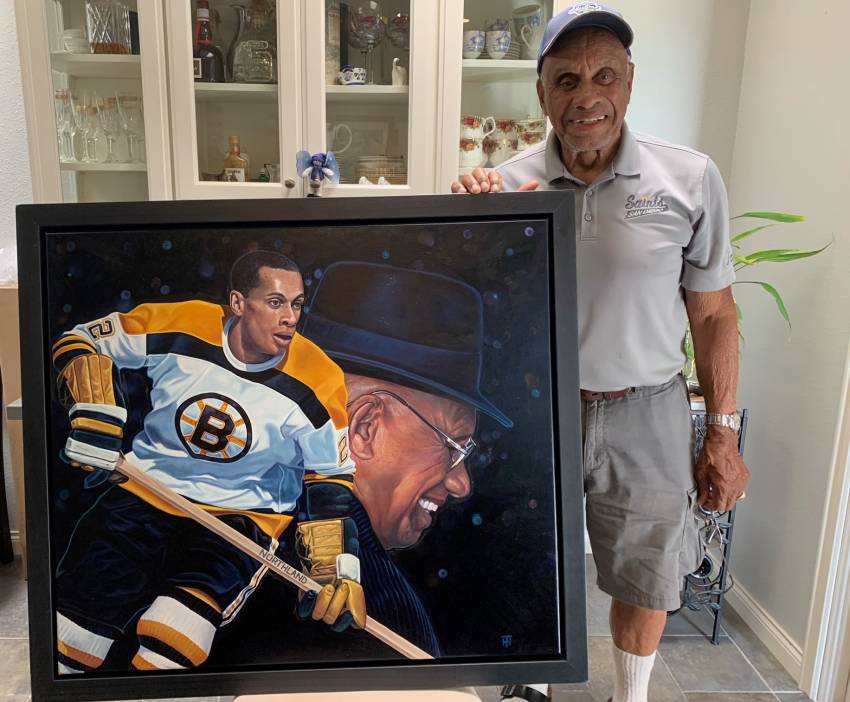 O'Ree became a local hockey star at an early age playing for Fredericton, in his home province of New Brunswick.
He later played with the Kitchener Canucks during his first year in the Ontario Hockey Association in 1955-56, where he suffered a serious eye injury. After one season, the Fredericton native went on to join the Quebec Aces in the Quebec Hockey League. The move would change O'Ree's career as the Aces and Boston Bruins formed an affiliation in O'Ree's second campaign.
On January 18, 1958, O'Ree received a call-up from the Bruins, becoming the first Black player to play a game in the NHL.
While he would ultimately play in 45 games for the Bruins over parts of two seasons, scoring four goals and registering 10 assists, the impact O'Ree has had on the sport is lasting.
In 1998, the NHL named O'Ree as Director of Youth Development and ambassador for NHL Diversity, a role that saw him travel across North America to meet with young players and fans to help grow the game. In 2018, the NHL introduced the annual Willie O'Ree Community Hero Award, which "recognizes the individual who has worked to make a positive impact on his community, culture or society to make people better through hockey." That same year on November 12, he was inducted into the Hockey Hall of Fame.
On January 18, 2022, the Bruins raised his No. 22 into the rafters. O'Ree is just the 12th player in the Original Six team's history to have his sweater number retired, a group that includes Bobby Orr and Ray Bourque.
"I never saw Willie play and I have only met him once," said Harris. "As much of a pioneer Willie was at the start of his hockey journey, it's what he has done after hockey that is so impressive. That is what I tried to capture in his portrait. My painting can be summed up in three words: athletic, thoughtful, and kind."
Just like the man who works tirelessly and devotedly to make the game of hockey better for everyone.